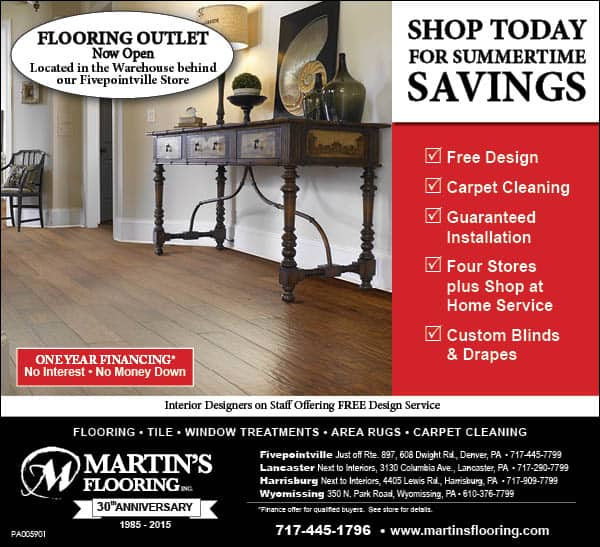 Inventory Closeouts
All Products MUST Go!
In-Stock Products
View some of our in-stock products
Yet again we have beautiful flooring installed by Martin's Flooring! The installer did a fabulous job, he was courteous, friendly and did an amazing job with the clean-up! Thank you!
B.S. of New Holland
Very professional staff and installers. Keep up the good work!
C.D. of Sinking Spring
Our job was done quickly and efficiently. Thank you again! Martin's have great employees and I am always happy with their service. Our cleaning technician was great.
E.R. of Ephrata
The installer did an exceptional job. He showed up on time every day. Was very courteous and professional.
G.K. of Lancaster
We cannot say enough about our installer! He was tireless and his attention to detail was outstanding. He is a real asset to Martin's Flooring. Our salesperson was very helpful & patient in guiding us to the perfect product. We cannot say enough good things about Martin's form start to finish.
G.S. of Wyomissing
We already did suggest this cleaning service to be used to several other people. Our cleaning technician was very friendly so I am telling my friends to ask for him by name.
H.S. of Denver
My wife and I had a thoroughly professional experience from start to finish. We would definitely recommend your business to relatives and friends.
J.E. of Lititz
What a great group of employees you have. From our saleslady in the store to the two who came and did our installation!
J.K. of Mechanicsburg
Martin's is amazing! The salesperson helped us find carpet within our budget and the installer did an awesome job installing it!
J.P. of Ephrata
The installer you sent goes above and beyond. You are lucky to have him. He is very kind & courteous- an exceptional young man who is very detail oriented.
J.S. of New Holland
Excellent experience from start to finish. Our salesperson was great, very helpful & knowledgeable. The installers are master mechanics and they treated my home as they would their own. Likewise for the gentleman who came to remove the wall-to-wall carpet. Kudos all around to everyone!!
J.Z. of Coatesville
We are very pleased with the carpet and installation. We were very pleased that Wendy was able to schedule the installation to fit our needs.
K.R. of Reading
I like your Denver location, it's close enough to drive there in a horse and buggy. Thanks!
L.M. of Ephrata
Excellent service in every step. We will be back to Martin's for our next purchase.
S.S. of Sinking Spring