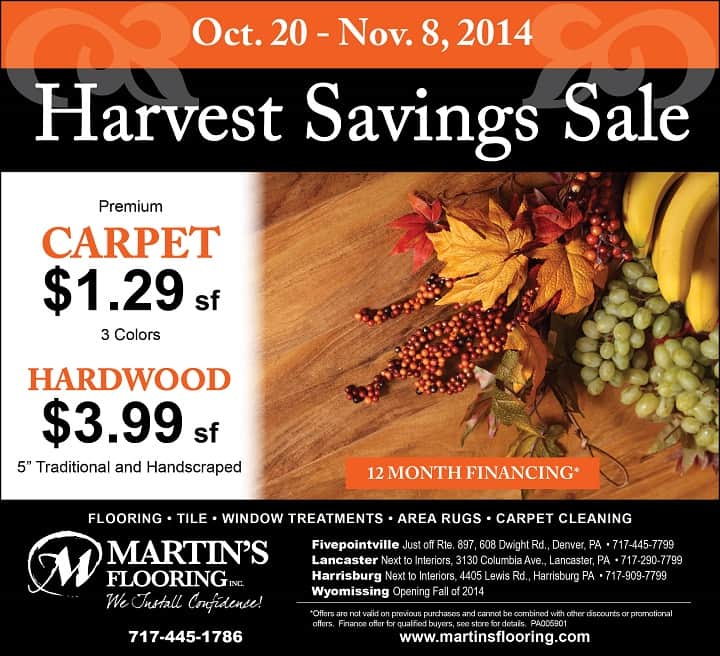 Our salesperson worked quickly to meet our deadline of our move-in. This was a last minute carpet installation and he made it happen for us! The staff was all very friendly! Thanks
A.H. of Lancaster
Our salesperson understood immediately what we were trying to accomplish and coordinated the installers in line with our contract and our schedules. The installer was extremely professional and did a wonderful job. We were very pleased with the overall experience.
B.S. of Lancaster
Martin's Flooring cleaning division was very pleasant to work with and worked in a timely manner
C.S of Spring Grove
Everyone was helpful and extremely professional. The installers were excellent. We are very happy with our new floor!
D.K. of Middletown
We were very happy with the final installed product and customer communication was good throughout the process.
J.O. of Mount Holly Springs
I would like to thank the folks here for everything. I walked through my house and I thought the carpeting and kitchen floor looked great. I also appreciate your honesty in you billing.
K.C. of Lancaster
Very well satisfied with everyone that I came in contact with in purchasing my carpet! Thank you so much!
L.N. of Elizabethtown
Our installer was absolutely superb. His works ethics are very impressive. He was friendly, courteous and was very professional. Couldn't have asked for a better man for the job!
M.L. of Denver
I did not discuss warranties at the sales associate! Was not interest in that regard – our whole process was more than satisfactory! Good Job! Floor looks great!
M.M. of New Holland
Everything was perfect! Our salesperson was very helpful and helped us find exactly what we were looking for. Installers were prompt, courteous, and left no mess behind. Thanks!
M.S. of Denver