The Importance of Flooring in Your Home
Flooring is functional. We walk on it, we put our furniture on it, and it helps hold our homes together. But flooring is so much more than pure function. Flooring contributes to the overall aesthetic of your home. The right flooring can make a room feel cozy and inviting, while the wrong choice can make it feel sterile and uncomfortable.
Certain types of flooring, like hardwood, may improve home value by as much as 3%-5%. Flooring can reflect and coordinate with your personal style and your home's architectural period. Flooring can also make your life easier through noise reduction, ease of cleaning, and durability.
With so many options available, it can be overwhelming to choose the right flooring for your home. In this article, we will explore the different factors to consider when choosing flooring for your home, including design, cost, and function.
Design Decisions in Choosing Your Home's Flooring
When it comes to design, the options are endless. From hardwood to tile to carpet, each material offers a unique look and feel. Hardwood, for example, is a classic choice that adds warmth and elegance to a room. It is also a durable option that can last for decades with proper care. Tile is even more durable and is a great choice for high-traffic areas such as kitchens and bathrooms as it is easy to clean and maintain. Luxury vinyl tile and laminate flooring can look very similar to tile and hardwood at a more affordable cost. Carpet offers a wide range of colors and textures. It is especially well-suited for bedrooms and living rooms because of its sound dampening qualities and warmth.
How to choose? Follow this brief style inventory guide to understand the flooring type that will work best for your style and your home.
First, assess your personal style and the architectural style of your home
When assessing your personal style, take into account whether you are comfortable with your current style or whether you want to make a change. During different times of the day and night, take a long look at your home, including your furniture, accent pieces, wall coverings and window treatments. Do you feel happy and relaxed in your current style? Or do you want things to look differently?
If your current home style makes you happy, then just use your current style as your guide and choose your new flooring to match.
But if you want to make a change, review the style types below and determine which one resonates the most for you.
Similarly, assess the architectural style of your home. Is your home a traditional Tudor? Or a mid-century modern rancher? Or an English cottage? Knowing your home's architectural style can help you select a flooring type that is seamless with how your home was designed and built.
Here is a list of some of the most common home styles and types of flooring that work well for each one.
Styles that emphasize clean lines and simplicity
Modern Flooring – Modern style started in the 20th century and is characterized by clean lines and a subdued color palate. No frills, no flourishes, and no clutter. Modern style is sleek and elegant. Flooring that would work with this style include hardwood without a strong grain. Glossy or matte tiles, particularly porcelain or stone tiles, are also a good choice. Carpet could work as well, particularly Berber or low pile. In general avoid busy patterns although a simple geometric pattern would also work.
Industrial Flooring – When you think of an industrial style, think of old manufacturing buildings that have been renovated into loft spaces with high ceilings, exposed brick, and exposed ductwork. Hardwood floors work well with industrial style, particularly in wide planks. Prominent graining is fine as is any wood color. Luxury vinyl plank or laminate can substitute for hardwood in industrial style. Another good choice is ceramic or porcelain tile that mimics the look of concrete.
Contemporary Flooring – This is similar to modern and industrial, but less austere. Contemporary style may have some curves to it. Contemporary style simply reflects what is "in the moment", so it changes over time. For this reason, any flooring style can work with a contemporary décor.
Scandinavian Flooring – This style embraces light colors, nature and simplicity. Oak, maple, birch, ash and bamboo are all naturally light-colored woods that are a perfect fit for Scandinavian style flooring. Tiles also work for Scandinavian style, especially in white or light grey. A light-colored carpet in a neutral tone is also a good choice. Finishes on flooring should not be highly polished; a matte finish is preferable for this style.
More decorative styles
Mid-Century Modern Flooring – This style emerged in the 1950's and 1960's and has experienced a resurgence in popularity. Mid-century modern style tends to have somewhat softened, rounded lines and the use of organic shapes. Carpet is an appropriate option for mid-century modern, especially with warm colors and soft patterns. Hardwood floors also work well, with visible graining. Terrazzo tiles (or a similar look from luxury vinyl tile) are also appropriate for this style.
Traditional Flooring – This style has more flourishes and drama than the preceding styles. Look for rich, dark colors and glossy finishes. Traditional style originated with European decor, so dark hardwood floors with a highly polished finish would work well. Deep pile carpets in rich tones would also fit, as would tiles laid in decorative patterns. Think sumptuous.
French Country Flooring – This style has warm tones and richness, but is unfussy. For French country, think cozy and soft. Warmly colored hardwood floors or luxury vinyl plank would be a good fit for French country, as would terra cotta tiles. Appropriate choices in carpet would include patterns in deep pile or plush.
Bohemian Flooring – This style is eclectic. Imagine mis-matched vintage pieces where everything seems thrown together, but somehow just works. Bohemian style is great with boldly colored carpets and a mix of different flooring types in adjoining rooms. You can have patterned tile in one room and hardwood in the next and then tile after that.
Rustic or Cottage Flooring – Cottage, or rustic, style is informal and comfortable. Not too fancy, not too strict, and not too crazy. This style is like your grandmother's house if she lived in the English countryside. Greens, browns and golds are the colors of this style and they coordinate well with flooring that looks like it's been there forever. Hardwood floors are a good choice here, in classic woods like oak and pine. Carpets should adhere to this style's main colors, and patterns are fine. Terra cotta tile also works for this style.
Coastal/beach Flooring – If you've ever rented a beach house you've seen this style. Lots of white, grey and blue with nautical touches. Luxury vinyl plank can shine for this style with its many options for white or grey-tone finishes. Tile can supply a similarly clean, cool, beachy feel in tones of white and grey.
Second, assess your lifestyle
Traffic Quantity – How much traffic will your floors get? Are you someone who likes to entertain? Do you have a large busy family? If the answer is yes to these questions then give durability a prominent place in your decision-making. If not, you can focus more on other factors, such as aesthetics or comfort, over durability.
Traffic Type – Who is going to be walking on your flooring? Will it be an elderly or frail person? If so, choose a floor that is not slippery. If anyone in your home uses a wheelchair then hard surface flooring may be easier for them to navigate than carpet. Do you have children? If so, durability again comes into play with the anticipation of lots of playtime and dropped items. Carpet is also a good choice for children because it is warm to sit and crawl on.
A significant type of traffic to consider is pets, especially large dogs. Large dogs' claws can damage hardwood floors so if you have a big canine in your home, tile may be the best choice. According to Consumer Reports' research on the best flooring for high traffic areas:
"Tile is the highest-rated flooring among the categories we test."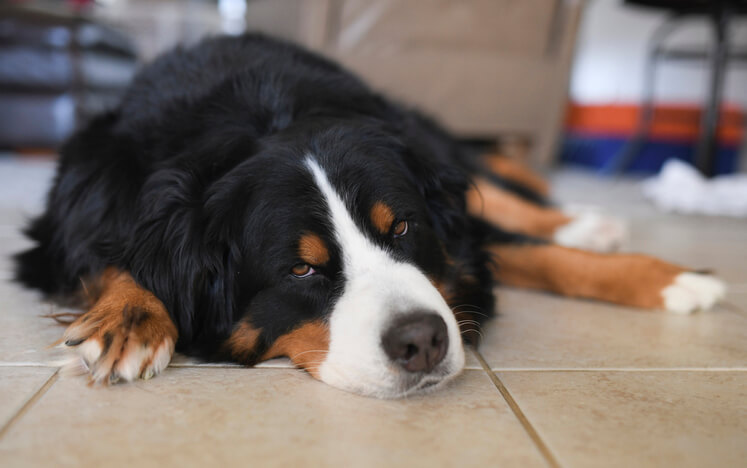 Allergies – Does anyone in your home have allergies? If so, then any of the hard surface floors may be the best choice. However, if you choose carpet, select a low-pile option. This will retain less dirt and allergens than a deeper pile.
Environmental concerns – Do you tend to prefer eco-friendly options? If so, hardwood and engineered hardwood are both excellent choices because they are renewable, durable, and do not have volatile organic compounds (VOCs). VOCs are a concern for some people because VOCs have been linked to health issues and pollution. Wool carpet is another renewable resource that does not have VOCs. You might not think of polyester carpet as environmentally friendly, but it can be if it is made from recycled materials.
You can ask your local flooring expert about the FloorScore® rating of most types of manufactured flooring. FloorScore® does not rate natural products such as hardwoods, porcelain or stone tile.  FloorScore® is "the most recognized indoor air quality (IAQ) certification standard for hard surface flooring materials, adhesives, and underlayments" and thus an excellent resource.
Relative Costs of Different Flooring Types
All types of flooring come in a wide range of costs. The more expensive flooring types tend to be hardwood and tile. Less expensive flooring tends to be carpet, luxury vinyl plank/tile, laminate, and sheet vinyl. This section will provide a high-level overview of the variations in cost for each type of flooring. Of course, if you find a sale you may be able to secure flooring for lower than these average cost estimates.
The estimates below include installation but remember that installation costs can vary widely. Some of the factors that affect installation costs include where you live, whether an existing flooring has to be removed and disposed of, and whether there are issues with the subfloor that need to be fixed.
These cost estimates are only meant to give you a rough idea how different types of flooring stack up against each other. Speak with your local flooring professional at Martin's Flooring to get an accurate cost estimate for installation of the flooring you prefer.
Tile – Flooring tiles come in many types, sizes and shapes. The most common materials are ceramic and porcelain tiles, but there are also a wide range of natural stone tiles. Installation costs for tile may be affected by the pattern in which the tiles are laid and whether there are patterns on the tiles themselves that need to be carefully aligned. Laying tile in a herringbone pattern, or laying a contrasting border pattern, will likely add an additional cost to your installation.
The size of the tiles may also impact installation cost. Small tiles are likely to have a higher installation cost because they take more time to lay and require more grout.
Keeping in mind all the factors mentioned above, prices for basic types of tiles break down like this:
Ceramic – $4.00 to $8.00 per square foot
Porcelain – $5.00 to $12.00 per square foot
Stone – $9.00 to $22.00 per square foot
Hardwood – Hardwood floors generally range between $8.00 to $15.00 per square foot. On the low end are narrow planks in common woods such as oak or pine. At the high end are woods such as Brazilian cherry, hickory, mahogany, teak, or walnut. If you choose a exotic wood with a special treatment, hardwood flooring could cost as much as $40.00 per square foot. As with tile, you may pay extra for installation if you want a pattern, such as parquet, or a border.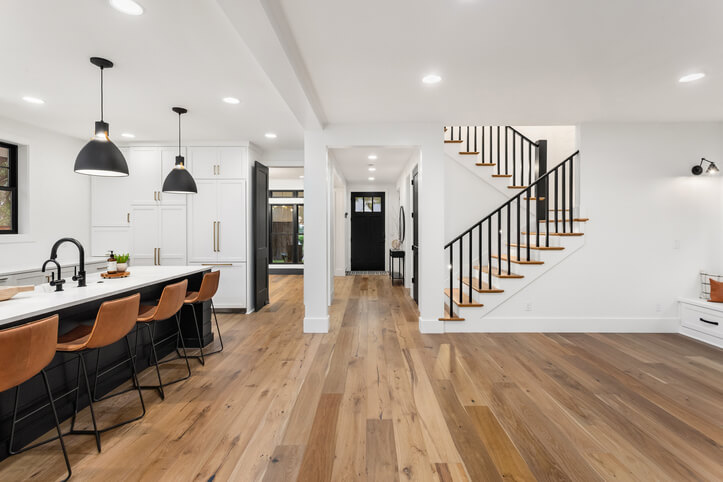 Engineered wood – This flooring is a thin layer of real wood on top of a layer of structural plywood. It costs a bit less than hardwood starting at about $6.00.
Carpet – Carpet costs can start at about $1.50 per square foot for polyester or polypropylene wall to wall carpet and increase to $10.00 per square foot for higher-end materials such as wool. The thickness and material of the matting beneath your carpet will also affect cost. Other factors that can impact cost include texture, with cut pile being the lowest cost, patterned being mid-range, and Berber on the higher end.
Luxury vinyl plank and tile – Costs for luxury vinyl plank and tile mostly range about $2.00 to $10.00 per square foot. At the lower end of pricing, the material will have thinner construction and will most likely require adhesive during installation. On the upper end, you'll find more durable construction and more realistic patterns (looking like wood or stone or ceramic tile). Installation options will include click lock (or floating) systems. These systems do not require glue or nails, making the installation possible for a dedicated do-it-yourselfer. These systems are also waterproof and are easy to replace a plank or tile if one is damaged.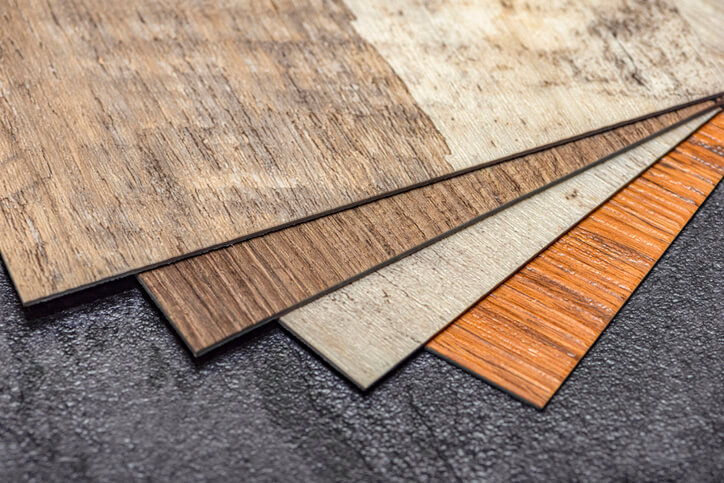 Sheet vinyl – This is one of the most affordable flooring types at $1.00 to $5.00 per square foot. As with luxury vinyl plank and laminate, low end sheet vinyl is thinner than the higher end versions. The designs become more realistic with more expensive vinyls. Sheet vinyl comes in a large roll that is cut to fit the dimensions of your room, then glued to the sub-floor.
Laminate – Pricing ranges from about $4.00 to $9.00 per square foot. Cheaper laminate is thinner and has less realistic patterns, while the more expensive laminate is thicker, padded, and uses a locking system. As with luxury vinyl tile and sheet vinyl, more expensive laminate floors have the best-looking patterns.
Functional Flooring Factors to Consider When Choosing Flooring
Location – What room are you flooring? While hardwood is not unheard of in kitchens and bathrooms, it is not the first choice because bathrooms and kitchens have the most risk of liquid spills. For this reason, most people opt for tile (luxury vinyl, ceramic, porcelain, or stone) or sheet vinyl in kitchens and bathrooms. These materials are all highly water resistant.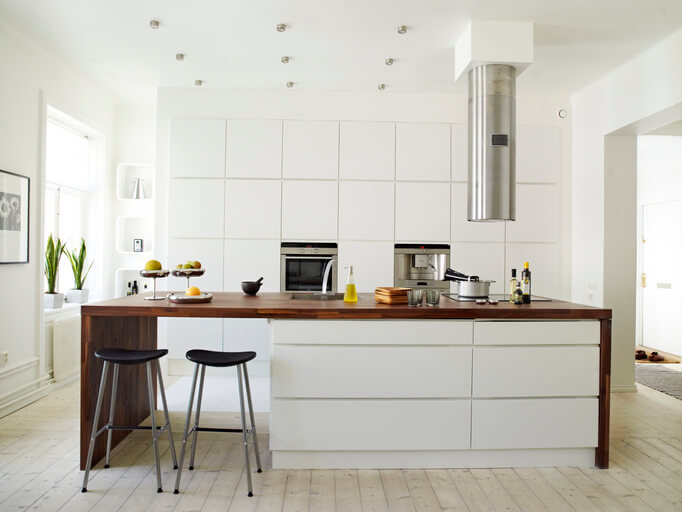 For bedrooms, many people prefer carpet for its softness, warmth underfoot, and sound-dampening properties. Since bedrooms are private space there is more opportunity for playfulness, if desired. For example, your teenager might like a carpet pattern that would be too wild for the living room. But, for a bedroom, why not?
Location will also impact your budget. For your main home area, where there is lots of wear and tear, don't go for the builder-quality material. Choose a material that is durable and attractive because you'll be seeing it and using it every day. For a secondary area, such as a finished basement or a home office, a lower-cost material makes more sense. Secondary areas get less wear and tear and are not part of your daily environment.
Durability – As mentioned earlier in this article, tile is the most durable home flooring material available, whether ceramic, porcelain or natural stone. Among those three types, porcelain and natural stone are more durable than ceramic, which has a slightly greater tendency to chip or crack if heavy objects are dropped. If a tile is damaged, it can be repaired with a tile repair kit available at your local flooring store.
Tile is an excellent choice for rooms that get wet or are heavily used like kitchens, bathrooms, mudrooms, and laundry rooms. Tile lasts for decades, easily fifty years or more. This does mean, however, that you need to pick a tile that you can live with for a long, long time. So don't choose a tile that is flashy or trendy, choose one that is timeless.
Vinyl, whether plank, tile, or sheet, is the second most durable flooring material according to Consumer Reports:
"All the vinyl tiles and planks we tested received an Excellent rating in our test for resistance to water spills and flooding."
Vinyl is significantly less expensive than tile and thus makes an excellent option to consider in rooms that require durability. Patterns on luxury vinyl tile and plank can look strikingly like hardwood and natural stone.
Vinyl's only durability shortcoming is that it more susceptible to scratches than tile. To protect against scratches, put felt pads on the bottoms of furniture that rest on vinyl flooring. And, if you have a large dog, make sure to discuss with a local flooring expert, like Martin's Flooring, whether your preferred flooring will stand up to the wear and tear of doggie claws.
Flooring Transitions – Will your new flooring be next to other flooring? If so, you'll need to consider how the two types of flooring will look next to each other. It is very difficult to match two different types of flooring, so the best practice is to make them complimentary rather than trying to match exactly. Start by looking at the primary flooring. Identify a color or shade or texture that is present in the primary flooring that can be echoed in the secondary flooring.
For example, if the primary flooring is a warm-toned hardwood, then your secondary flooring should also be warm-toned but in a shade darker or lighter. Carpet or tile would be a good choice because then there will be no risk of looking like you tried to match two hardwoods but failed. When two different types of material abut each other, you may want to consider a transition strip. This is a piece of material that covers the border between the two types of flooring. In our hardwood-to-carpet or hardwood-to-tile example, the transition strip would be made of hardwood.
Sound insulation – If you are hard of hearing you know the trouble that echo-y rooms can create. For sound insulation, carpet is the best choice. As a soft material, carpet absorbs sounds from footfalls, television, music systems, and speech. Most hotels use carpet in their corridors and rooms for this very reason; it reduces the amount of noise that travels into guest rooms. Laminate or vinyl floors are hard surfaces so they are not as good as carpet for sound insulation, but they can be improved with the addition of pads or foam backing. Tile and hardwood floors are not the best choices for rooms where sound insulation is a priority.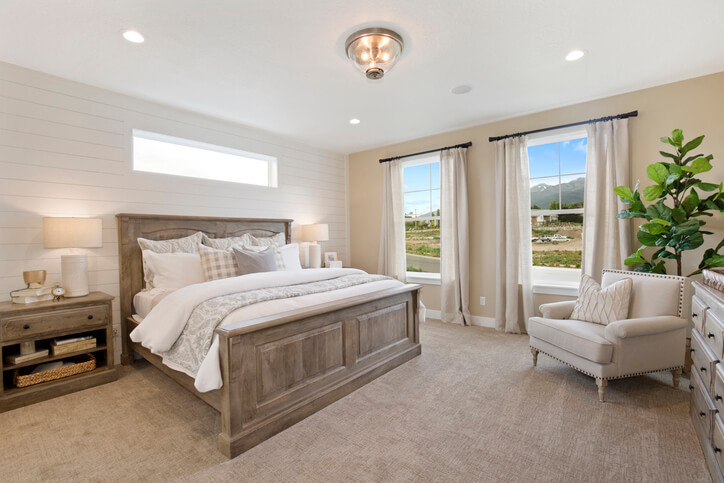 Thermal insulation – Carpet wins again in the category of thermal insulation. Carpet is warm underfoot which is especially appreciated if you live in a cold climate. The worst option for thermal insulation is ceramic, porcelain and stone tile. These floors are cold to the touch and cannot have an insulating underlay. In the middle are vinyl and laminate because these floorings can have an insulating underlay that helps with heat retention. However, they will never feel as warm underfoot as carpet.
Flooring Hardness – Hardness relates to durability. Ceramic, porcelain and stone tiles are the hardest flooring materials and thus also the most durable. However, hardness can vary considerably for different types of wood floors. The Janka hardness scale is used to rank the hardness of wood varieties. This scale only applies to wood floors, not to laminate or vinyl. Your local flooring expert will be able to supply the Janka rating of the exact wood you are considering but, at a high level, here is a ranking of some of the most common types of wood flooring from softest to hardest:
Pine
Cherry
Teak
Walnut
Birch
Oak
Beech
Ash
Hickory
Pecan
Brazilian Cherry
However, keep in mind that different types of the same species of wood will have different hardness ratings. White oak, for example, is harder than red oak (white oak is also darker in color than red oak).
Flooring Material Sustainability – When considering sustainability, take into account where your flooring was sourced, how far it was shipped, how it was manufactured, how it affects the indoor environment, and whether it is recyclable. The top two floorings for sustainability are reclaimed hardwood and virgin hardwood. Reclaimed hardwood scores high because "of its ability to improve the indoor environment while being a renewable resource if harvested sustainably." Similarly, virgin hardwood scores well on sustainability if it is U.S. sourced, carries a Forest Stewardship Council certification, and is not treated with VOC emitting finishes.
Other types of flooring, such as vinyl, laminate and tile, score lower than hardwood on sustainability because their manufacturing processes have a more negative environmental impact. Similarly, non-wool carpets scored lower because of the manufacturing process and because of potential VOC off-gassing. Wool carpet is a renewable resource and does not emit VOCs, which counts in its favor, but it is generally not recyclable which counts against its sustainability score.
Flooring Repairability – Repairability varies widely across different flooring types and also varies according to the level of damage. Scratches and small dents, naturally, are easier to repair than a floor that has buckled due to water damage.
For ceramic, stone or porcelain tile floors, the most likely damage is a crack due to something heavy being dropped on the tile. For this type of damage, a repair kit from your local flooring store is likely to be an easy fix for most homeowners. The kit will provide materials and instructions to fill the crack and smooth the seam. However, if a tile is entirely broken beyond repair, it may need to be replaced by cutting into the grout, removing the broken tile, and laying a new tile. This may be beyond the scope of some homeowners.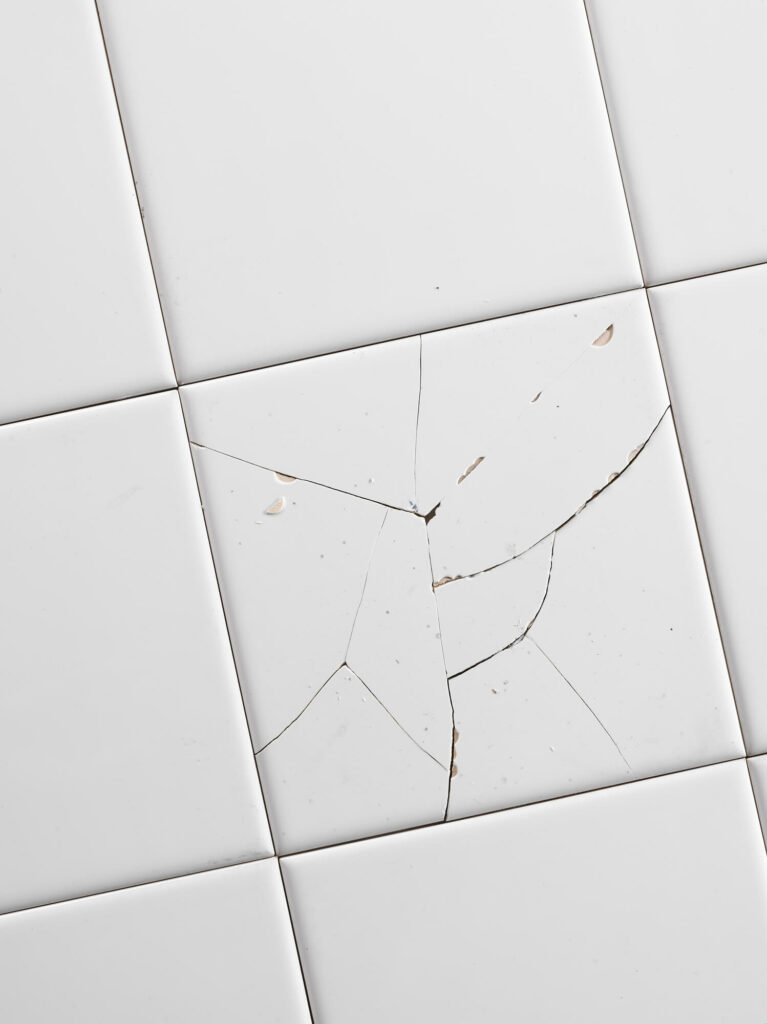 For hardwood floors, repairing shallow scratches and small nicks is manageable by most homeowners with a little sanding and wood filler. Even deep gouges and dents are repairable in this manner. And, if your hardwood floors have many light scratches over a large area, you can rent a buffer from a local home center to rough up the finish and then apply a coat of polyurethane. However, if there are many scratches go deeply into the wood over a large area then you may need to have the floor entirely refinished. For many homeowners this is a job for a professional—Martin's Flooring's hardwood refinishing services can help with this type of damage. A typical hardwood floor can handle being refinished four to ten times in its lifetime, depending on the thickness of the wood planks.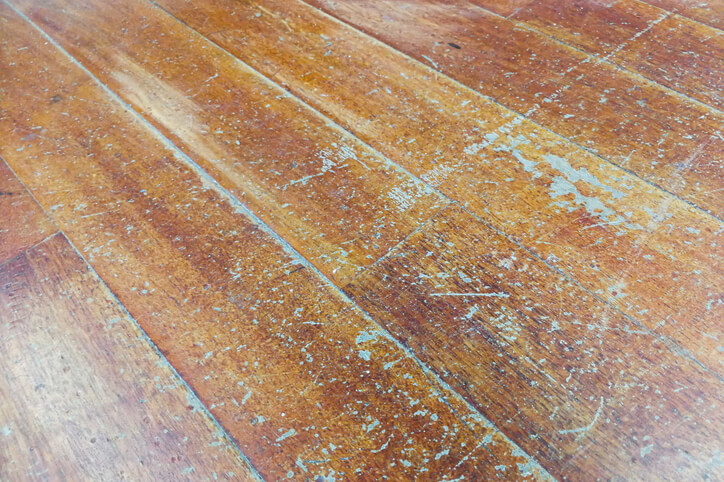 For laminate floors, small scratches and nicks can be fixed with a laminate repair kit that can be purchased at your local flooring store. Replacing an entire board requires more skill but can be within the scope of a handy do-it-yourselfer. The damaged board needs to be lifted or cut out (depending on where the board is and how it was installed) and replaced. Martin's Flooring has a team of technicians who can also handle this work for you.
Carpet is most likely to be damaged by stains and spills, but can also be damaged by a rip or hole. Stains and spills are generally easily cleaned with carpet cleaner that can be purchased at a home store or even a grocery store; however, with many of the carpets that Martin's Flooring sells, you clean stains simply with hot water. If too large an area of the carpet is dirty or the stain is too persistent, you can rent a carpet cleaner from a home store or you can click here to schedule an appointment with Martin's Flooring's professional cleaners. If your carpet has a hole in it, it can be repaired by cutting out the damaged patch and gluing or stapling in a replacement piece. This is less likely to be visible in carpets with higher pile and without a pattern. If your carpet is low pile, you may want to call in Martin's Flooring's professional team to handle this type of repair.
For luxury vinyl tile, small scratches are fixable by sanding and then touching up the area with a repair kit from your local flooring store. If an entire tile, or plank, is badly damaged, it can be removed and replaced. This is easier with a click and lock system installation than with a glued-down installation. A glued down plank may need a professional technician to handle the repair. A similar approach is taken with sheet vinyl – the damaged part of the sheet vinyl needs to be cut out and a replacement piece matched and fitted in.
Colorfastness – In general, in a room that gets a lot of direct sunlight, a light color floor runs less risk of fading than a dark color floor, regardless of material. So when choosing flooring for that sunroom, go light. Another factor that can affect fading is the quality grade of the flooring. If you are using laminate flooring in a very sunny room, for example, choose a light color and a higher-grade material to avoid fading.
The only materials that are completely impervious to fading are ceramic, porcelain and stone tiles. All other flooring materials have the potential to fade if they are a dark color and if they are a cheaper quality.
In Closing
Choosing the right flooring for your home is a big decision that requires careful consideration of design, cost, and function. To make sure you get a finished product you love, take the time to research and compare different options. Martin's Flooring is staffed with professional flooring experts and we offer FREE design service to guide you through the process and help you find the flooring that best suits your needs, style and budget. You can browse our wide variety of products online. From Berks, Chester, Lancaster and York counties and across to New Jersey and Delaware, we services homes across the tri-state area. Schedule a FREE in-home consultation and our helpful staff members will get back to you right away. You can also give us a call or visit us at one of our three convenient locations in Fivepointville, Lancaster, or Wyomissing PA.