Trends You Need To Know About When Choosing The Best Tile for Your Home
Do you need help figuring out what the latest tile trends are for your home or business? Do you need some tile inspiration to get your creative juices flowing? You've come to the right place! At Martin's Flooring, we've made it our life's work to provide you with tile options of all colors, textures, shapes and sizes so that you can find the perfect tile look for your next home or business project. You can shop on our website to view the latest trends or you can visit our showroom where we have even more options available for you to explore in person.
Whether you're just beginning to think about remodeling your space or you've been agonizing over tile options for months, we've got all the information you need to figure out what's trending right now and how to pick the right tile trend for your unique space. When it comes to tile, there are more aspects to consider than you might expect, including:
Tile material
Room type
Location: floor vs. wall
Home décor aesthetic
We're going to take a deep look into each of these factors to help you determine how to choose the perfect tile for every type of home project.
Tile Material
Many people are surprised by the variety of tile materials out there. But remember, the more choices you have, the more likely you are to find a tile material that is well-suited for your space. For some people, this abundance of choices may be overwhelming, but our guide will make it easy for you to understand the pros and cons of each material so that you can feel confident in your decision making. Let's start by reviewing the various types of tile materials available. Then, we will dive into each to explain their unique attributes.
Ceramic
Porcelain
Glass
Marble
Metal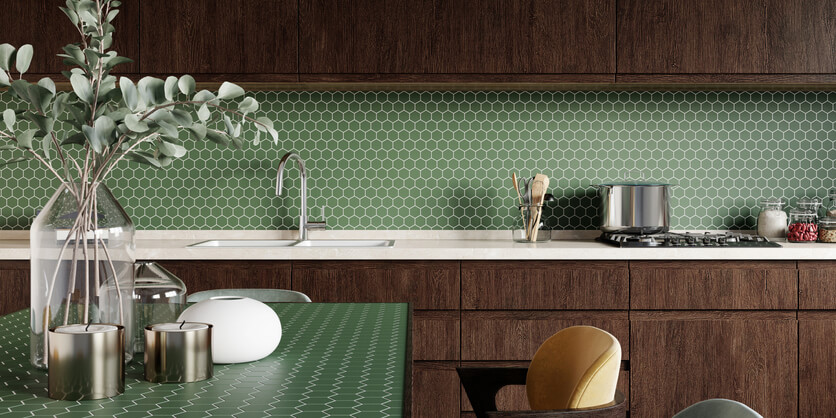 Ceramic Tile
According to the IASS, ceramic tile has been used for centuries and is one of mankind's oldest materials. This type of tile is made from clay that has been poured into molds and baked at extremely high temperatures. After the baking process, color and glaze is added to give these tiles a finished look. The high durability and affordable price of ceramic makes it perfect for virtually any space in the home, from shower floors to kitchen backsplashes. Looking at ceramic from a design standpoint, it's a wonderful option because it can be made into so many different shapes and sizes. The image above is a perfect illustration of how ceramic can take on a totally different look from the more traditional subway tile that many of us associate with this material.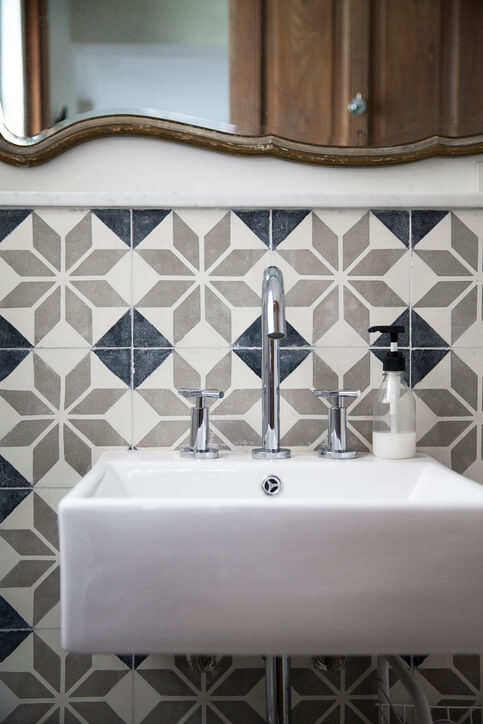 Porcelain Tile
Similar to ceramic, porcelain is another high-durability tile material. Porcelain and ceramic are two names that are sometimes used interchangeably because both tiles are made from clay that is baked in heat. However, the big difference between these two materials is that porcelain has a lower water absorption rate than ceramic, making it more ideal for use in areas where moisture is prevalent, like in bathrooms, around pools, and in kitchens. Something that you may not know about porcelain is it has an amazing ability to take on the look of wood planks. As a result, porcelain can also be an option for homeowners who crave the look of natural wood in a space that requires a water-resistant material.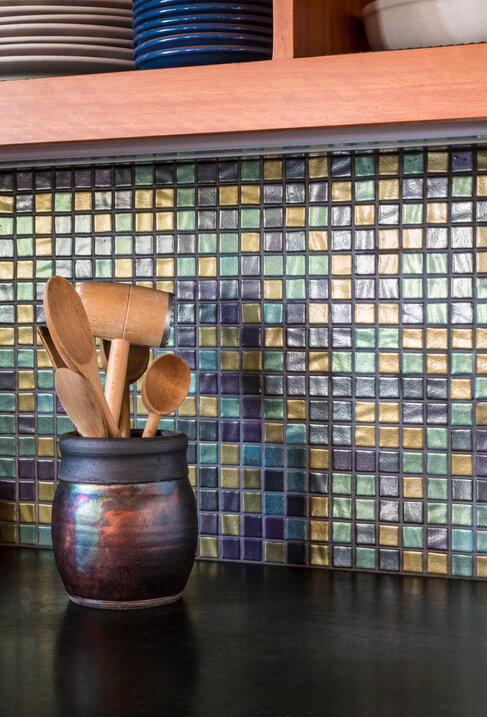 Glass Tile
Like ceramic and porcelain, glass tile come in a variety of shapes, sizes and colors. However, its transparency and ability to refract light is what visually sets glass apart from the other materials that we've covered so far. According to GlobalSpec, these glass tiles are made by fusing, "which involves placing several thin sheets of glass in layers into a kiln and heated to about 800 degrees Celsius, essentially fusing the different layers of glass together into one sheet." Because glass tiles are more rigid than ceramic, they are more likely to crack under pressure, which is why we wouldn't recommend using them for flooring. But what glass tiles lack in durability, they make up for in beauty and water-resistance. Glass tile can be a beautiful additional to kitchen backsplashes, bathroom walls, and pools.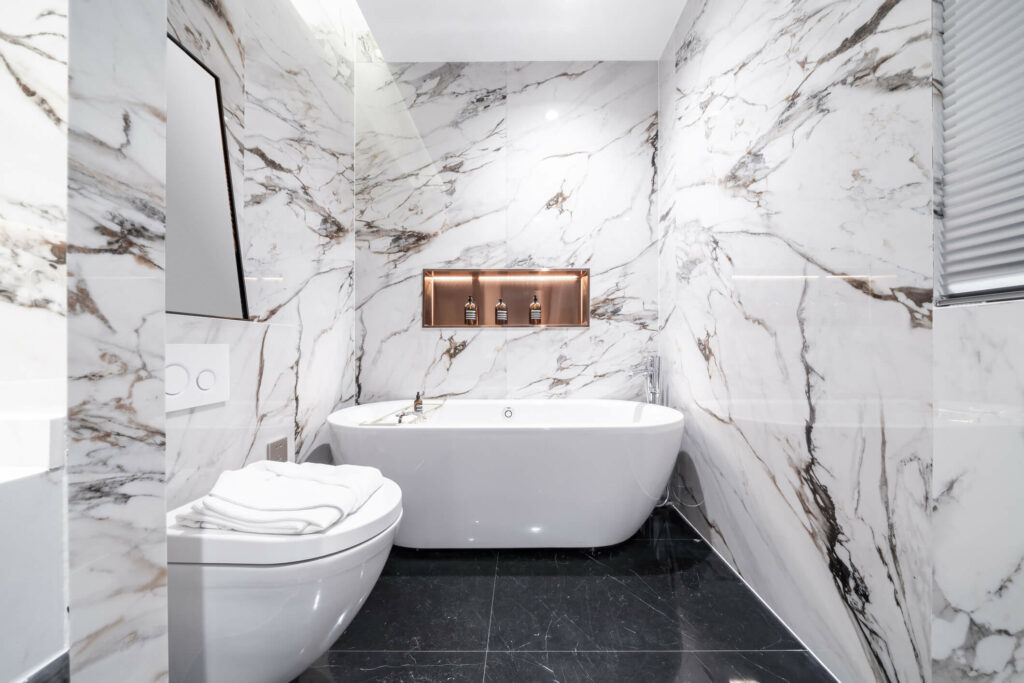 Marble Tile
Another tile material that has been used for centuries is marble. Marble is a natural stone that is well-known for its distinct veining that brings a touch of luxury to any space. According to Geology Science, "Marble is a granular metamorphic rock, it is derived from limestone or dolomite and it consists of a mass of interlocking grains of calcite or the mineral dolomite." Although marble is a porous stone that scratches and stains easily, it can be an ideal choice for homeowners who understand the care involved in preserving marble and who also desire an upscale look that will add value to their home. In addition to its aesthetic appeal, marble is also a great conductor of heat, which means that marble is an ideal material for people who want to install heated floors.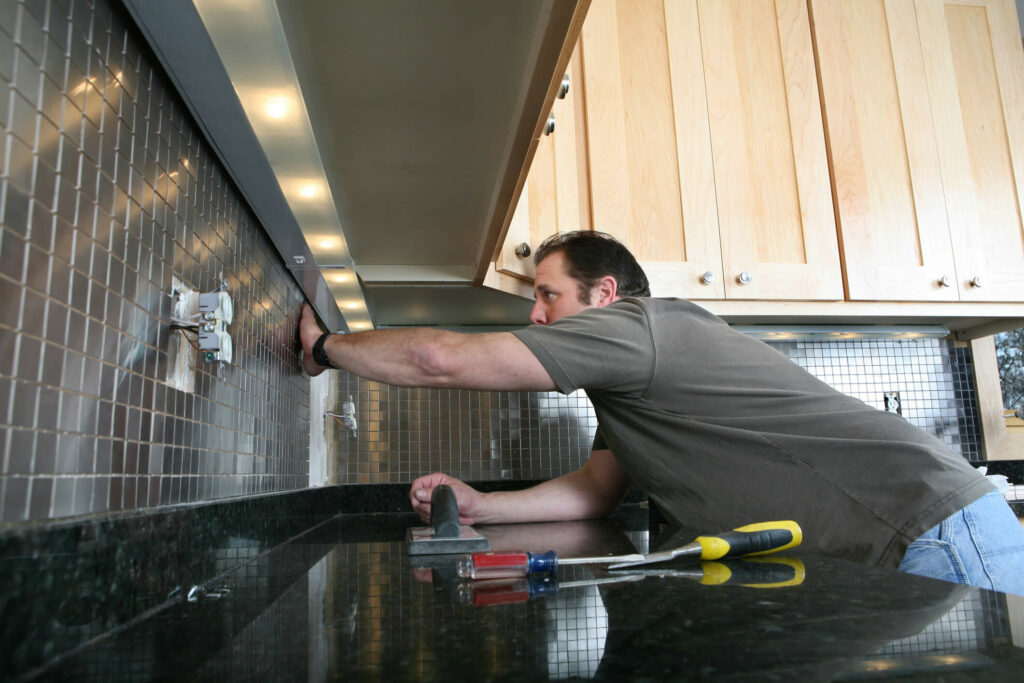 Metal Tile
You can achieve a few unique looks using metal tiling in your kitchen: vintage, ultra-modern, Mediterranean. If you've got your heart set on one of these three styles, metal tiles could be an ideal choice for your space. Most metal tiles today are made from stainless steel, which is an easy-to-clean material that will both absorb and reflect light. According to donpedrobrooklyn.com, this quality causes the area around your metal tile to appear larger than it actually is. On the flipside, there are a few cons to metal tiles that you should know about before deciding to install them in your home. First, although metal tiles are easy to clean, they will also easily stain if you don't get to splashes right away. Second, stainless can be dented if it's not mounted on a sturdy backing. If the pros out-weigh the cons for you, stainless could be a beautiful additional to your space. One trending look that we love right now is the penny tile style. This look features circular stainless tiles coated in copper, which are then laid out in a mosaic format.
How to choose the right tile for your home
Now that you have a better understanding of the various tile materials out there, lets take a look at what factors you should take into account before selecting a tile for your space, including:
Room type
Location: floor vs. wall
Design style
Room Type
The first consideration for any tile project is where the tile will go. Are you planning to tile a bathroom that requires water-resistant material or will you be applying decorative tile to a dry, hot surface, like a chimney? Ultimately, the key to choosing a tile to understand the day-to-day conditions of your space so that you can select a material that will thrive there. Today, tile is used in a wide variety of spaces. Here are the various rooms in which you might use tile, some suggestions, and considerations for each space. If you need more information on how to choose tile based on your room type, check out this article by Consumer Reports.
Kitchens
Kitchens are thought by some to be one of the most important rooms in the home. We use our kitchens to prepare meals, wash dishes, and as a backdrop for hosting friends and family. With so much activity happening in the kitchen, it's no wonder tile has become a staple. Tile is easy to clean, it's durable, and there are unlimited design options, which means you won't have any difficulty matching tile to your home's design style. Here are some of the main areas where you can incorporate tile into your kitchen:
Flooring – Durability is a key factor
Backsplash – Tile should be water resistant
Built in cabinet/bar – Anything goes! Low traffic and low moisture mean the options are unlimited
Bathrooms
Another area of the home where tiles has become almost essential is the bathroom. Since bathrooms tend to have the high levels of humidity, it's a good idea to use water-resistant tiles for every area of this space, even if you're tiling an area that you don't expect to be in direct contact with water. Don't worry, this doesn't mean that you need to sacrifice beauty. Ceramic, porcelain, and glass are all water-resistant options that come in a wide variety of colors, shapes, and sizes. Here are a few areas in the bathroom where you might consider tile:
Flooring
Sink backsplash
Shower
TILE TIP: One thing to keep in mind when considering tile for your bathroom floor is the finish. Home Improvement Contractors offer a helpful tip that you should avoid using tiles with a glossy finish for flooring because they can become dangerously slippery to walk on, especially when water is involved.
Commercial restrooms
The key to finding the right tile for your commercial restroom is focusing first on durability. Unlike the bathroom in your home, your business's bathroom will be used constantly throughout the day by employees and customers alike. Think about the number of people who will be treading back and forth on the floors, washing their hands, and splashing water on the sink and walls. So, what type of tile is best in this atmosphere? Ceramic of course! Ceramic is tough, durable, and easy to clean, which makes it ideal for business owners who are looking for a no-fuss tile that will last for years. Porcelain can also work, but it will be more expensive. Here are a few areas where tile can work well in a commercial space:
Flooring
Walls
Sink Backsplash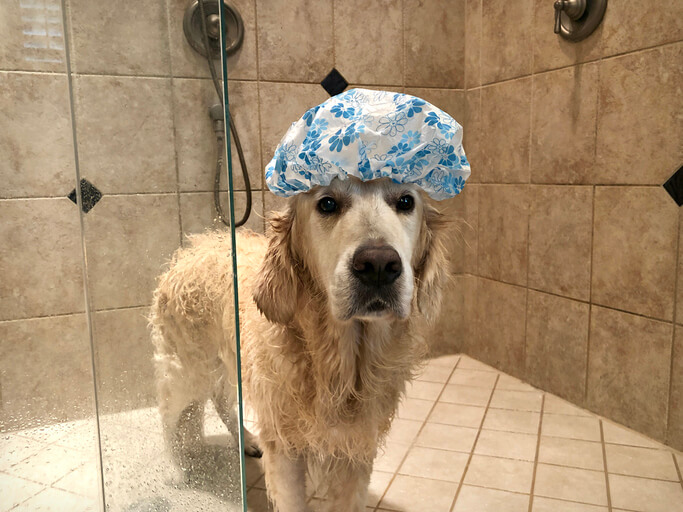 Pet showers
Are you planning to build a dedicated space to bathe your pet? If so, water-resistant tile is a smart choice for your pet shower as well as the surrounding area. As much as we try to keep our pets in one place, they don't always cooperate. If your pet escapes mid-wash, you'll want the area around your pet shower to be tiled as well to avoid the possibility of moisture damage and mold growth on materials that can't handle water, like carpet and drywall. Again, ceramic is a great choice for bathrooms of any kind because it is water-resistant. Plus, ceramic is one of the most versatile tiles materials, which means you'll have unlimited design choices. You could even customize your pet shower to include pet themed tiles, like a design with alternating paw prints! Does all this have you wondering how often you should be giving your pet a bath? Check out these grooming recommendations from the Animal Humane Society.
Entryways
There are two major considerations for every entryway floor: aesthetics and practicality. Your entryway is the first thing that people will see when they enter your space so you want it to visually set the stage, stylistically, for the rest of your home. Your entryway is also the first place that you and everyone else who is coming in will step when they walk into your house, which means anything on your and their shoes will be tracked in…water, mud, dust, dirt…you get it! This means that having an easy-to-clean tile surface is also important for your space. Luckily, there are many tile materials that meet the needs of these two considerations. Here are a few tile materials that you could incorporate into your entryway based on the style of your home:
Natural stone
Slate
Porcelain
Ceramic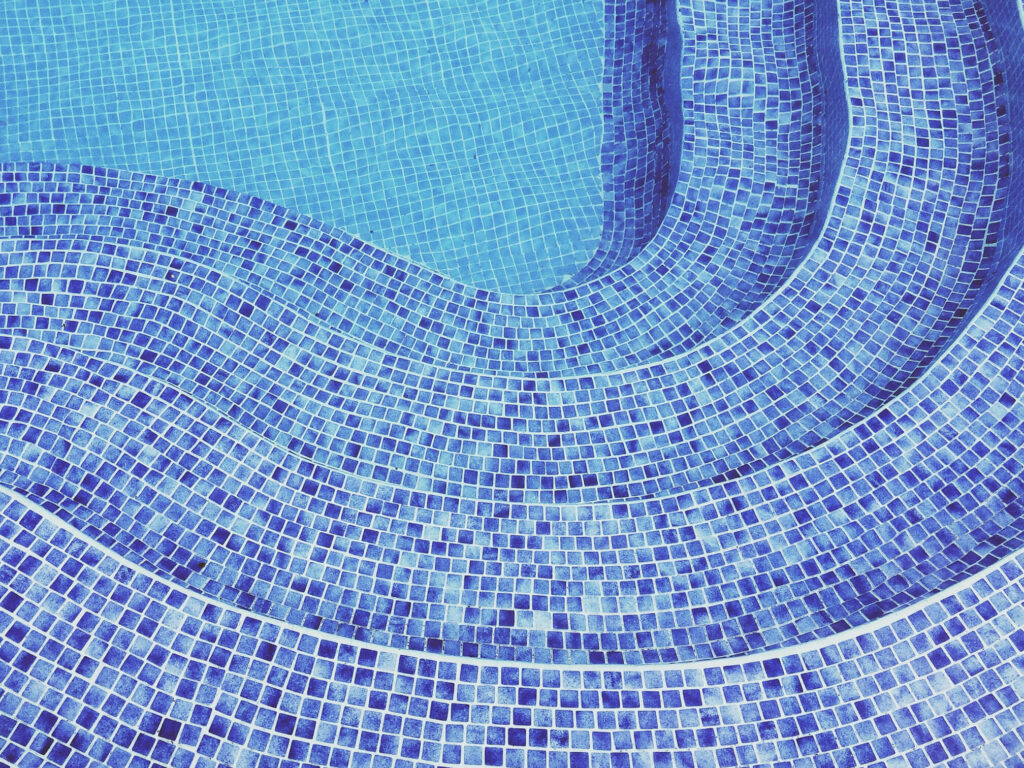 Pools
According to PoolResarch.com, "tile is a really popular option for many pool owners to install in and around your pool. It can be a good option for the shell of the pool, as an accent on the walls, or around the deck." If you are looking for the perfect tile for your pool, consider porcelain, ceramic, or glass. These materials are ideal because of their water-resistant qualities and unlimited design choices. You could tile your entire pool in a beautiful blue mosaic pattern or create a custom design, like a white mosaic with a blue border.
Location: Floor vs. wall
After you consider the room in which you'll be tiling, think about the placement of your tile and whether it will be on the floor or on a wall. If you're planning to tile a floor, choosing a durable tile will be essential if you want it to stand up to high levels of foot traffic. You'll also want to consider factors like tile texture and how slippery it might be. On the other hand, if you're tiling a wall, like a kitchen backsplash or shower, the durability of your tile will play less of a factor in your overall decision making.
Design Style
Choosing a tile that fits with your style is a great way to give your space a cohesive feel. First, identify what your style is, whether that be one style or a blend of several different looks. Our next section will guide you on how to find the perfect tile trend for your home's design style.
Tile to Match Your Design Style
If you've ever shopped for tile, you probably know that there are hundreds of materials, shapes, sizes, and color combinations to choose from. Many of them could look beautiful in your home, but which one will look best? The key to answering this question is first identifying your current style. Once you do that, it will be much easier to select a tile that will complement the rest of your décor. Tile can be costly and time-consuming to install, so it's good to spend some extra time considering your options to ensure you find the best fit for your home. There are many styles out there, but these ten are the most common among homeowners in the United States:
Traditional
Modern Farmhouse
Mid-Century Modern
Shabby Chic
Industrial
Coastal
French County
Mediterranean
Art Deco
Asian Zen
Let's take a look at the distinct qualities of each style as well as examples of the trending tile designs that match.
Traditional
Inspired by 18th and 19th century décor, the traditional style is all about symmetry, neutral colors and coordinated rooms. Many traditional looks also incorporate fabrics that have historically been associated with wealth, like velvet, silk, and linens. You'll see upholstered furniture in florals, plaids, or ornate designs alongside dark wood. If this sounds like your home, there are a variety of tile looks to choose from that would blend in seamlessly with your traditional look. Here are some hallmarks of traditional tile to focus on:
White, grey, and black color schemes
Herringbone patterns
Hexagon shaped tile
Checkered patterns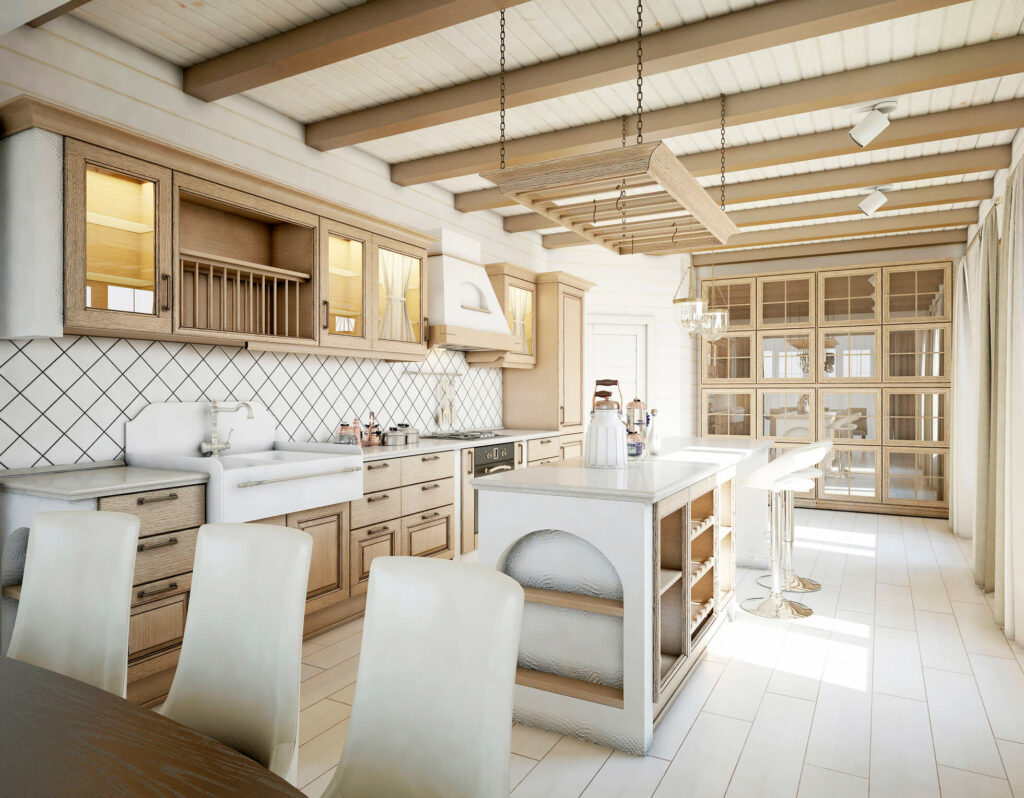 Modern Farmhouse
Modern farmhouse is a style that tends to incorporate whites, neutrals, and black. Homes with this décor style often use textured neutrals to emphasize the style, like burlap fabric, wooden accents, stone walls, and brown leather. Many homes with this style opt for apron sinks and black light fixtures with either ultra-modern clear glass bulbs or rustic fixtures like lanterns with candle-shaped light bulbs. If modern farmhouse sounds like your style, here are a few tile options to consider:
Wood-tone porcelain floor tile
Stenciled tile flooring or kitchen backsplash
Subway tile either neutral or a pop of color
Black marble with white veining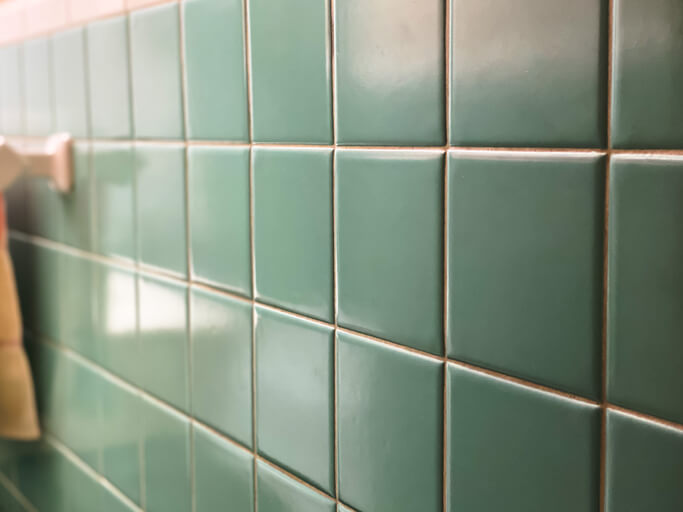 Mid-Century Modern
The mid-century modern aesthetic is all about clean geometric lines, open-plan floor layouts and sleek, simple furniture. Homes with this look often have large windows as a way to bring the outdoors in. Inside the home, you'll see wooden furniture made of teak or oak. Bold color is a staple of this style and could be used throughout the house to highlight a wall, sofa, or any other design element. If your style is mid-century modern, here are a few tile options to consider for your space:
Geometric tile shapes: triangles, squares, rectangles, hexagons, octagons, etc.
Bold tile colors, like teal, orange, and pink. Here are some examples from Atomic Ranch
Tight geometric stencils patterned tiles
Shabby Chic
Would you describe your home as a romantic cottage, decorated with pastel colors and vintage furniture? If so, your design style would best be categorized as shabby chic. This cozy style is all soft colors and inviting textures. You won't find any bright jewel tones or harsh cold colors in this style of design. Upholstered furniture or wallpaper in a shabby chic home would likely have a plain, floral, or striped pattern. When it comes to tile work, there are various styles that could work, including:
Checkerboard floor tile in pastel colors
Traditional square tiles, not staggered
Square or rectangular backsplashes, matte or low-shine
Textured tile
Industrial
If your home has qualities that make people wonder whether it was a former warehouse, it likely you have an industrial style home. This style is mostly created by the character of the building architecture, but contributing factors like having minimalist décor and using dark color hues will contribute to overall industrial esthetic. Think brick walls, wooden beams, salvaged material, and exposed pipes. When choosing a tile for this environment, it's helpful to envision materials that you might find in a warehouse. Here are some suggestions:
Stainless steel backsplashes
Concrete or wood tile floors
Rough stone and textured tiles
Colors: black, grey, white
Coastal
Beachy, light, and relaxed are a few words that describe a home with a coastal design style. The coastal color palette mainly consists of whites, blues, teals, and light greys. Accessories like driftwood, sea glass and artistic seascapes are plentiful, giving the feeling that you're only steps away from dipping your toes in the sand. Choosing a tile that coordinates with coastal décor is mostly about sticking to the coastal color palette. Here are some ideas to help you find the right tile for your space:
Choose a tile color that matches with your coastal blue/teal, white, or gray
Virtually any shape tile or pattern will work
Blue, green, and white mosaic glass tile are an ideal fit (think sea glass!)
If want to incorporate a stenciled tile, take inspiration from the sea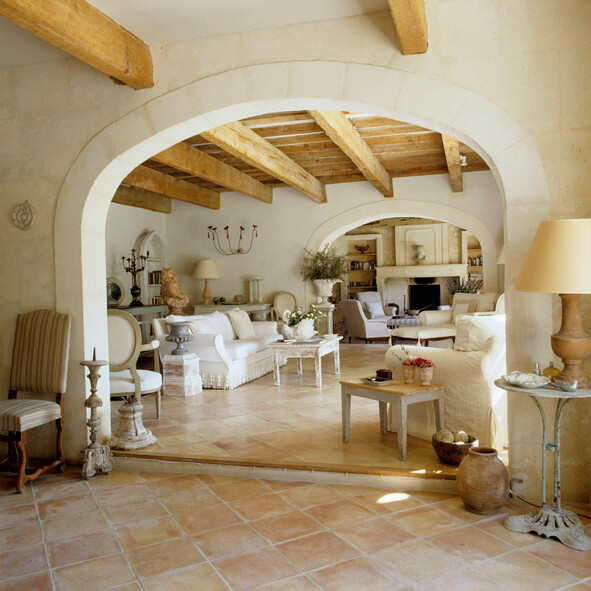 French Country
Similar to shabby chic, the French country style combines vintage and rustic elements to give a live-in feeling. However, according to House Beautiful, French country "strikes a balance between rustic and elegant…it feels lived-in and welcoming, but still impeccable." Furniture, metals and accessories in the French country style won't look perfect and may have distressed appearance. You'll find nods to the natural world in French county, whether it be through botanical prints, materials or color schemes. When choosing a tile for this style home, think natural or vintage. Here are some ideas to help you match your French Country décor:
For a vintage take on French country, opt for pressed tin/brass backsplash
Traditional square tiles
Checkboard flooring or backsplash
Botanical-themed tiles
Large natural stone floor tiles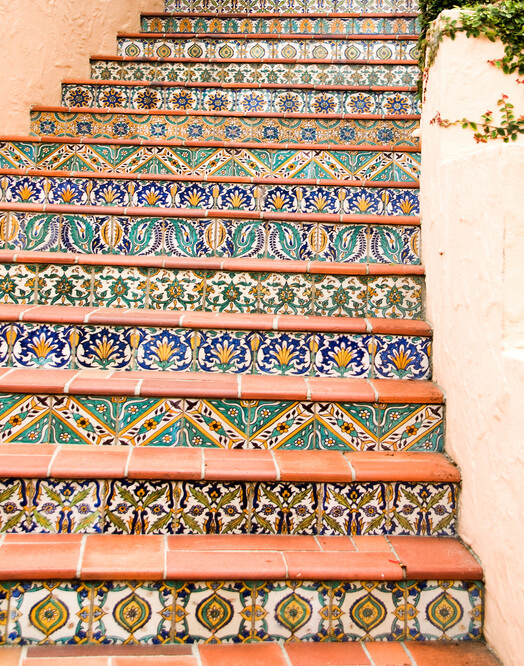 Mediterranean
Oh, the allure of a Mediterranean-style home. This design style puts an emphasis on indoor/outdoor living, like many homes do in the Mediterranean. Since there are many countries that lie on the Mediterranean Sea, specifics of interior design will vary. Generally, this style will include rich earth tones, like mustard, terracotta, olive green, and pepper red. The home itself may have soft rounded edges made of plaster instead of drywall. You would expect to see accessories like clay pots, jute rugs, woven baskets, and vases in a home of this style. If you're choosing tile for a Mediterranean style home, here are some tips:
For flooring, consider large tiles in a square or diamond pattern in white, brown, or maroon
In the kitchen, think about grouted tile countertops that match the backsplash.
Decorative tile borders
For bathrooms and pools, opt for whites or blues to mimic the water of the Mediterranean Sea
Art Deco
Having a hard time imaging what art deco looks like? Just think of the Great Gatsby. This look was the primary style in America during the 1920s, 1930s, and 1940s. According to The Spruce "geometric, linearity, and angular forms characterize art deco design. The look is strong and bold with no fussiness or romance in sight." A home designed in the art deco style will have metallic accessories, mirrors, and lacquered furnishings. You'll see velvet fabric, zebra prints, and oversize furniture, like sideboards and armoires. When looking for a tile to match the art deco style, there are many trends today that will match the look. For art deco, the key to nailing the style is by choosing the right pattern:
Herringbone was a huge trend of the time. Use this on your floors, backsplashes, and showers
Black and white checkerboard
Cube pattern tiles
Tiles with inlays, like sunbursts, which were popular during the art deco era
Tiles in deep hues and bold colors, like royal blue, emerald green, black marble with white veining
Geometric patterns with metallic accents
Asian Zen
A room designed in the Asian Zen style will look minimalistic with warm colors and natural elements. According to Decoraid, this style "focuses on emphasizing a sense of harmony, balance, tranquility, and simplicity in your home." One important element of this style is incorporating plants, like bonsai trees, into the design as well as other natural elements like pebbles, bamboo, and woven fabrics. Surrounding one's self with these elements is thought to have a calming effect, which is essential for an Asian Zen aesthetic. Wondering what tile trends might match this unique style? Here are some ideas to help you choose the right look:
Muted natural tones are best, like cream, beige, grey, black, blue, and green
Textures like slate
Mosaic
Avoid intricate designs
White marble with light gray veining
Tile Shapes
Creating a custom tile look for your home is easy when there are so many shape options available in the market today. You can select one shape and pattern, or you could select a variety of different shapes to make a pattern that's completely unique to your home. Here's a list of the most trendy and common tile shapes being used by designers around the world:
Circular (Penny Tiles)
Rectangular
Square
Round
Pentagon
Hexagon
Trapezoid
Fish Scale
Diamond
Kite
Arabesque
Tile Patterns
After you select a tile shape, next it's time to think about the pattern. If you're not sure which pattern to choose, try envisioning the design style of your and home and consider whether one pattern fits your style more than another. For example, if your home's design style is art deco, a chevron or herringbone pattern would be a natural fit since those were very popular patterns during of the era. Here are some trending tile patterns to consider for your next tile project:
Herringbone
Staggered Brickwork
Grid
Vertical Stacked
Pinwheel
Basketweave
Diamond
Chevron
Random
Versailles
Circular
Need Help Choosing a Tile Trend for Your Home or Business?
From tile materials and placement to tile shapes and patterns, we've covered everything you need to know to choose a tile trend that fits the unique needs of your space. If you're still not sure which tile to choose, contact our experts at Martin's Flooring for a shop-at-home consultation where our team will bring samples to your home. Sometimes, seeing a tile sample in your space is helpful when deciding whether it's a good fit. You'll be able to see how a certain tile looks in your home's lighting and with the rest of your décor. Plus, our experts can help answer questions about whether or not a particular tile has qualities that are necessary for your space, like durability and water-resistance. Another factor that our team will help you with is choosing a tile that fits the design style of your home. We will listen to what your design goals are and provide you with advice on what the best colors, shapes, and patterns are to fit that style.
If you're a business owner who needs help finding the right tile for your commercial space, our expert team can help. We have the experience, knowledge, extensive collection of tile products to help you choose a tile trend that's durable enough to handle the wear and tear of customers and employees using your commercial space. Our design team will also help you choose a tile look that both hides dirt and is easy to clean so that your business can run as efficiently as possible. Contact us today to schedule a consultation and get started on your next tile project with Martin's Flooring.