At Martins Flooring Fivepointville location, we have recently installed five new vignettes in our showroom. One of these displays is this luxurious free standing tub with 12″ x 24″ horizontally laid tile.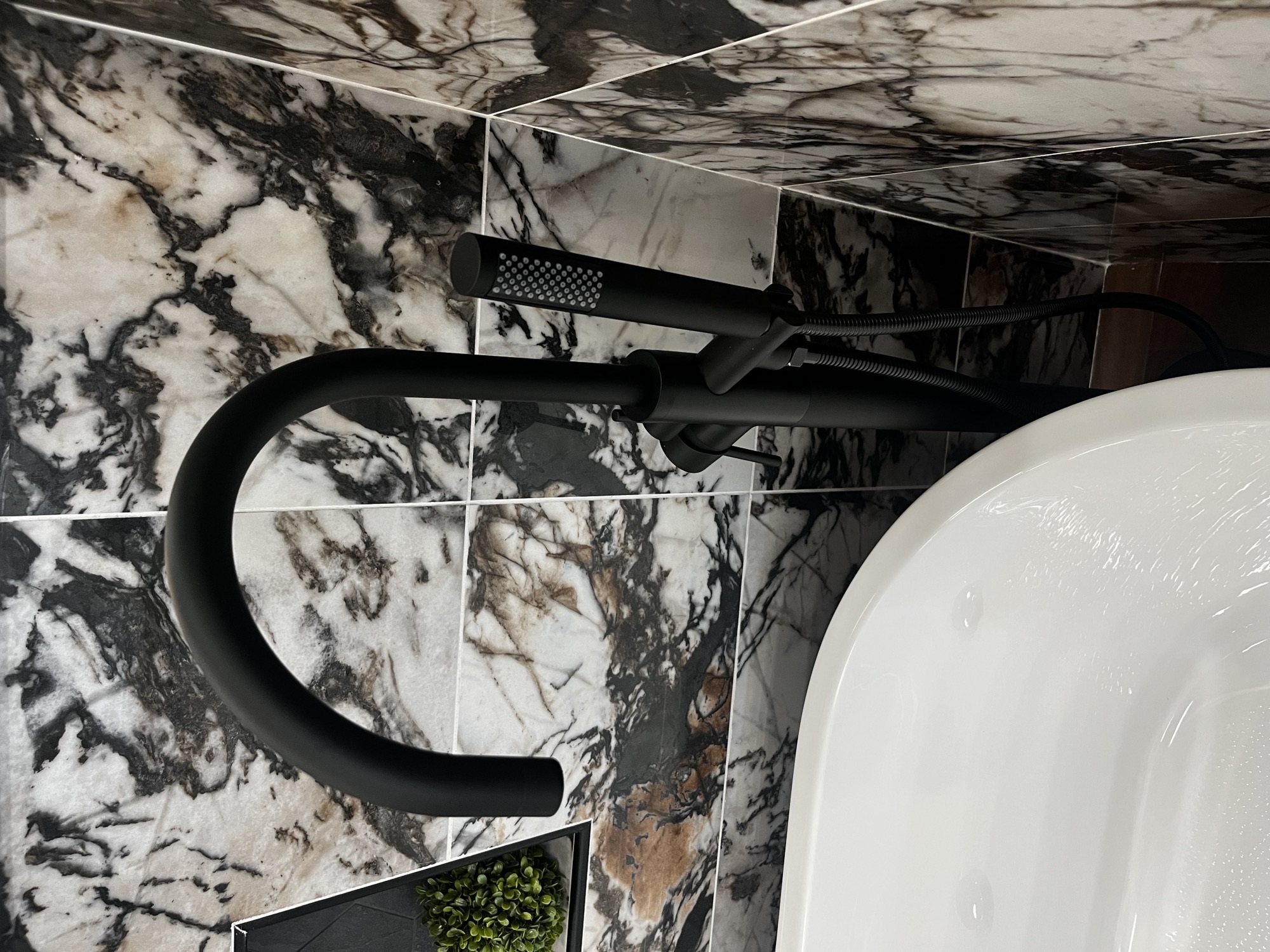 The tile capturing all our attention is the 12" x 24" horizontally laid tile with latricete grout in mink. The grout color blends with the base tone of the tile, leaving a seamless look between the tiles. This large, dark veined tile provides a wow factor that is perfect in a modern home. The wall is capped with an agglomerated black sills, creating a corner and clean edge.
Polished finish
Can use it for both floors and walls
Interior spaces only
Comes in 3 different shades
Choose from 24"x48" , 12"x24", 3" Hexagon Mosaic (matte finish only), 3" Landmark Mosaic (polished finish only)
Good for residential and commercial spaces
 Latricete Permacolor Grout in mink
Light gray color
Equipped with anti-microbial technology
Fast setting
Grout joint that is dense and hard
Consistent color
Fights the growth of mold and mildew on the surface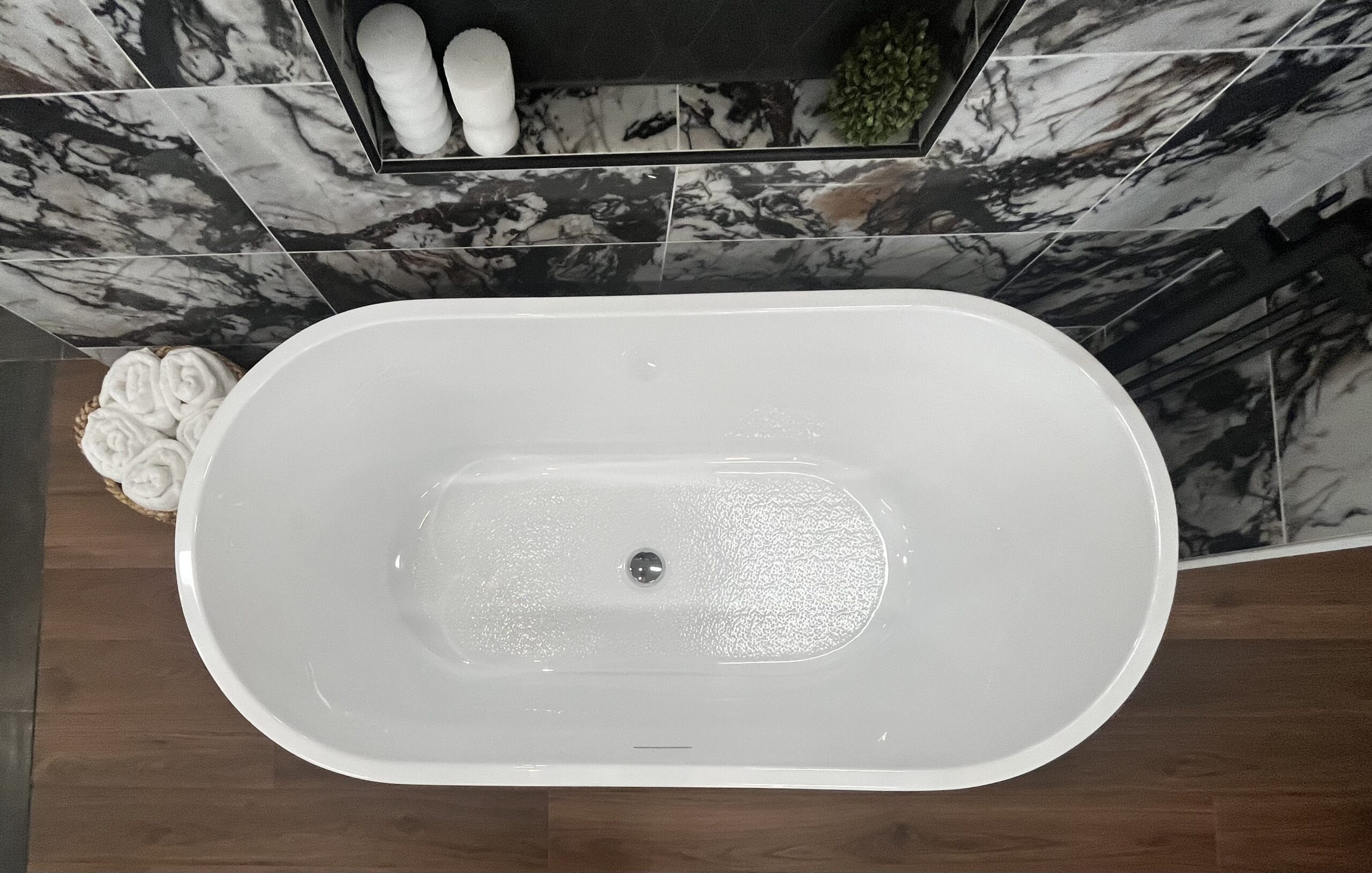 This double-ended free standing bathtub, is the ultimate comfort. The faucet is located on the outside right of the tub, freeing up some space. The sleek lines of the bathtub direct your eyes to the backsplash and the shower niche.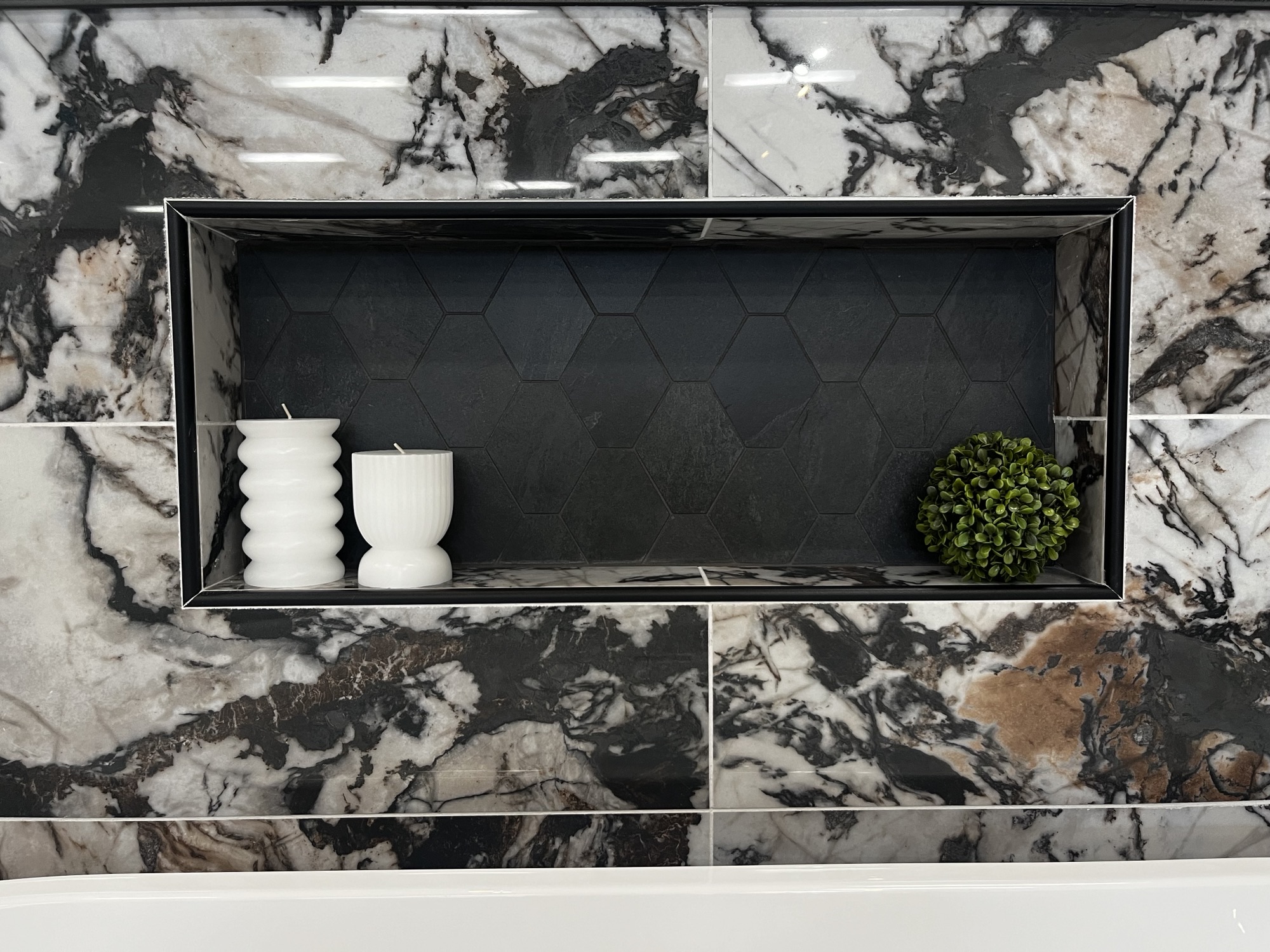 This freestanding tub display is finished off with a 12" x 28" shower niche. It provides a space that you can hold toiletries, candles, or if you have a green thumb — a bathroom plant. 
Ardosia Rail Black Hex Mosaics
10"x13" Elongated Hexagon Mosaic in Rail Black resembling lavagna stones
The look of the tile resembles the looks of Brazilian Slate but with the durability of porcelain.
Matte finish
Thickness of 10mm
Latricete Permacolor Grout
Dark gray color: Raven
Good for indoor and outdoor
Patented, fiber-reinforced formulation for added strength
Equipped, fiber-reinforced formulation for added strength
Available in 40 colors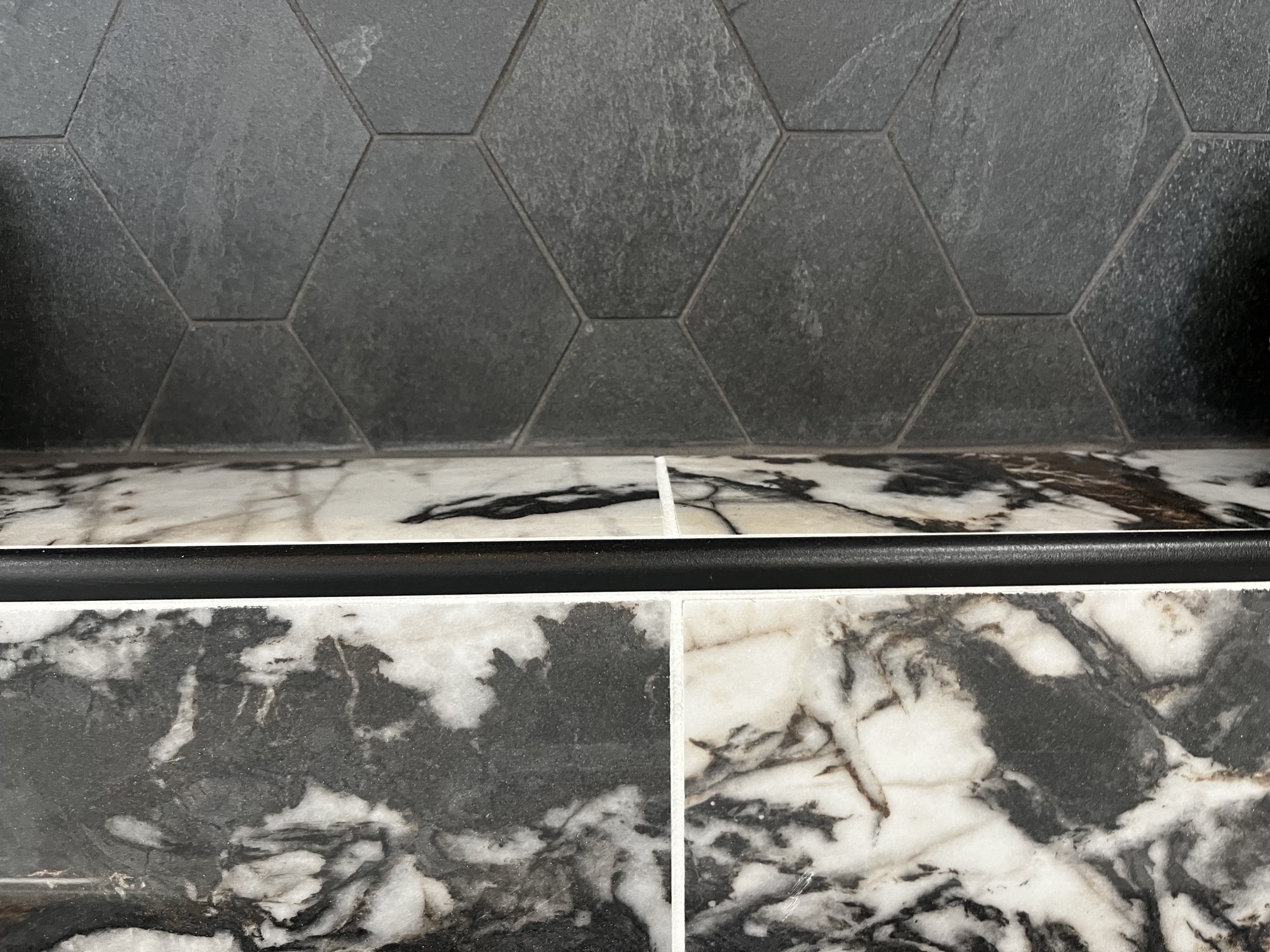 The niche is finished off with a Quadec Tredline 100, in Black Antracite. This Schluter edging system finishes off the edge to not just create a seamless clean look but also to protect the profile of the tile corners. They are available in many different finishes.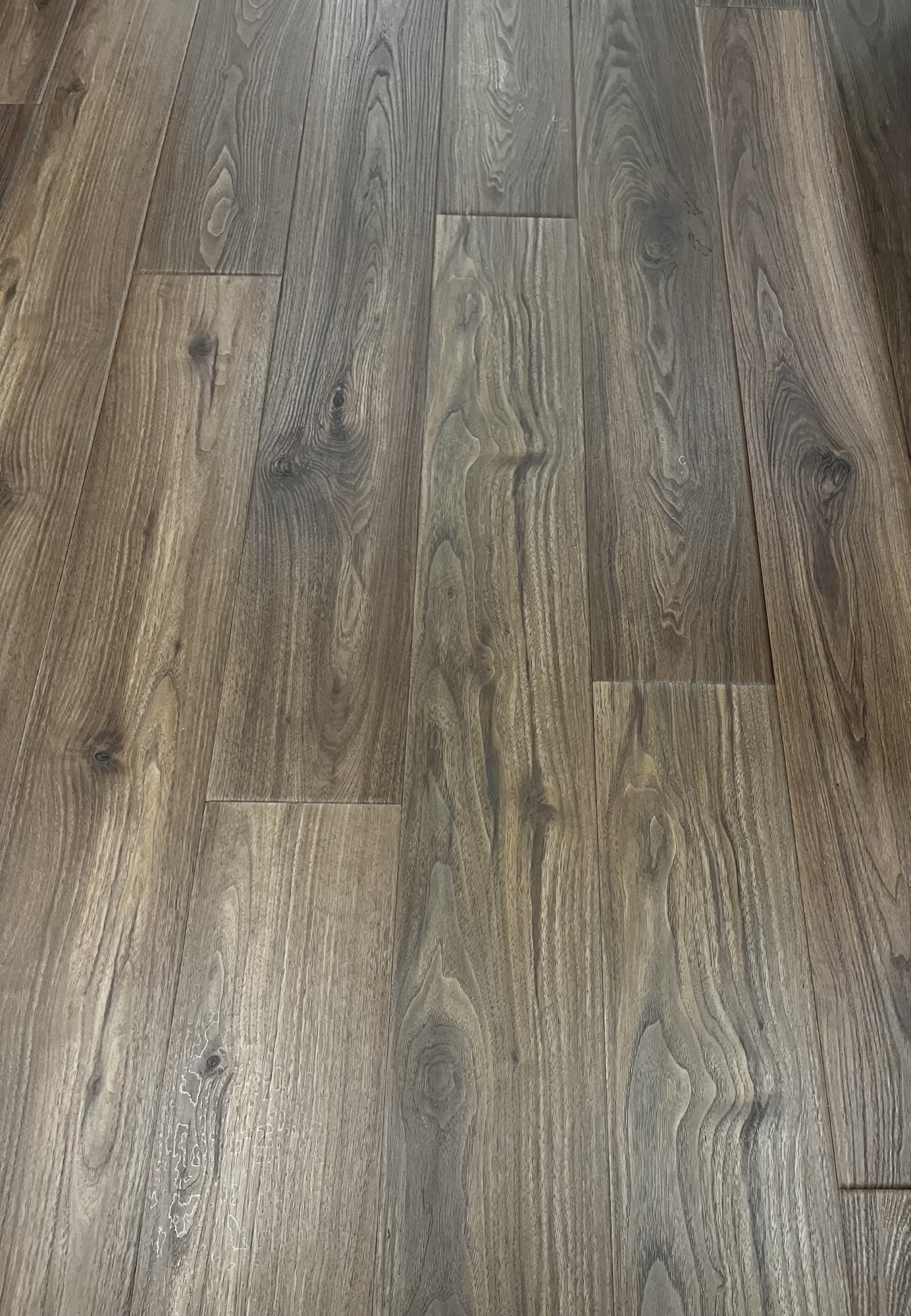 This space is finished off with our COREtec Premium Tyro Walnut luxury vinyl. This vinyl is perfect for a bathroom or kitchen with its waterproof technology. If you want a wood look in your bathroom this COREtec flooring is the way to go.
Next time you want think about booking a trip to the spa think about making your home a spa. Head to Martins Flooring today to create your dream bathroom and while you are at it take a look at our other vignettes for inspiration. Our design consultants are here to listen to your wishes and make them a reality.