What flooring increases property values the most?
Of the many crucial features that factor into a home's selling price and the perceptions of possible buyers, one of the biggest is also the most neglected: flooring. The floors are often overlooked—both literally and figuratively.
However, few aspects of interior design have such an immediate impact on the opinions of possible buyers. If you are planning to sell your home and want to understand the cost-benefit relationship between upgraded flooring and property value, this guide can help. Although it may require investing your time, energy, and cash in a remodeling project, that hard work can pay off with a faster sale and a higher sale price.
What Type of Flooring Sells?
The style and material composition of your floors is one of the most impactful choices you can make when renovating before a sale. As such, it is important to consider your options carefully and understand how much of a difference each flooring type makes.
High-Impact Flooring Materials
These flooring choices will make a major difference in your home's value, and—depending on what they are replacing—generally represent a good investment prior to selling:
New Hardwood
It probably won't come as a shock that hardwood floors have long been sought after as the gold standard for both buyers and real estate agents, and this remains true today. They can also be a great choice for those who aren't planning on selling in the immediate future, but still want to invest in their home. According to a 2022 study performed by the National Association of Realtors, 90 percent of homeowners who install new hardwood floors have a stronger desire to be home and 77 percent have stronger feelings of joy when they are at home.
More importantly, that study also found that installing hardwood flooring makes back more in resale value more than it costs in renovation expenses. Specifically, upgrading to refinished hardwood floors returned 147 percent cost recovery and new wood floors yielded 118 percent. In other words, the project pays for itself.
"Quite often, an added benefit to home renovations is the possibility of an increase in the home's value, which is a reason why some people remodel," said Jessica Lautz, vice president of demographics and behavioral insights at the National Association of Realtors, in a release about the study. "This is especially advantageous to a homeowner who may be considering selling their house or converting the home to a rental property."
Advantages of new hardwood:
Resale value. As mentioned above, the resale value of new hardwood floors is strong.
Look and feel. Hardwood is a classic choice that provides an aesthetic that is appreciated by everyone.
Warm underfoot. While not as warm as carpet, hardwood floors are definitely warmer underfoot than ceramic tiles.
Variety. Hardwood floors come in a variety of colors, widths, and hardnesses.
Renewable resource. Hardwood is an endlessly renewable resource, especially when certified by the Forest Stewardship Council.
Refinishability. Hardwood floors can be refinished several times over their lifetime, depending on the thickness of the planks.
Disadvantages of new hardwood:
Expense. Hardwood floors are one of the more expensive flooring options, although this expense should be recouped when the home is sold.
While hardwood floors are very durable, they are not impervious in the way that stone and tile are. Water damage is especially possible with hardwood floors if there is flooding.
Reclaimed Hardwood
For those that want a more environmentally friendly alternative to hardwood, getting reclaimed wood floors is a great choice. And according to Elemental Green, now may be the time to make the switch.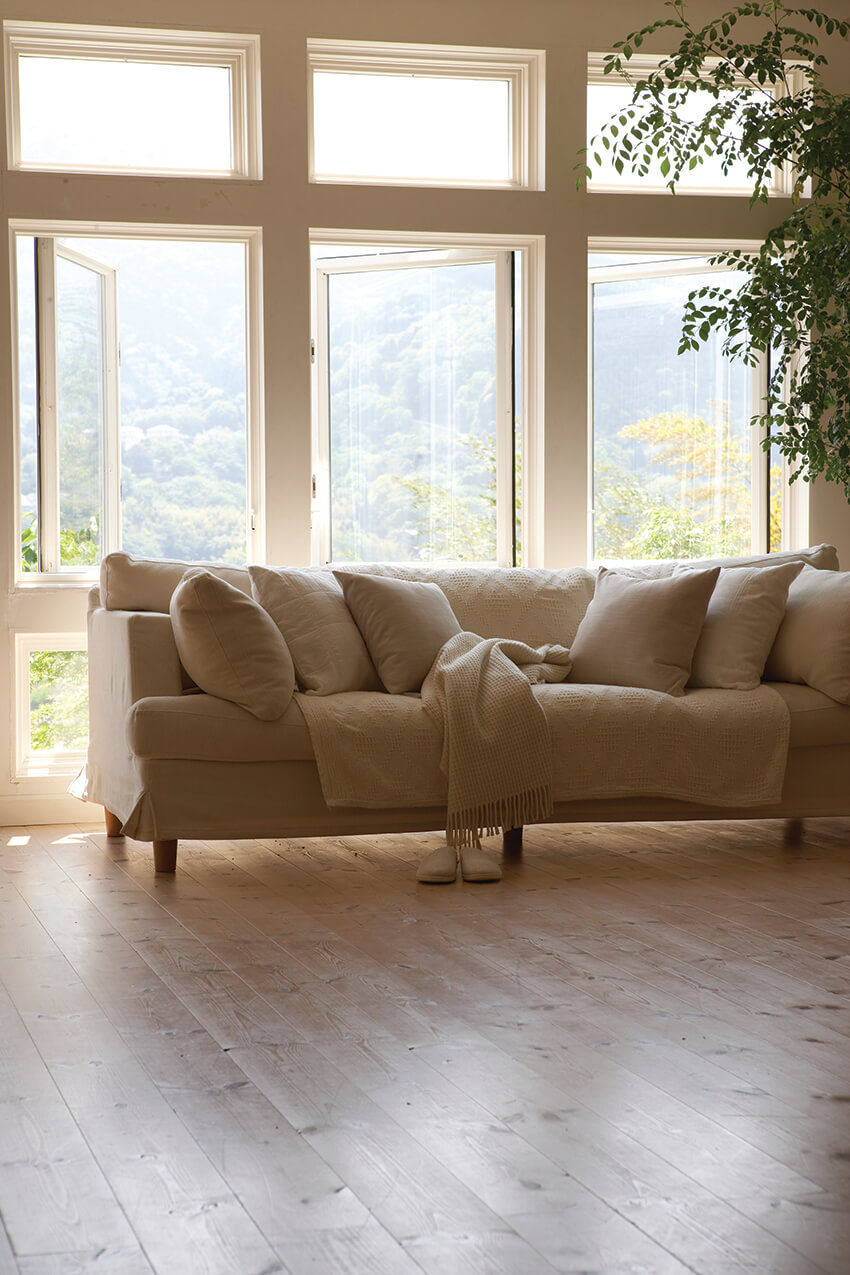 "The use of reclaimed wood isn't a new concept, but it's seen a surge in popularity especially with the green building and remodeling boom," reads their article on the topic. "Reclaimed lumber is simply wood with a past life used for a new purpose. Perhaps it was a storage crate or an old barn that has been milled into reclaimed hardwood flooring, though this lumber too is being used to create engineered wood floors that look like they were made from virgin products."
Advantages of reclaimed hardwood:
According to Elemental Green, reclaimed wood ranks up to 40 points higher on the Janka hardness scale than virgin hardwood since it often comes from older trees and not first-generation forests.
Environmentally friendly. Reclaimed wood helps to minimize the demand for new lumber, and therefore combats deforestation and illegal logging. As a renewable resource, it cuts down on emissions and landfill waste created by manufacturing newer flooring products—especially linoleum and petroleum-derived carpeting.
Aged and weathered reclaimed wood can provide an aesthetic value that is hard to find with other materials. This can be the perfect look for all sorts of homes, ranging from an old-style vacation home surrounded by nature to a trendy urban cottage.
LEED points. According to Elemental Green, "using reclaimed wood certified by the Forest Stewardship Council help your construction or remodeling project earn LEED points." This can add significant resale value to your home.
Disadvantages of reclaimed hardwood:
Reclaimed wood is generally more expensive than virgin hardwood. There is a high labor cost involved with the process of breaking down old lumber, tearing out nails, and otherwise preparing it for use in flooring. Still, reclaimed wood can be less expensive than some lower-end virgin hardwood flooring options.
Termites and other pests can leave asymmetrical holes in reclaimed lumber, which can be visible (although holes/marks can also be considered an aesthetic advantage). Kiln-drying and other treatments eliminate pests before installation.
Engineered Wood
Engineered wood flooring looks very much like true hardwood, thanks to the clever placement of a thin façade layer of hardwood that is bonded to a high-quality plywood base. There are a few important considerations with this material.
Advantages of engineered wood:
Low cost for a good look. Well-made engineered wood provides excellent stability and flexibility while looking very close to solid hardwood, as indicated in this article from The Spruce:
"A durable plywood floor has three to nine layers. You can count on a good-quality engineered wood floor typically lasting 25 to 30 years. It is less expensive than solid wood and more manageable for DIYers to install."
DIY friendly. As mentioned above, engineered wood is possible for DIYers to install themselves with good results.
Water resistant. Engineered wood has resistance to warping in humid or damp conditions, which makes it possible to clean with a wet mop or sponge.
Disadvantages of engineered wood:
Little refinishing can be done. According to The Spruce, engineered wood can only be sanded and refinished once or twice—not nearly as much as solid hardwood floors.
"Solid wood flooring comes in long planks, usually made of a hardwood species. It is milled with tongues and grooves on the opposite edges so that the boards interlock when installed. Because it is solid wood, this flooring can be sanded down and refinished several times over its life."
Less durable than hardwood. While engineered wood can last 25-30 years, solid hardwood will last 30-100 years.
Ceramic Tile
Ceramic tile has been a mainstay flooring material for time immemorial. Since it comes in a variety of shapes, colors, styles, and colors, there are nearly endless combinations and patterns that can be created for a look that is truly one of a kind.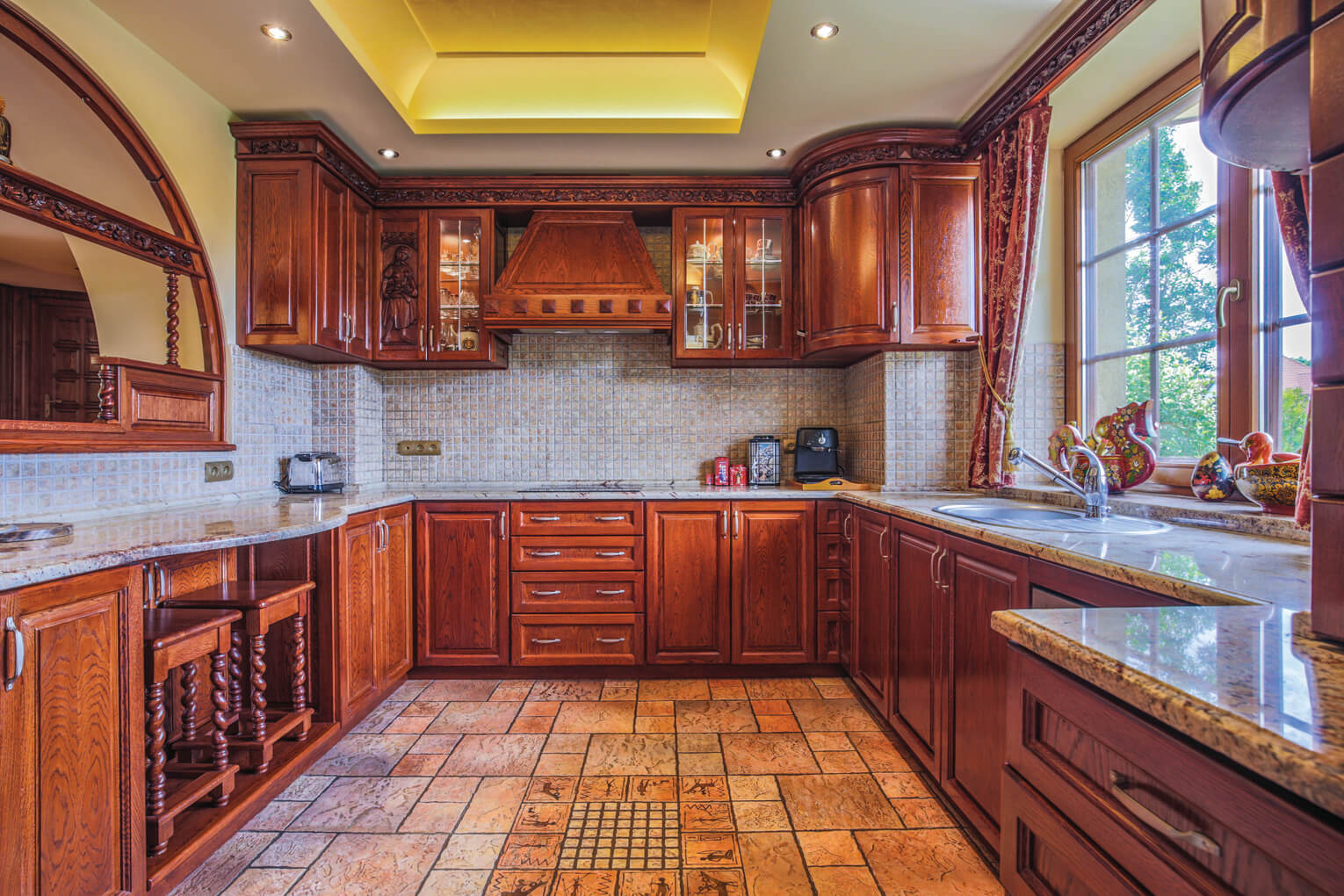 Since ceramic tile is created with a mixture of clay and shale, dry pigments added to the mix before the tile is fired in a kiln can give the tile earthy tones ranging from soft ocher to deep red.
Almost all ceramic flooring tile will be sold as one of four major types:
Glazed ceramic has a glassy coating that is applied to the exterior of the tile before it is fired in a kiln. This coat of glaze gives the tile a very wide variety of colors and textures. In addition to nearly unlimited style options, this process cuts the material's maintenance requirements to almost zero.
Quarry tile, also known as unglazed ceramic tile, is just ceramic tile that has no glaze coating applied. The colors available are more limited because they require pigments added prior to kiln firing, but contrary to popular perception, they come in more than just red. However, quarry tile has a somewhat rougher texture on its surface, which provides superior slip-resistance compared to glazed ceramic tile.
Porcelain tile can come either glazed or unglazed, but is defined by a distinct kiln firing process that utilizes extreme heat. The high temperatures allow it to be an especially hard and durable material that is highly resistant to staining. That makes it good choice for exterior applications and in kitchens.
Terracotta is a type of unglazed tile that usually comes in earthy colors that create a more rustic appearance. However, it's not as durable as some other tile types and must be periodically sealed to prevent staining.
Advantages of ceramic tile:
Wide price range. Price of ceramic tile can vary considerably. Due to the variety of materials, colors, trims, and labor associated, ceramic tile can cost as little as $1 dollar per square foot to more than $100. Adding a decorative trim piece or mosaic inlay can be beautiful, but will increase the price of installation.
No slip finish. One unique advantage of ceramic floor tiles is that they often come with an anti-slip finish that gives them excellent traction—even when they are wet. This can be a major advantage for disabled people, homeowners with small children, or usage in bathrooms and walk-in showers. If traction is an important concern for you, be sure to choose ceramic tiles that fulfill the slip-resistance standards of the Americans with Disabilities Act.
Water resistant. Ceramic tiles are impervious to water, so they are a good choice for kitchens, bathrooms, and laundry rooms.
Disadvantages of ceramic tile:
Hard and cold underfoot. Ceramic tiles are cold underfoot and are very hard, which means that dropped objects may break.
Can be expensive. While ceramic tiles have a wide price range, at the higher end they can get expensive.
Hard for DIYers. Ceramic tiles can be challenging for a DIYer to cut and install successfully.
Mid-Impact Flooring Materials
These flooring choices will make a moderate difference to your home's resale value, and typically make for a good investment:
Luxury Vinyl Plank (or Tile) Flooring
A synthetic material made up of several different layers, vinyl plank flooring comes in planks and is mostly made of PVC (polyvinyl chloride, a type of plastic). Luxury vinyl tile flooring is the same product, it is simply in a tile shape instead of a plank shape.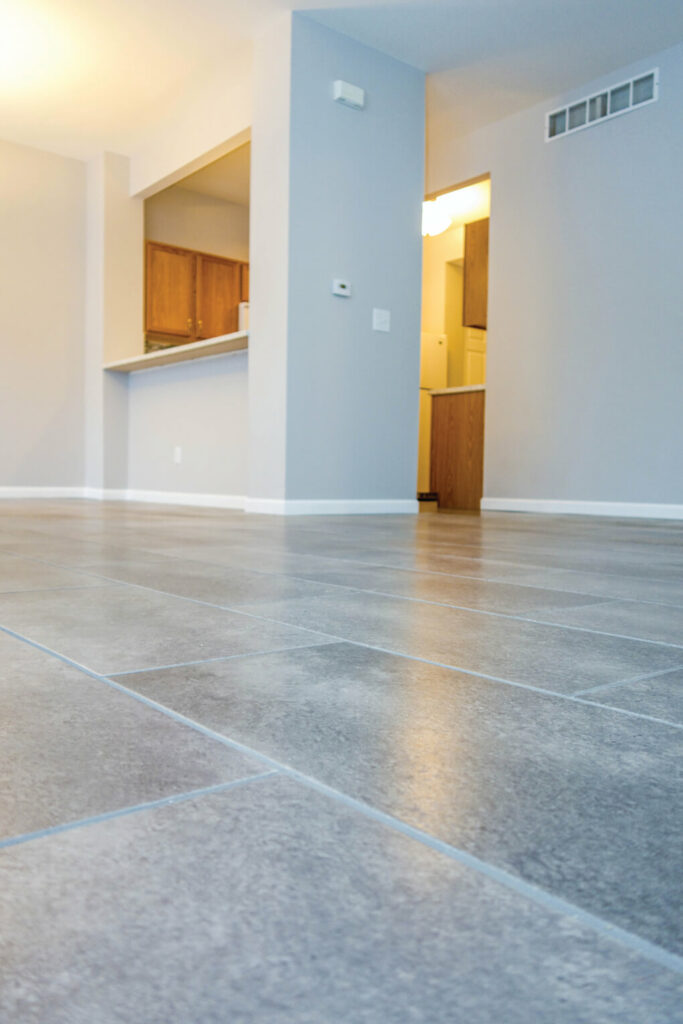 Typically, vinyl plank flooring comes in at least three separate layers. From the bottom to the top, they are:
A core or base layer that provides the foundation of the plank and determines how the product feels under your feet. Depending on the product, the base layer can either be firm and rigid or stretchy and flexible.
A pattern or design layer for aesthetic purposes, giving the vinyl plank its look and feel. Very often, this layer will look identical to hardwood, but it can come in ceramic tile, natural stone, or pretty much any other material used for flooring.
A wear or surface layer, which is designed to protect the vinyl from various types of damage such as scratches and UV fading. To allow the design layer to remain visible, this layer is transparent.
Some luxury vinyl plank flooring products have extra layers built in that provide additional properties and help with anything from soundproofing to insulation to texture and comfort.
Advantages of luxury vinyl plank:
Resilience. Luxury vinyl plank flooring is known for being resilient and durable compared to other materials. This means it is highly water-resistant and requires little maintenance—with a long lifespan to boot. If it has a protective surface layer, luxury vinyl plank flooring will almost never stain and it can withstand plenty of wear and tear damage, making it an excellent option for highly trafficked areas of the house such as hallways. Better yet, some brands manufacture completely waterproof vinyl planks which are perfect for bathrooms and kitchens. Luxury vinyl plank flooring can last anywhere from five to 25 years, depending on quality, degree of wear and tear, and protective surface layer thickness.
Comfort. Compared to harder materials like hardwood or stone, luxury vinyl plank flooring has a gentler and more padded feeling beneath the foot due to its layered composition. These layers further insulate the room, especially when it comes to helping the floor remain at a consistent temperature regardless of the time of year. Vinyl can have great soundproofing properties, which serve to reduce the noise level and echoing of the room it's installed in.
Affordability and easy installation. Luxury vinyl plank is generally affordable and its installation process means professional flooring comes at a reasonable cost and DIY installation is achievable.
Disadvantages of luxury vinyl plank:
No refinishing. Because luxury vinyl flooring is typically made with a single protective surface layer over the design layer, refinishing is an impossibility. That means that once a plank is damaged, it must be replaced.
Inconsistent effect on resale value. Luxury vinyl plank flooring can have a good impact on resale price, but this depends on design trends and the needs of potential buyers.
Environmentally unfriendly. Luxury vinyl plank flooring manufacturing requires the use of toxic chemicals. While these chemicals are removed from the flooring before it leaves the factory, low-quality vinyl plank floors have been found to emit VOCs (volatile organic compounds) after installation. This means that it is important to ensure that you purchase high quality, low-VOC, luxury vinyl plank flooring.
Natural Stone Flooring
Natural stone flooring is cut from stone blocks formed by geological processes and extracted from a quarry or mine. You'll have many choices in terms of types of stone (see Advantages section below), and you'll also have choices in terms of performance. Factors such as grade, coefficient of friction (how much traction or slipperiness there is), and absorption which can affect both price and utility.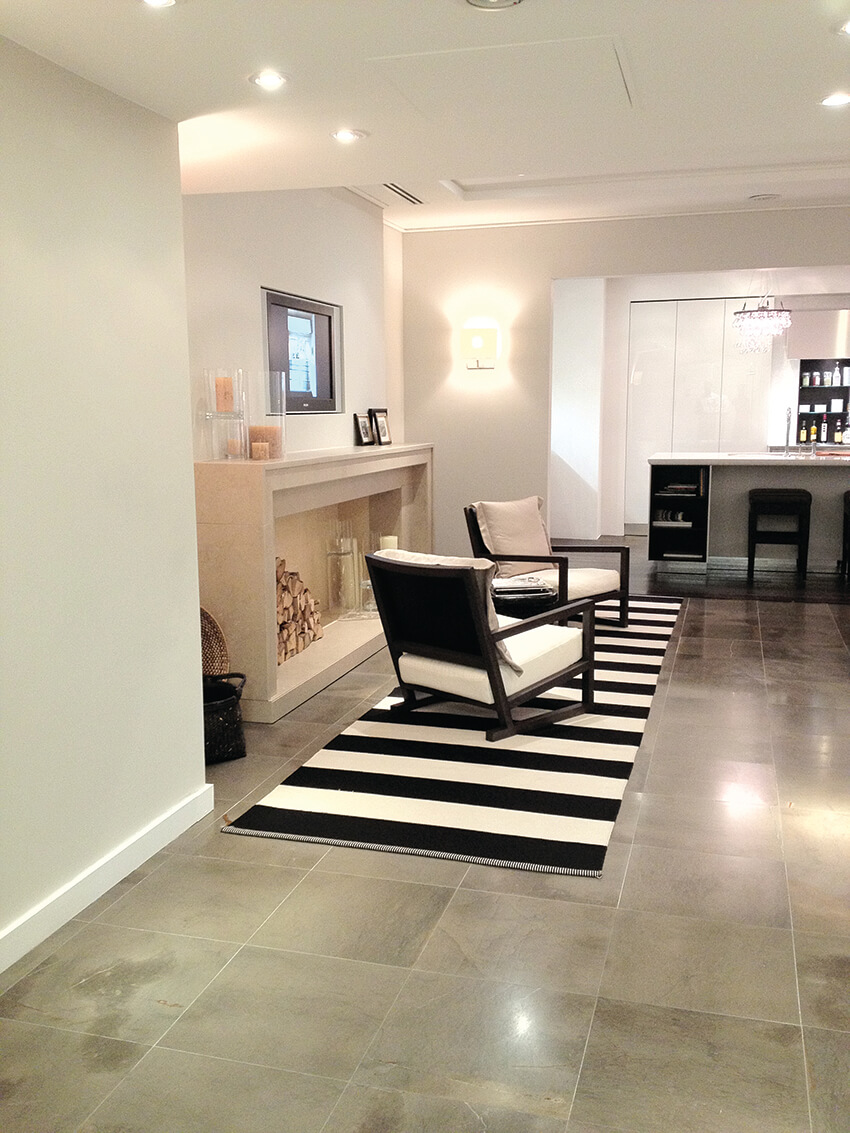 Grade is measured on three levels:
Grade 1: Stone that has the highest quality and most uniform texture.
Grade 2: Stone that has visible minor defects such as indentations, scuffs, scratches, cracks, or otherwise irregular surface features.
Grade 3: Stone that has major defects in surface, shape, size, appearance, or other factors.
Absorption, on the other hand, is measured on four levels:
Non-vitreous: Stone with the very highest level of absorption, which is not recommended for damp or humid environments.
Semi-vitreous: Stone with some moderate absorption, which requires maintenances when exposed to significant moisture or flooding.
Vitreous: Stone with standard absorption, considered best for most areas with heavy foot traffic—both indoors and outdoors.
Impervious: The stone that is most resistant to water absorption and thus the easiest to maintain, perfect for all high-traffic and commercial environments.
Advantages of natural stone flooring:
Eco-friendly. Natural stone is almost 100 percent recyclable, it is an especially sustainable flooring option and does not release air pollutants into the home.
Timeless aesthetic. Stone tile is a classic and eternally attractive flooring that is ideal for both indoor and outdoor areas.
Durability. Durable, hard-wearing natural stone can withstand moisture, which makes it an excellent flooring for bathrooms and basements.
Wide variety of styles. Different kinds of stone used for flooring include:
Marble. The classic creamy white color and gray veining provided by marble flooring is known for creating a tasteful, luxurious look. Marble stone tiling is highly scratch-resistant, may have antimicrobial properties, and comes in both tile and slab forms.
Travertine. If marble is too pricey for your budget, one unique-looking alternative is travertine tile. A popular choice in modern interior design, this densely banded stone usually comes in shades like beige, cream, and brown. This warm color range can add a rustic, relaxing, or romantic feel to any room.
Limestone. For an affordable natural stone flooring option, limestone is a great material. On a practical level, it is durable and lower-cost ($4 to $8 per square foot on average). On an aesthetic level, its neutral tones range from beige to warm brown, creating a cozy feeling. Limestone is resistant to most stains, making it ideal for households that have children or chronically clumsy adults.
Granite. Known as a strong material that comes in a wide range of colors, granite is ranked as the most popular natural stone tile. Granite is highly scratch-resistant, which makes it perfect for high-traffic corridors and wheelchair-accessible homes. Another feature that granite-lovers praise is the uniqueness of each slab. Much like a snowflake, granite's speckling and veining means no two slabs have the same pattern.
Slate. This is a versatile material that works well for indoor floors and outdoor patios. Another benefit: it is generally less expensive than marble and granite.
Soapstone. Soapstone has a creamy texture that comes in various shades of dark grays and grayish blues and greens. Softer grades of soapstone feel soft to the touch (hence the name), yet have slip-resistant qualities, making it a good option for wet or damp spaces like bathrooms and pool areas.
Basalt is a stone formed by solidified lava, known for its dark and beautiful features. Its smooth texture can also keep it cool in warm climates. These properties make basalt a good choice for a wide variety of living spaces.
Sandstone. As the name suggests, sandstone comes in warm and earthy tones like sand and beige. Sandstone's colors add warmth to any room.
Quartzite. Quartzite has a natural sparkling look and comes in a wide range of colors. Through a geologic process of extreme heating and pressurization, sandstone is transformed into quartzite, creating a strong and durable natural stone. Upon exposure to further heat, individual quartz pieces recrystallize and create a beautiful sparkle pattern. This metamorphic rock is also resistant to high temperatures.
Disadvantages of natural stone flooring:
Expense. Because natural stone flooring is expensive, it may not be the best choice for a starter home, for example. The cost of natural stone flooring generally runs between $6 and $20 per square foot, according to Angi's List:
"The total cost of a finished floor project depends on tile size, stone type, and floor prep prior to installation. Keep in mind that natural stone tiles aren't uniform, requiring extreme precision. Since the installation process is more intricate than other flooring types, an inexperienced DIY attempt may negatively impact your home's value."
Not DIY. Natural stone flooring is not a great option for DIY enthusiasts because it requires special tools and expertise to cut, fit and install natural stone tile correctly.
Hard underfoot. The hardness of natural stone tiles means they are very durable, but it also means they are very hard and cold underfoot. If you drop a glass on a natural stone tile floor it is likely to break.
Not soundproof. Natural stone tiles' hardness also means that they can contribute to an echo-y sound quality, which could be a consideration in large rooms, or if you have a hearing impaired person in your home.
Lower-Impact Flooring Materials
The flooring choices below do not consistently make a significant difference to your home's resale value. Carpeting, laminate, and linoleum are not considered high-end materials. However, if your current home has, for example, stained or dirty carpet, you should replace it. At a minimum, new neutral carpet will have a positive impact on the impression your home makes on buyers, thus potentially improving sale time. Dirty, stained and outdated carpet leave a lasting negative impression. The same can be said for laminate or linoleum floors that are severely outdated or damaged. It is better to replace these before selling your home because the new laminate or linoleum will be fresh, undamaged, and not outdated.
Carpeting
Carpet comes in many varieties, including wall-to-wall, area rugs, high pile, low pile, cut pile, looped pile, cut-loop pile, wool, nylon, olefin, Berber, oriental, and more. The color options of carpet are virtually unlimited, as are the patterns.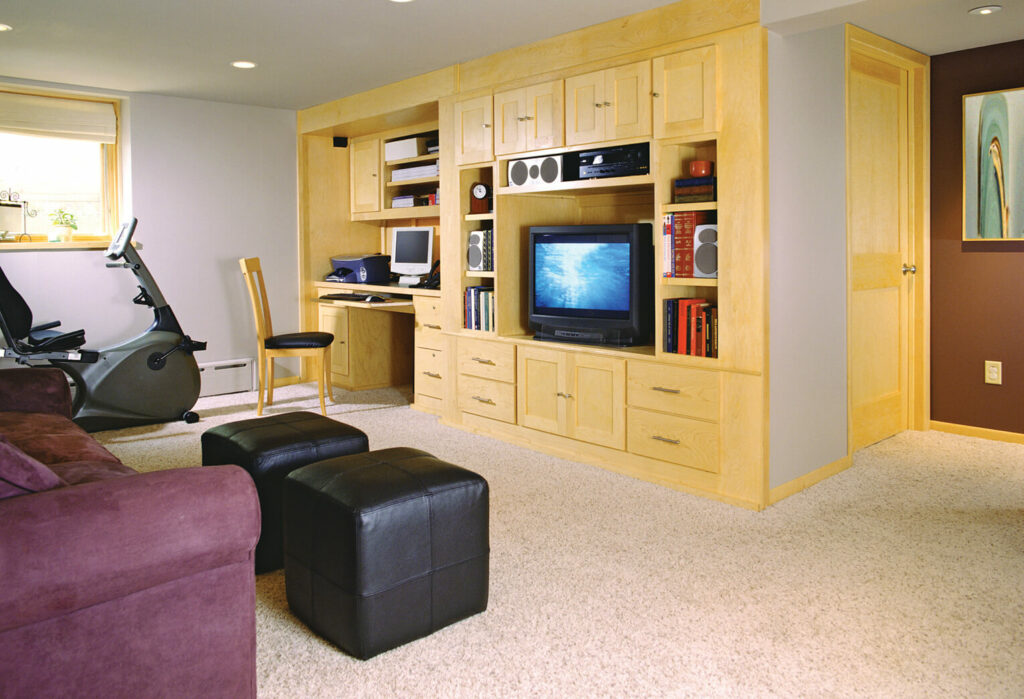 Advantages of carpet:
Safety. Carpeting provides cushioning that results in less serious injuries if people trip or slip. This makes it a good option if there are children or older adults living in your home.
Comfort. Walking on a carpet with padding underneath results in a soft, comfortable feel. In addition, carpeted floors are comfortable to sit or lie on, which means they are a good choice for children.
Cost. Although there is a wide price range for different qualities and kinds of carpeting, it is generally a more affordable flooring material than hardwood, ceramic tile, or natural stone.
Warmth and energy bill savings. Carpet is an excellent insulator that adds warmth to both the floor and the room overall. Thus, carpet floors can reduce heat loss during the colder months of the year and cut down on your utility bills.
Soundproofing. Carpet deadens many sounds including footfalls, which makes it a good choice for bedrooms.
Disadvantages of carpet:
Cleaning. Carpet is not as easy to clean as hard-surface flooring. Carpets can be shampooed, but some stains may be difficult to remove, depending on the type of carpet.
Allergens. Carpeted floors may collect dust and pollen, so hard-surface flooring could be better for people with allergies. Keep in mind that terms like "hypoallergenic" are not federally regulated, and according to SF Gate "manufacturers and retailers commonly use it on product labels to mean whatever they want it to mean."
Wear and Tear. Carpeting is vulnerable to damage over time and is generally less durable when compared to other materials. According to a Zara Stacey's Homes and Gardens magazine article on the topic, "there is, of course, no exact answer on how often you should replace your carpet…In general, if your carpet is older than 10 years, a replacement is probably in need. Yet, if your carpet has received outstanding maintenance and is still in wonderful shape after 10 years, there's no immediate need to replace it."
Maintenance. Carpets need to be vacuumed regularly. If damaged, some carpet may be able to have the damaged area cut out and replaced.
Low impact on resale price. While it might be ideal to replace all carpeting with hard surface flooring, this may not be feasible for many home sellers. So, while carpet overall has a low impact in resale price, new carpet will still create a more positive impression on potential buyers than old, dirty or stained carpet.
Laminate
Laminate flooring is a type of synthetic composite flooring made from a plywood or fiberboard base layer and a printed high-resolution image layer, which can be patterned after real wood, stone or another material. In some cases, a backing layer (or underlayment) is added below the core layer for extra protection and insulation. On the top surface, there is a thin coating of transparent protective plastic.
Advantages of laminate:
Cost. Usually costing just $0.99 to $5.00 per square foot, laminate is quite affordable.
Appearance. Laminate is an increasingly popular method for adding the aesthetic value of wood or stone floors without the expense. Thanks to technological advancements in photorealistic imaging, laminate can capture the look and feel of wood or stone like never before.
Durability. According to North American Laminate Flooring Association, laminate flooring is highly durable: topic page.  "Protected by a tough external layer and resin coating, a laminate floor is much stronger, and more scratch-resistant, impact-resistant and longer lasting than any hardwood, vinyl, or hard surface," according to the "It's virtually resistant to dogs, cats, kids and even high heels."
Disadvantages of laminate:
Not waterproof. Laminate floors are not waterproof so be careful to clean up spills quickly. According to Forbes: "Laminate floors are sensitive to water, so unless your floor has been waterproofed, try to avoid mopping regularly and stick to a once-a-month or every-other-month schedule. In order to preserve and protect the wear layer, make sure any cleaning product you buy or DIY is safe for laminate flooring."
Cleaning. Laminate cannot be cleaned with products that are oil-based, acidic or abrasive can damage the surface.
Linoleum
Linoleum is a material made from of linseed oil with added ground stone and wood or cork powder. While it is often confused with vinyl, linoleum is a completely different substance derived from entirely natural ingredients.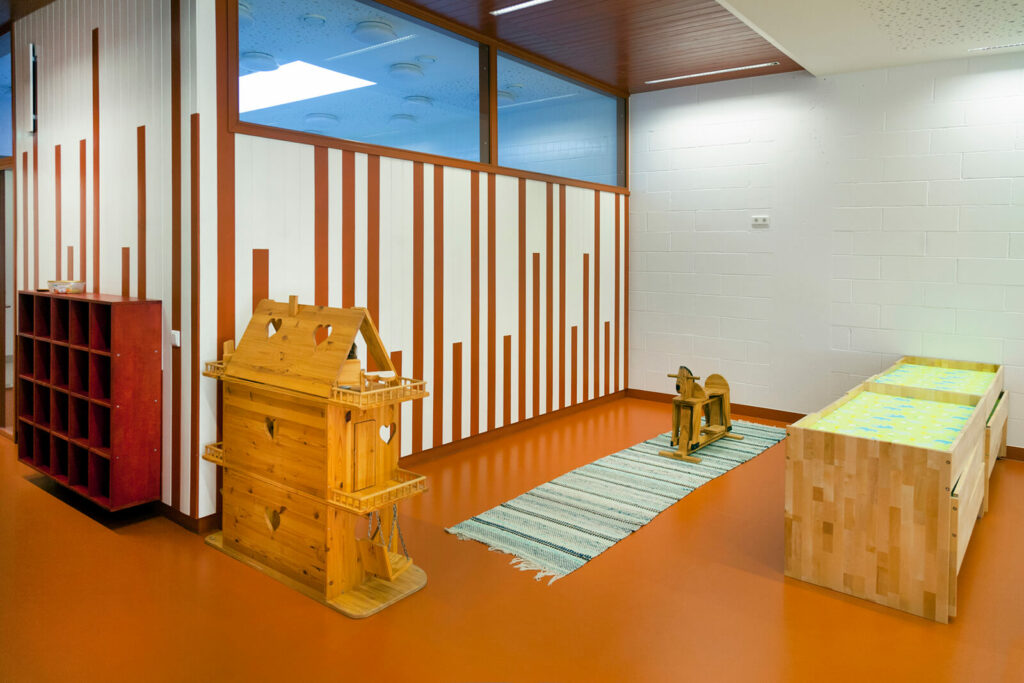 Advantages of linoleum:
Eco-friendly. Linoleum is a sustainable and renewable flooring option, and is available in both partially recycled or brand new forms.
Low maintenance. Linoleum requires minimal maintenance beyond annual polishing, and is highly stain-resistant (although staining can happen).
Durability. Often available with a warranty of as long as 25 years, linoleum flooring's lifespan can exceed four decades.
Varied aesthetic. Linoleum can be found a diverse range of colors and patterns, and thanks to its longevity you can even buy it used for a more retro look.
Disadvantages of linoleum:
Negative perception. Despite all these benefits, linoleum remains a relatively unpopular choice for flooring. While its popularity is increasing, perceptions can be a major drawback, according to Home Advisor.
"A big reason why linoleum is not installed in some houses has to do with its cost effectiveness," Home Advisor's article on the subject states. "Though it is not a flimsy material, many consider it 'cheap.' While this says nothing about the performance of linoleum in a given situation, it does make it a less desirable material when it comes time to assess property value."
Not DIY friendly. Linoleum is difficult to install for the non-professional:
"It requires a lot of skill to put in a floor of this type," says HomeAdvisor's article. "Linoleum flooring requires not just a steady hand to cut, but it needs to be applied with a spread adhesive. Those without experience using this kind of adhesive will find that the situation gets sticky very quickly. Unlike vinyl or laminate, the DIY route is usually not an option, which means hiring a professional, and receiving a professional bill."
As such, despite being an inexpensive and durable flooring material, linoleum may not be the best investment when renovating prior to selling your home. However, if tastes and public opinion continue to trend in its favor, that fact may change.
The Bottom Line: Invest Wisely!
Potential home buyers may be less interested in a home with damaged, dated, or stained floors. The right type of new or refinished floor can perk up your home's appearance, potentially attracting more interested buyers and securing a better sale price.
Once you have carefully considered the costs and benefits of all the options and chosen the best flooring for you, schedule a FREE in-home consultation so that our Design Consultants can help you right away with personalized insight and guidance. Alternatively, you can visit one of our showrooms in Fivepointville, Lancaster, or Wyomissing to see how upgrading your floors can get you better offers when you sell your home.
Choosing The Flooring That Best Fits Your Home
When it comes to your home's sale price, the look and composition of your floors makes a huge difference. Although everyone's needs are unique, there are generally flooring materials that have a higher or lower impact. Ceramic tile and hardwood—whether new, reclaimed, or engineered—tend to be the best investment in terms of resale, whereas carpeting, laminate, and linoleum floors have less of an effect. Other materials like luxury vinyl plank and natural stone typically fall somewhere in between. Each has its own pros and cons, but whatever material you choose, keep in mind that it's only an improvement if it looks fresh and well-maintained. Whether your floors need a quick touch-up or a full replacement, Martin's Flooring can help you find a solution that dazzles potential buyers without breaking the bank.