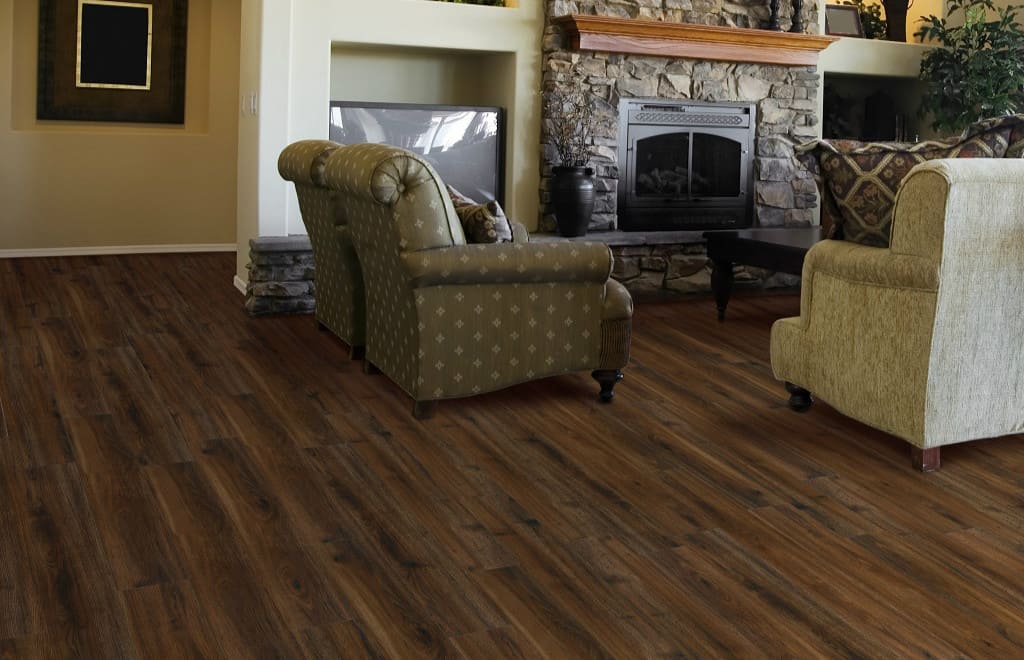 Luxury Vinyl Flooring – Beautiful yet Affordable
When homeowners think of vinyl flooring, they usually think of that shiny sheet vinyl that once was the staple for flooring in most kitchens and baths in America for many years.  Today that is no longer true.  A unique vinyl product is now making its way into every room in the home for today's homeowners.  If you are looking for a floor that is durable, yet stylish and affordable, look no further than Luxury Vinyl Flooring in both Wood-look Planks and Tile, that looks like Ceramic and Stone.
Kitchens and baths have long been the focal point for style and design for today's homeowner, and the flooring options available today reflect that trend.  Luxury Vinyl products are bursting through that perception offering vinyl flooring choices for every room in your home.
Luxury Vinyl Tile and Luxury Vinyl Planks have exploded in popularity and have become the product of choice for kitchens, baths, basements, and even whole houses.  The commercial market has seen the value of a vinyl product in wood-look plank or grout-able tile.  It is becoming more and more prevalent in offices and health facilities around the country.  Luxury Vinyl Flooring comes in wood and stone looks with colors and textures that can even fool the eye once installed.  With the incorporation of the latest digital imaging technology, many luxury vinyl flooring products look almost indistinguishable from real tile or wood flooring.   Its popularity has grown every year and shows no signs of slowing down, according to leading industry publications.
Luxury Vinyl Tile is a waterproof alternative for those who are looking for a wood look in their kitchens or baths.  It stands up to spills and large pets better than hardwood or laminate.  LVT also offers superior sound absorption.  It feels more solid and quiet underfoot.
With all its features, why are people choosing Luxury Vinyl Tile and Luxury Vinyl Planks more often today?  It comes down to appearance and affordability.  Many of the tile-look products can be grouted to make it look even more like ceramic or stone.  The wood-look planks feature rich colors and textures, giving it the look of real hardwood. It's a product that is beautiful yet affordable for today's active families.
To find out more about this unique product category, visit one of our stores, in Fivepointville, Lancaster, or Wyomissing/Reading and speak to one of Martin's design-sales consultants today.  If you would like to learn more, but don't have time to visit our showrooms, we offer a free, no obligation measure and quote, with our unique Shop-at-Home service. Call or click this link to schedule your free in-home consultation.