How Flooring Design Trends are Changing Based on Inspiration From Other Industries
Flooring is one of the most important elements of interior design, but it's often ignored. Your floors make a huge difference to your home's look and feel, but it's easy to forget how much visual appeal they can add or subtract. For places like warehouses, that's fine—pragmatic concerns take precedence. But for your own home or business, you might want to take some time to consider how installing new flooring can freshen up the look of your space.
Everyone wants to stay fashionable, but floors aren't as easy to replace as your outfit. Clothing styles change with the seasons, but floors have lifespans measured in years and decades. In the short-term, it might be great to install ultra-trendy flooring, but you can be left with something unfashionable and dated when tastes inevitably change. That's why upgrading your floors is all about balancing long-term style and practicality with current trends.
By taking inspiration from designs in other fields, you can strike that balance perfectly. This phenomenon can also be found on runways from Milan to New York, such as when Christian Dior famously modeled gowns inspired by Monet's impressionist paintings, which were in turn inspired by nature. Innovators in science and technology do this too; the Swiss engineer George de Mestral invented Velcro after examining burdock burrs under a microscope to discover what made them stick to his dog's fur.
The more complex and interconnected a designer's inspiration is, the more creative and timeless their work becomes. As such, even flooring can take after fields as diverse as runway fashion, works of art, and the beauty of nature. In this article, we will review some examples of current design trends that have made their way onto the floors of homes around the world.
Fashion-Inspired Trends
One excellent source of inspiration is fashion. Clothing design is a source of a nearly infinite number of different patterns, color combinations, and creative themes and motifs. Trends vary by taste and season, but some flooring concepts can be enduring and stylish at the same time. Here are some examples that are trendy, but not too likely to become unfashionable any time soon:
Gucci's "Old With New" Patterns
The perfect balance between classic style and today's trends, the "old with new" theme has been an idea that Gucci has stuck with for several years—and one that is only growing more popular. Combining traditional and current influences, the term has reappeared more and more often in descriptions of work by Gucci and other major fashion houses. Although it includes bolder runway-exclusive concepts such as satirical cartoons and pop culture references, the broader movement includes concepts that may become timeless.
Fashion blog Azaayamode notes that: "Nothing beats a 'mélange' of old with new, traditional with contemporary, customary with modern. Gucci is no stranger to this concept. Floral prints and geometric motifs meet the classic GG signature design. You can think of it as a 're-looking' at an old masterpiece."
PurseBlog wrote about the movement in their articles about handbags released by Gucci recently, saying that the Old With New designs "make Gucci well-known and sought after right now," and describing them as "a retro-vibe with a twist."
"We call it an 'Archival Revival,'" they wrote about the concept's aesthetic. "It has been modernized with similar lines and forms that were first introduced six decades ago."
How does it translate to flooring? There are endless ways to mix past and present creatively, but for a similar "retro-vibe with a twist" consider using older materials like linoleum, and then incorporating more modern patterns and color choices into the design and layout of the material.
Linoleum is experiencing something of a renaissance, according to Good Housekeeping, due to its relatively low cost, durable coloring, and environmentally-friendly production process.
"The sustainable appeal is a huge selling point, along with linoleum's uniqueness and retro charm," they said in an article on the topic. "The latest versions come in many more styles and colors than years past. Linoleum also has a softness underfoot that makes it very comfortable, and it resists fading from sunlight."
Bold Patterns
Strong, striking patterns are big this year in fashion, and that translates directly to interior designs.
"Floor patterns are trending—from herringbone flooring to patterned tile," says Toronto designer Kate Davidson in a Flooring America article. "The herringbone is incorporated into tile or wood, sometimes throughout a main floor or in smaller spaces such as an entryway. The eye-catching patterned tile is created in a geometric style and is used primarily in powder-room floors, mudrooms, and laundry rooms. Terrazzo tile gives a nod to the hugely popular European vibe for interior spaces."
Terrazzo, marble inlays, complex graphic patterns, and sharply colored slabs and tiles are several  options that are striking for interiors. Keep an eye out for herringbone flooring that can be built into luxury vinyl tile or hardwood floors, possibly in a kitchen floor or nestled in smaller areas such as an entryway.
Wood flooring also looks great with patterns including checkerboard and chevron, which are increasingly popular choices that can add some interesting contrast to both existing and brand new floors.
"The chevron flooring pattern has always been around, but it's starting to really push its way to the forefront in making flooring look and feel more interesting and textural," designer Linda Hayslett says in an article for Apartment Therapy. "2023 will see more people installing their wood flooring in a chevron design to invoke a more 'luxe' look in their homes."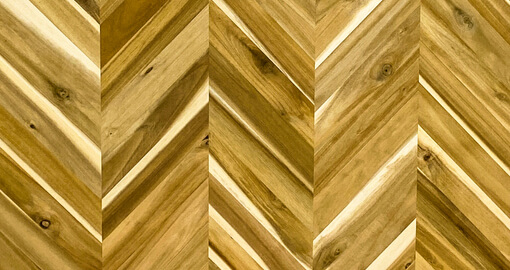 "I've noticed a lot of checkered patterned flooring that's been creeping up in spaces," Hayslett adds. "This trend will become bigger in 2023. People are liking the traditional look of creating this look with contrasting marbles, but consumers are also using paint to create a similar effect on wood floorings since tiling can be more expensive to install."
Whatever material you select, mixing and matching bold patterns can provide a room with character and visual appeal.
Wool Carpeting
While carpets are already rich in texture, picking a fabric that has been woven with different fiber heights and sizes can provide a distinct three-dimensional effect that makes it feel even more plush and cozy. Textured carpets come in a variety of weaves, ranging from subtle to more intricate and detailed patterns.
This comes with a larger set of interior design trends that define 2023, focusing on more sustainable materials and a shift toward longer-lasting products that are less harmful to the environment. With regard to flooring trends, carpets crafted from renewable and natural materials like sisal and seagrass are popular, but the big player this year is likely to be wool. Better still, wool carpeting can translate to big savings relative to hardwood floors.
"Natural fiber carpet materials such as wool are a great alternative to hardwood because they offer a similar organic look and feel without the price tag or maintenance that comes with hardwood," writes The Spruce.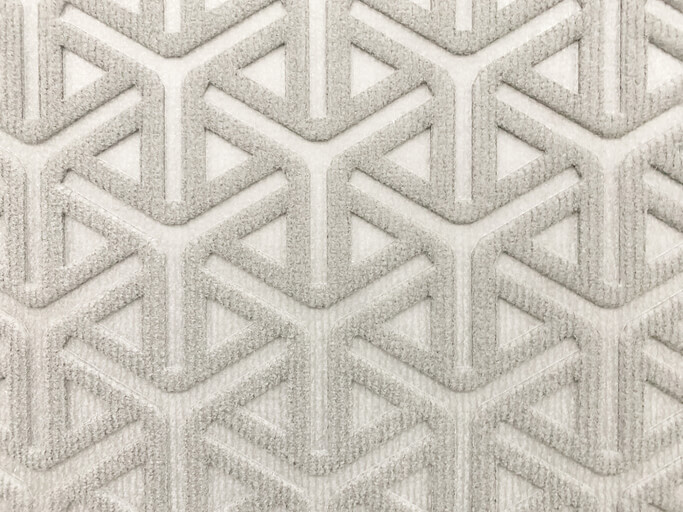 Neoclassicism
For a look that strikes the perfect balance between classic and trendy, neoclassicism is the ideal style. Since it periodically comes back in fashion—but never goes quite out—a neoclassical floor can brighten the appearance of any room.
But neoclassicism doesn't just look pretty; it has a rich history that can add depth to your floors and make them a conversation piece.
"One of the best-loved trends of our time is modern neoclassical interior design," writes Decorilla in their article covering the return of the style. "Yet, its striking beauty has roots in the Age of Reason of the 18th century. During this period, artists, and philosophers turned to the classical tradition of rational thinking and moderation."
The effect of this philosophy was a shift from excessive ornamentation to more symmetrical and toned-down styles. Today, neoclassical design transformations also feature modern touches that make spaces feel both luxurious and timeless.
Modern and original neoclassical interior designs share the same elements. But the main difference—in both fashion and flooring—comes in our contemporary use of slim lines and the slightly minimalist approach to the look. When it comes to floors specifically, here are some key characteristics to consider:
Materials like parquet (solid wood) or marble
Carpets and rugs with fine workmanship and an elegant appearance, specifically in Chinese, Persian, or Afghan styles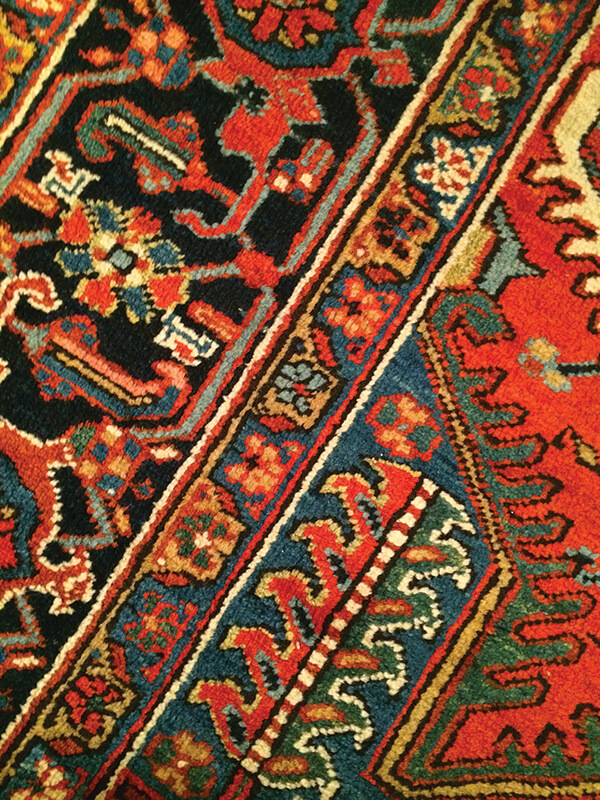 Emphasized horizontal and vertical lines
Symmetric layouts and geometric decorative elements
Classical architectural detail, like finely carved baseboards
Spacious layouts with selective furniture, leaning to thoughtful minimalism and showing off floor patterns
Complex Carpet Patterns
Although textile patterns have traditionally been employed to decorate upholstery and fabrics, recent trends have moved toward using beautifully patterned wall-to-wall carpet. With textile-inspired designs that provide a subtle-but-striking look, carpeting is making a comeback.
"Until recently, carpets and rugs tended to be plain, neutral, and mainly used for bedroom carpet ideas only, but patterned carpets are now coming back into favor, and moving into the living room and dining room, too," writes Homes and Gardens in their article about the trend. "In the right hands, patterned carpet designs are akin to introducing a work of art into a room and setting a strong design tone. Think of the floor as the room's main canvas."
This trend is based on a "floor-up" philosophy, focusing on making the floor the true centerpiece of the room. A heavily patterned carpet is a bold choice, but it can withstand renovations for years to come if you select colors and design details that can carry through to the broader design scheme.
For a finer style of carpet with a textile pattern, try something like Summit Point to provide a gentle and comfortable atmosphere. For something a little more artistic and abstract, look for designs like Terrace Ridge.
Nature-Inspired Trends
Interior design is embracing styles with roots in nature. Whether it comes to coloring, patterns, or even the material used, flooring is no exception to this trend. Here are some examples:
All Things Hardwood
One of the most popular natural flooring styles is hardwood. As a bonus, wood floors are highly valued and have been long-sought as the "gold standard" material in renovations and the real estate market. That means they won't go out of fashion any time soon and can represent an excellent investment in your home. However, there are several different stylistic choices to consider.
Knotted and Rustic Woods
As you shop around for new floors, keep the different grades of wood in mind. Generally, something labeled as "Select Grade" will have limited color variation, whereas something labeled as "Natural Grade" will have a much broader range of color that can provide added character. More varied still is "Rustic Grade," having features like knots and wormholes that introduce plenty of personality.
For those who appreciate all the marks and tone variations that nature carves into wood, knots may also be appealing.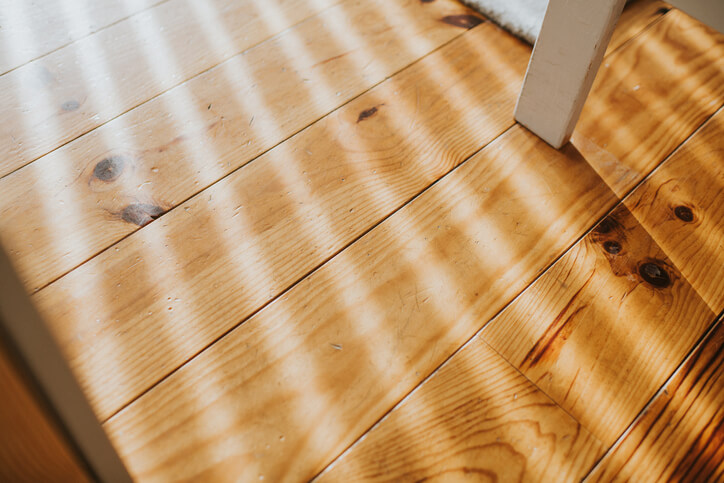 "Consider particularly knotty species of wood to create a rustic and interesting look in your home," writes The House Designers' blog: "Knots provide remarkable contrast for your floor and give you a totally unique product in the end. Look at Australian cypress for an exceptionally knotty floor. If you prefer just a few knots, woods such as ash and white oak have the added visual interest of swirls and burls and will provide you with some unique variations without overpowering the rest of your floor."
Matte Finishing
On the opposite end of the spectrum, wood floors with an ultra-matte finish have been gaining popularity in the past few years. The low-sheen protective coatings are more affordable than wax coatings and require less maintenance, so it's no wonder that more and more homeowners are gravitating toward them.
Because they last longer while still showing off the natural look of the wood, they can serve as the foundation of a room's design for years to come. According to The House Designers' blog, it comes down to practicality.
"A shiny, waxed floor is something to be proud of, but it's impractical for most of us," they write. "Choosing a matte floor instead will reduce the appearance of small scratches and other damage while also allowing the wood to feature prominently on its own. The authentic look of the wood is preserved best with a matte finish."
Clearer, Lighter Wood
Clearer finishes are a good way to display hardwood's natural beauty. Using a light stain (if you want to stain at all) achieves this well. However, the simplest way to give wood flooring a light appearance is to select the right kind of wood.
"There's always a high demand for hardwood flooring, but one type is proving to be exceptionally in demand: white oak," writes the House Beautiful blog's article on the topic. "It takes color so beautifully, but it's also beautiful in its natural state. The versatile tree species is the perfect canvas for applying all sorts of colors and glosses."
White oak is not just a current trend. Compared to similar materials like red oak, it has real advantages that have contributed to its popularity, such as:
Being more water resistant
Easier to stain
Greater durability on the Janka Hardness Scale
Roughly equal cost
More shade options when staining
Bigger Planks
Individual tastes will vary as much as the different grades of wood, so consider the width of each plank as another method to add character to your floors. The difference between a 5 inch plank and a 2-¼ inch plank is significant. Wider cuts will display the grain more clearly, so big cuts can help your floors stand out if you're looking for a more natural, less uniform look.
Many vendors call wide-cut planks "the chameleon of hardwood flooring" because they give smaller spaces a more spacious feel and make larger rooms look more rustic. Regular wood flooring planks typically measure from 2 inches to 4 inches in width, but bigger planks can be anywhere from 5 inches to 12 inches wide, such as this 7.5" wide plank.
Floral Tile Patterns
Another flooring trend based on nature is tile arranged in floral designs. Since tiling allows you to create many types of intricate layouts, you have choices in how to accomplish this natural look.
"Floral tile patterns allow one to bring the outdoors in," writes Artaic's blog covering the trend. "Though most floral patterns on the market tend to be more traditional, some floral patterns veer on the side of abstract, producing a much more modern look."
Patterns that feature whimsical floral and organic shapes can really help to soften a design, grounding it in tangible shapes. Particularly popular right now, sea-inspired blues and foliage-colored greens replicate the look of water and woodland to create a fresh atmosphere in any room. One major benefit is that these patterns don't necessarily require ceramic materials. Luxury vinyl tile and linoleum can offer a more affordable way to achieve the same appearance.
Woven sisal rugs and carpets
Sisal rugs and carpets are one flooring trend that may be here to stay. Made from an ecologically friendly plant fiber derived from a cactus in the Agave genus, sisal offers homeowners an option that is both durable and sustainable. The resilience of sisal makes it ideal for high-traffic areas. Although many other materials can quickly look worn in high-traffic areas, this natural fiber can withstand even the toughest of conditions.
That lengthy lifespan and unique visual appeal of sisal means it will likely remain a popular trend, featuring in homes for many years to come. Sisal rugs may not be the softest, but they last for years, look great, and are perfectly suited for both wall-to-wall and area rugs.
"Jute and sisal are popular fibers for accent rugs, but they're often overlooked as carpeting options," writes Havenly. "They are durable and timeless and can really bring in a textured element that can add a 'wow' factor to the design of your home."
Paint-Inspired Trends
Whether inspiration comes from paintings by fine artists or the pigment itself, using strong paint colors and designs is a trend with real staying power. Here are a few of the ways this style has manifested in flooring:
Painted Floors
Although painted floors might seem too old-fashioned, interior designers are revisiting the vintage style more and more. As a decorating move, painting floors is both completely transformative for the space and economical (simply paint over what you already have).
"Of course, decorators have been painting floors for decades—centuries even," writes Architectural Digest about the trend. "The great decorator Mario Buatta conjured a veritable pattern book of floors over the course of his career. Nearly all of them were executed, for the past quarter century, by decorative painter Haleh Atabeigi, who swears that a painted floor 'somehow always makes your room bigger.'"
Painted floors don't just add space, though. They add character. The difference made to a room by painting its floors is just as great as the difference made by painting the walls. Using bright colors or bold patterns can create all sorts of different looks. The only limit is your imagination.
However, painting your floors isn't always an easy endeavor. Architectural Digest recommends that only hardwood should be painted, which must be treated and sanded down properly to ensure that the first coat adheres well after application and drying. Still, it is possible to paint other materials such as linoleum, concrete, tile, or plastic, but they must be prepared even more stringently with sanding, sweeping, vacuuming, and carefully brushing on a layer of primer before painting.
Regardless of the material being painted, it usually takes at least two or three coats to get full, deep coverage that coats the whole floor. On top of that, an additional layer of varnish is typically required to protect and brighten the paint. After all this work, though, upkeep is fairly simple—gentle mopping and occasional spot treatment for scuffs and scratches.
The real question, though, is when painted floors are a good fit. Generally, they are an excellent option for someone looking for a fashionable design who has a space with either an existing wood floor that they don't like, or a space that needs a new floor. Some rooms lend themselves better to a central design, like those that don't have any furniture—such as entryways and wide corridors.
"Painting the floors allows homeowners to use less expensive flooring materials, like off-the-shelf plywood cut to any plank dimension they desire," says Southern Living's article on the topic. "Not just for pretty porches and coastal cottages, painted floors are taking over home interiors. Images of quaint, rustic country homes or sprawling Southern porches may come to mind when you think of painted floors and for fans of classic design, the trend is nothing new. But the latest looks prove painted floors are for every style and space, and modern applications have put a fresh (and functional) spin on the approach."
If you're looking to add color to your flooring, keep in mind that there are a few different ways to achieve that with paint. You can go with something simple, like fully painting the floors, to something more intensive like geometric or ornate hand-stenciled patterns that require a bit more effort and planning.
Complex Staining
Whether you are planning on a full-scale remodel or just trying to spruce up your home a little bit, a new stain finish on wood floors is a great way to bring depth and atmosphere to your space. Today, there are a great many interesting staining trends that could be the perfect addition to your interior design plans.
One of these trends is fuming. A rather complicated process, fuming is a method of coloring and treating wood by placing it in a vat with vaporized ammonia. This brings the tannins inside the wood to the surface, which emphasizes the natural stains and patterns just beneath. The more tannins that come into contact with the vapor, the darker the wood will become. This technique gradually adds hues and shadows to that cannot be replicated by other methods. Like snowflakes, no two pieces of wood treated with fuming will look the same.
Fuming is perfect for today's design tastes, which are tending toward darker colors.
"Many of us hold memories of wood flooring from childhood that continue to influence our sense of luxury and beauty," says Southern Living. "As people strive to create comforting, cozy homes, neutral browns in matte finishes have that timeless appeal."
Another popular staining trend is natural coloring. According to Southern Living, the current fashion is neutral to warm tones.
"In the recent past, it was all whitewash, all the time," they write. "Blonde wood has been a designer favorite for the past four or five years. We weren't seeing walnut and darker woods used quite so often. These days, we're splitting the difference and letting the wood speak for itself through a natural-looking finish."
When lighter colors are used, they are only used to highlight the natural grain of the wood. Cerused finishes, where white or lightly colored pigments are employed to selectively accentuate the natural patterns in wood flooring, are increasingly popular. This style emphasizes the texture and grade of the wood, creating a bright and rustic feel.
You cannot go wrong with brown stain colors since they fit with both modern and traditional styles of home decor. If you're planning on moving soon and selling your home, and refinishing your floors is on your to-do list, the wisest move is usually choosing more classic tones or neutral colors that go with a wide variety of home decor styles.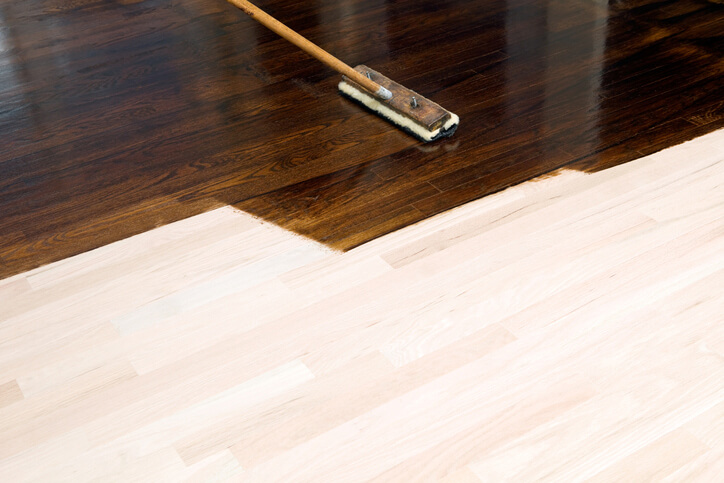 Finally, keep in mind that while some stain colors are timeless favorites, others go out of trend quickly. Some stain colors that were once popular are now widely considered to be outdated included red and yellow shades. If you have floors that have an outdated stain, or if you simply don't care for the color, refinishing and restaining your floors is an attractive option. Refinishing your floors fixes worn or cracked areas while restaining gives your floors a totally fresh new look.
Colorful Carpets
Striking colors, swirling patterns, and artistic Impressionist-style carpets and rugs are growing more and more popular. Although carpeting with distinct coloring may be associated with outdated 1970s homes, the trend has come back into fashion with new designs. Plus, modern dyes mean that today's patterned carpets are unlikely to fade over time.
According to Homes and Gardens' article on the topic, "2023 will be a year for color and creativity, so it is no surprise that a plethora of patterns will enter the design realm, but that is not to say that you can't use them in smaller spaces."
For a smaller room, colorful and intricately patterned carpets are ideal. Although such busy designs might look overwhelming on a wall or on a large piece of furniture, introducing patterns on the floor through a rug or carpet can add interest without completely overtaking the eye. For stairs and larger rooms, the design should be a bit more muted, but still stand out and serve as the standout piece of the larger space.
Call The Professionals
It is safe to say that the floor is no longer a design afterthought. An entire room can be styled beginning with the floor.
Whatever decision you make about your flooring, it's just as vital to make sure that the right people handle the process of putting it in. You can pick beautiful and durable materials, but if the wrong designer or installer gets involved, your floors can be ruined. Choosing a qualified, reputable professional can make a world of difference.
Martin's Flooring offers the highest quality flooring products, free design services, and guaranteed installation throughout southeast Pennsylvania. Since 1985, we have provided outstanding service and been recognized an A+ Better Business Bureau rating and voted Best Flooring Store in multiple publications throughout Lancaster and Berks County, such as Susquehanna Style, Berks County Living, LNP newspaper, and Lancaster County Magazine. We offer the area's largest selection of both special-order and in-stock flooring, allowing you to find unbeatable prices and expert guidance. Whether you're looking for something ultra-trendy, traditional, or somewhere in between, contact us today to learn how we can help find the flooring that is perfect for your unique needs.
Classic style trends provide inspiration for beautiful flooring
On-trend flooring can add value and visual appeal to your home, but because trends change, it's important to take inspiration from timeless styles. These can be found in fashion, nature, and art. Ideas like combining "old with new" linoleum designs and using wool carpeting come from the runway. Knotted wood floors and sisal rugs have their origins in nature. Art has renewed the popularity of painted floors and brightly colored carpet patterns. Balancing the enduring with the fashionable is no easy task, but Martin's Flooring can help. Our experts can guide you through the process of finding, designing, and installing the perfect floors for your home.