Commercial flooring is a great option for any business and even busy homes. Whether you are looking for new flooring for an office, restaurant, or hectic home, there's a commercial option that will work for you.
Commercial options can be used anywhere residential flooring is used. Commercial flooring can be more expensive, but for a good reason. The main benefit of commercial flooring is its durability. If you're looking for new floors for a high-traffic business or home, this option will hold up well to heavy wear and tear, lasting for years to come.
Commercial flooring types are created with the understanding that they will be cleaned more frequently than typical home flooring materials, so they're designed to withstand strong cleaning products. Just make sure you're using the product recommended by the manufacturer. Finally, commercial flooring often offers some level of soundproofing. It's a great option for homes or businesses looking to reduce the level of noise heard in the space.
If you're trying to decide whether residential or commercial flooring is best for you, it's important to understand the differences between the two. Here are the main points that set these two flooring types apart:
Purpose and traffic — Commercial floors can withstand heavy foot traffic, moving equipment, and a lot of spills. Residential flooring, on the other hand, prioritizes comfort and aesthetics.
Materials used — As they're meant to withstand heavy foot traffic, commercial flooring will use durable materials such as vinyl, ceramic tiles, concrete, and commercial-grade carpeting. Residential flooring can use a broader range of materials because it doesn't need to be restricted just to materials that can withstand commercial use.
Installation and maintenance — Commercial flooring typically needs to be installed by contractors, but residential flooring can be a DIY job. Commercial flooring requires regular maintenance, but residential options depend on the material used.
Building codes and safety regulations — A business that installs commercial flooring must comply with codes and regulations set in place by local government and industry standards. Residential flooring codes and regulations are not as strict.
Cost — Due to its high durability and specific materials, commercial flooring is more expensive than residential options.
Each flooring type has its pros and cons. But if you're looking for durable and easy-to-clean flooring in an area with heavy use, a commercial flooring product might be the best fit for your needs.

Commercial Tile Flooring
While commercial flooring options are more limited than residential ones, you'll still have plenty of different choices to look at. For example, tile is a durable commercial flooring option. But in order to make sure you're picking the right option, take a look at the Porcelain Enamel Institute rating for your tile selection. It's the most reliable gauge to determine wear expectations for a particular tile. The rating classes are as follows:
Class 1 (no foot traffic): Recommended for wall use only in residential and commercial applications.
Class 2 (light traffic): Recommended for both wall use and bathroom-floor applications.
Class 3 (light to moderate traffic): Recommended for countertops, walls and floors where normal foot traffic is expected.
Class 4 (moderate to heavy traffic): Recommended for all residential applications as well as medium commercial and light institutional.
Class 5 (heavy to extra-heavy traffic): Recommended for all residential as well as heavy commercial and institutional applications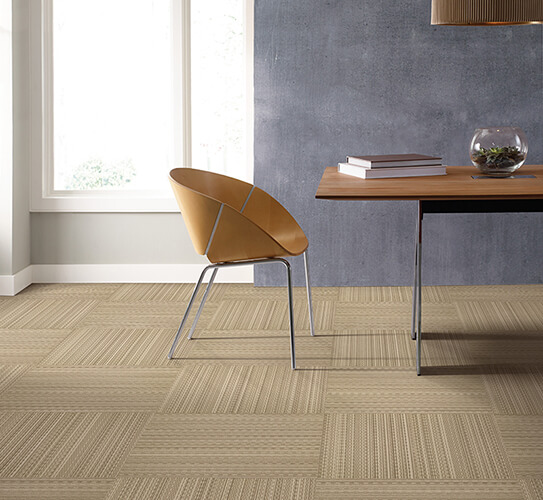 Commercial flooring would fall into a class 3 rating or above, but don't worry — you'll still have plenty of variety when it comes to style and design. Here are a few options to consider:

Porcelain flooring
Porcelain tiles have seen lasting popularity for a good reason. They're dense and less porous than other options, making them more resistant to staining and easier to clean. Porcelain is also a durable option that isn't easily damaged by water. Porcelain tile also comes in a variety of different colors and designs, meaning you'll be able to find one that goes with your existing decor.

Luxury vinyl tiles (LVT)
If you select LVT flooring, you can get the look of stone or ceramic flooring without a high price tag or challenging installation process. This flooring option is constructed out of a layered design that makes it durable, waterproof, and easy to use. Here are the layers you will find:
Wear layer — Protects the floor's surface from normal wear and tear.
Print layer — Features photo imagery of the material you'd like to mimic, such as wood or stone.
Waterproof core — Contains a solid, waterproof wood-plastic composite (WPC) or stone-plastic composite (SPC) core to stop the tile from swelling or warping.
Backing layer — The bottom of the plank that provides a sturdy base for installation.
Commercial LVT flooring has a higher wear layer making it suitable for high-impact industrial or commercial kitchen environments, and a great fit for hospitals, schools, or residential kitchens. The design possibilities will ensure that it looks great in any space.

Cement Tile
Cement can be used in residential basements, garages, salons, art galleries, and more. It is an incredibly durable flooring. Thanks to its hydraulic pressurization process, the cement poured in tiles is very consistent too. But that doesn't mean you're limited to specific designs.
As HGTV says,"The top layer of cement tiles is stamped with a customized pattern and colored with natural pigment that gives the tiles a matte finish. Cement tiles can be customized with bold and colorful patterns, making them ideal for backsplashes, accent walls and areas of the home that are highly visible."
This flooring has grown in popularity, but it's also tricky to install. Cement tiles are porous and susceptible to staining from grout or sitting water. Due to that, you'll need to seal cement tiles. Cement can also develop a patina over time, meaning you'll have to sand the floor down and reseal it if the look of the patina is not what you prefer.

Terrazzo flooring
The tile option is suitable for high-traffic areas where you want to achieve a stylish look. Some use cases include showrooms, entryways, high-end office spaces, and more. It can be made from a cement matrix or epoxy resin mixed with marble or recycled granite glass.
Terrazzo is a durable flooring that carries a low lifetime cost, but it is expensive upfront because of its material and installation costs. It has to be poured in place, cured and then polished to achieve its shine. Flooring experts recommend that consumers only use this material for a space that's at least 2,500 square feet.

Quarry flooring
Quarry flooring easily withstands spills, foot traffic, and grease buildup ­making it the industry standard for commercial kitchens. But it's also a great option for residential bathrooms, mudrooms, patios, and shower floors. Quarry is made from hard-fired clay and offers the same functionality and durability benefits as porcelain.
As Spectra Flooring says, quarry tile will last a long time, as long as it's installed properly and well-maintained throughout its lifetime. Any experienced flooring contractor will know to use epoxy grout and thin-set adhesives during installation. But as the homeowner or building manager, just make sure to clean it regularly and replace the flooring as needed.

Epoxy flooring
You'll often find epoxy flooring in healthcare offices and food distribution warehouses. It can also be used in residential bathrooms, patios, kitchens, garages, and basements. This flooring is created by applying a thermosetting resin directly onto moisture-treated concrete.
The final epoxy coating prevents damage from abrasions, foot traffic and chemical spills. Epoxy is a popular commercial flooring option because it's versatile, durable, and aesthetically pleasing. But you'll only reap those benefits if the flooring is installed correctly.
Spectra Flooring says, "The concrete needs to be cleaned and cracks patched with urethane prior to application of the epoxy coating. If applied before prepping, the epoxy is likely to peel or chip prematurely." Just make sure to sweep it daily and occasionally deep clean it to keep your floor looking its absolute best every day.

How to Pick the Right Tile for Your Space
There are a lot of different tiles to choose from. Here are a few things to consider before going with a particular material or design: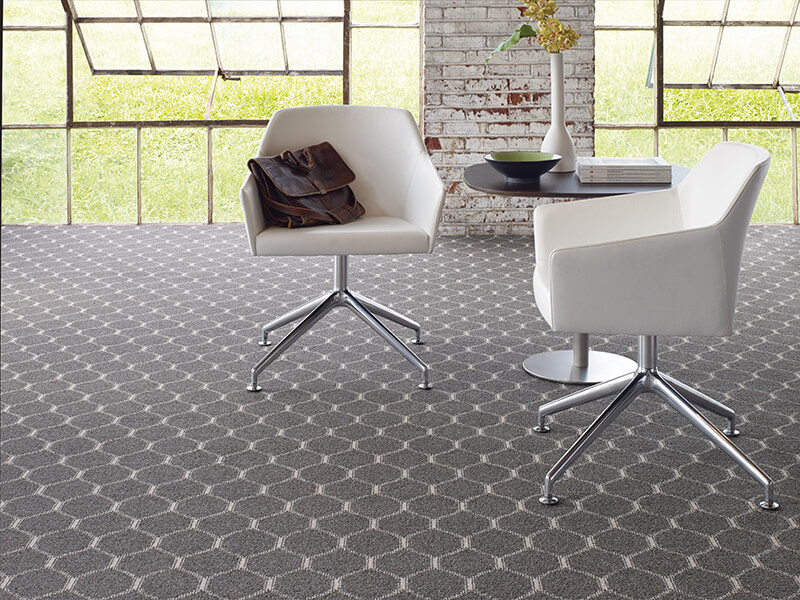 Maintenance — Tile is a popular flooring option because of how easy it is to clean. Whether you're laying down flooring for a home or business, go with an option that's easy to clean and maintain so you don't have to replace it in the future.
Safety — If you're going with commercial flooring, that likely means you will have a high volume of foot traffic. Consider the safety of everyone who will use this floor, including people who may have disabilities. If you'd like to be more cautious, select an option that has a texture to provide enough traction to those walking on it.
Design — The great thing about tile is the endless color and design options. Think about whether you want your flooring to be a focal point or more neutral. Then, go with a color and design that complements the feel of the room. Your flooring can easily make a room feel bigger and brighter or mask stains and scuffs.
Tile size — Smaller tiles are more striking, whereas larger tiles can create a smoother transition from room-to-room. Go with the option that makes the most sense visually in your particular space.
How to Clean Commercial Tile
If you're investing in high-quality commercial tile, you should take the proper steps to keep it looking great and protected. Here are some tips to incorporate into your cleaning and maintenance routine:
Use mats and rugs at entrances and in high-traffic areas to keep dirt and debris from being tracked into your space.
Regularly mop and vacuum floors.
Clean tile grout lines with a specialized brush.
Ensure your floors are dry before mopping them.
Regularly replace the cleaning pad on your mop.
Use Martins Flooring professional cleaning service for the occasional deep clean and to maintain your warranty requirements.
While it's important to follow the correct steps for cleaning your floors, it's equally important to learn what not to do with your commercial tile. Do your research so you're not using cleaning products that may stain or discolor your tiles.
For the best results, make sure to use cleaning pads specifically designed for tile floors and get into a cleaning schedule that reflects foot traffic in the space and the condition of your tile.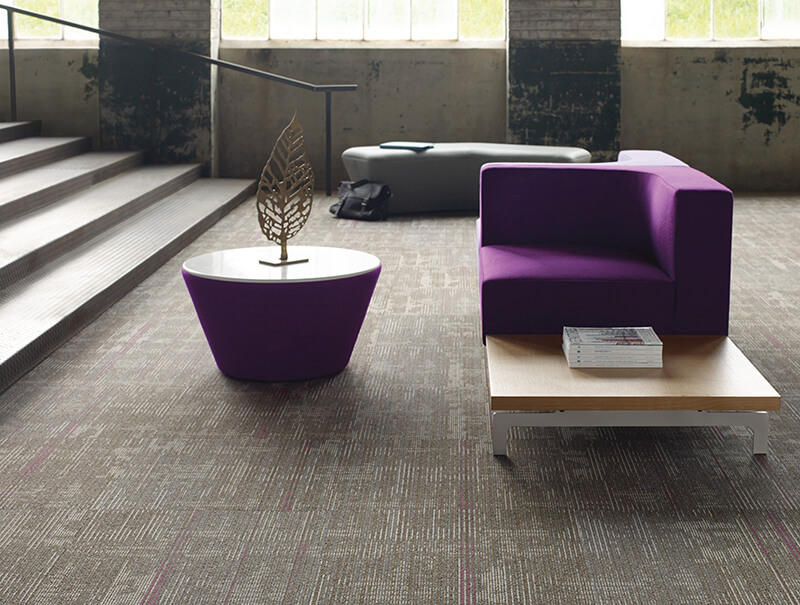 Commercial Carpet Tile
If you want commercial flooring in your home or business but tile is not the right fit, commercial carpet tiles are a solid option. Here are a few different types with a variety of a features:

Nylon
Nylon is one of the strongest and most durable carpeting options you can select. It stands up well to abrasions, responds well to hot water extraction cleaning, and offers a great texture.
But it's important to keep in mind that this carpeting option can be prone to color loss or staining, so you'll need to apply stain resistant treatments and dye blockers. Nylon is also one of the more expensive industrial carpeting options.

Olefin
This carpeting option is durable and affordable. Olefin carpets are stain, mold, and moisture resistant, making them a great option for walk-off mats. This option is also less expensive than nylon carpets.
But on the other hand, Olefin carpet has a shorter lifespan than some other commercial options. This flooring is resistant to liquid stains, but can be susceptible to oils or being soiled from dirt and grime. Olefin should be cleaned regularly to ensure there is permanent damage from stains and spills.

Polyester
When it comes to price and performance, polyester falls right in the middle of nylon and olefin. It's a solid performer that's affordable and holds up well against stains. Polyester carpet is also considerably softer than alternatives and comes in a wider variety of colors.
But keep in mind that polyester crushes quickly under heavy foot traffic and doesn't recover as well as other choices. That means it might not be the best option for very high foot traffic areas. This carpet's lifespan is only about five years under heavy use.

Wool
Wool carpeting offers top-notch performance. This carpet holds its shape well, repels stains and oils, and is nice to walk on. It's also fire resistant, offers some insulation, and is even hypoallergenic. All in all, wool is durable, comfortable, and easy to clean. But that myriad of benefits is what makes it a more expensive option.
Keep in mind that wool can also fade if it's overly exposed to the sun. Wool also naturally absorbs water, making it more prone to mold and mildew. Finally, wool is more challenging to clean than other kinds of carpet.
As it's a natural fiber, the wrong techniques can damage and sometimes affect the backing yarn. If you go with wool carpeting, it's a good idea to use a professional carpet cleaner.

Synthetic Blends
Synthetic carpets combine natural wool with a material like nylon, olefin, or polyester. The most common commercial synthetic carpeting is a nylon polyester blend. It combines the durability of nylon while still being budget friendly.

Pros and Cons of Carpet Tiles
Carpeting is a common flooring option to use in both residences and businesses. Carpet tiles, on the other hand, are a newer and increasingly popular alternative to traditional broadloom carpeting. Here are some reasons to go with tiles instead:
Easy to install — As carpet tiles are much smaller than full rolls of carpet, they're easier to store, transport, and install. If a patch of carpet is damaged beyond repair, you can easily cut out the soiled tile and replace it with a fresh one.
Versatile — Carpet tiles come in a variety of designs, shapes, and materials, meaning that they can suit any area in your home or business.
Affordable — As carpet tiles are easy to transport and store, they're easier to install. That means you'll cut down costs on waste and installation fees.
Durability — Most carpet tiles are low pile, looped, and tight. That means they'll be able to withstand heavy foot traffic.
Low maintenance — Taking care of carpet tiles is relatively simple. If you regularly vacuum, they should be in good shape.
But as with any flooring option, carpet tiles come with their disadvantages as well. Here are a few to keep in mind before you make a purchasing decision.
Non-uniform appearance — Since this carpeting is sliced into tiles, you won't get a completely uniform look.
Potential for fraying fabric — Carpet tiles have seams, meaning that you may experience some fraying along their edges.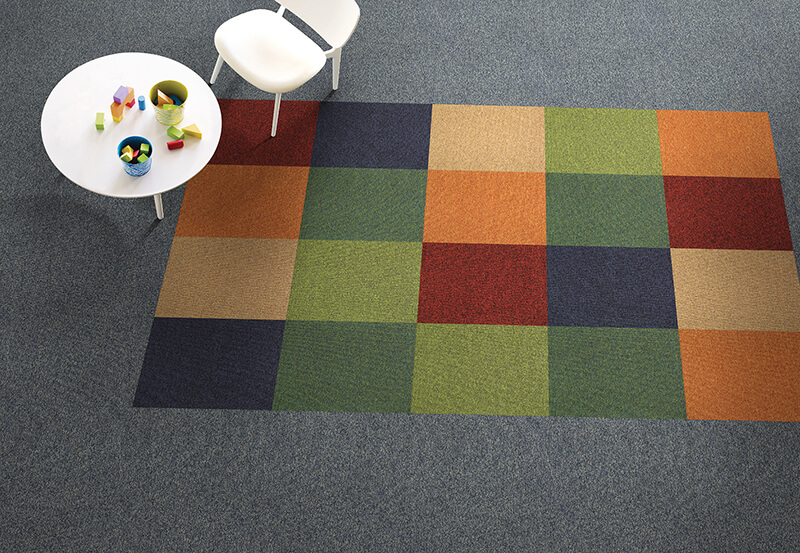 How to Clean Carpet Tiles
Carpet tiles can be used anywhere that traditional broadloom carpet is used. That goes for the home or office, too. Carpet tiles are found in a lot of places and are actually the fastest growing segment of the carpet market. But no matter where you install it, it's important that you learn how to properly clean and maintain it. Follow these tips to make sure your carpet tiles are always looking great:
Vacuum regularly — Carpet shampoo will only be effective when the tiles are thoroughly vacuumed and dusted. Make sure you vacuum each tile well instead of just doing a quick pass. Not only will this remove debris from the area, but it'll pick up allergens as well. For high-traffic homes and offices, you should be vacuuming at least once a day.
Use a manufacturer-approved carpet cleaner — Carpet cleaners are an efficient way to clean your tiles. But if you pick the wrong one, it can discolor your carpet tiles. You can easily avoid this by looking up your carpet manufacturer's recommendations for cleaning supplies. Make sure to still test those products before using them on the entire floor. Test them in a closet or under furniture to make sure using them doesn't result in discoloration.
Blot, don't scrub stains — When you scrub a stain, you risk damaging the carpet fibers. Instead, remove any solids and soak up as much liquid as possible when you experience a spill. Then, apply the carpet cleaner and blot it until your tiles look clean. Follow any additional steps outlined by your carpet cleaning product.
Remove carpet tiles if necessary — Some carpet tiles can actually be removed and washed. Make sure to dry the tiles completely before laying them back on the floor.
Set a regular cleaning schedule — Cleaning removes debris and allergens trapped in the carpet, so you should do it regularly. Vacuuming and light cleaning should happen fairly regularly, depending on how much foot traffic your space gets. But when it comes to deep cleaning, the Carpet and Rug Institute recommends carpet cleaning every 12 to 18 months.
If you want to keep your floors looking great all year long, you need to put in the work between cleaning sessions. Here are some ways you can do that:
Always place mats and rugs by doors to keep debris at bay.
Put furniture pads under any heavy pieces of furniture.
Keep carpet cleaner on hand in case of any emergencies. Martins Flooring carries cleaners for their carpet products.
Schedule a professional carpet cleaning once or twice a year.
Carpet tiles require careful cleaning and maintenance to remain in great shape. But they're a cost-effective, easy-to-install, and durable option that can seamlessly fit into any office or home.

Flooring Design Ideas
Whether you go with commercial carpet or tiles, there's still room to have fun with the design of the flooring you select. Here are some inspirations for creative flooring designs:

Carpet Tiles
Carpet adds a rich level of warmth and texture to any space that you can't achieve with other kinds of flooring. Carpet tiles are also affordable and durable. Here are some popular colors and designs you can choose for your carpet tiles:
Bold colors — If your existing decor and walls are neutral colors, you can go bold with your flooring. Vibrant blues, reds, or yellows are a great way to add character and vibrancy to your space.
Solid neutrals — On the other hand, you can opt for neutral carpet tiles to create a clean and minimalist look. This will give you the freedom to go bolder with your furniture and decor, or stick to a minimalist look throughout the room.
Horizontal-vertical boxes — This style is commonly found in office spaces, but it's increasingly being found in homes as well. As Home Lane states, the combination of vertical and horizontal striped boxes makes a space look bigger. As the printing technology has improved, these tiles can now be created in nearly any color.
Chevron — If you're interested in going with a geometric shape, consider a small repetitive pattern like chevron. It's a perfect look for rooms with large pieces of furniture and minimal floor exposure. Chevron flooring will evoke feelings of warmth and comfort in any business or home.
Wide stripes — If you want your space to look wider than it actually is, consider installing tiles with broad stripes. You can go with dual or even multicolored stripes to elevate the look of your space. Look to your furniture and decor for ideas of a color palette to go with.
Tetris-style prints — For a bolder look, consider tiles that feature prints on prints. When it's done well, a juxtaposition of prints can create a coherent look and make your floor a focal point. Just make sure your carpet tiles and furniture follow the same color palette, as to not overwhelm the look of your space.
Textured finishes — Instead of focusing on the look of your carpet tile, go all in on the feel with a textured finish. Selecting carpet made of ribbed, looped, or shaggy fibers will provide your space with more depth and make it look more visually interesting.
Layered patterns — Make your carpet one-of-a-kind by layering different patterns or textures next to each other.
None of these ideas fit your design aesthetic? That's okay! You can talk to a our commercial flooring team about creating your own custom design. You can mix and match different patterns, textures, and colors to create a look that is all your own.

Other Tile Flooring
No matter your design style or the purpose of your space, you can't go wrong with a tile floor. Tile comes in a variety of materials, designs, and colors, giving you unlimited options. It helps to achieve a high-end and classic look in any home or business. Here are some trends and designs to consider for your space:
Textured tiles — Instead of going for the traditional smooth and sleek tile, consider one with an irregular surface. This look will ensure your floors are eye-catching and it creates a sense of movement in the room.
Checkerboard — Create a traditional checkerboard look with black and white tiles or go for a modern and vibrant look with different colors. Barrie Cutchie, design director at BC Designs, says that this look has emerged as one of the most popular trends for bathroom floors.
Natural stone — Using a material such as onyx, granite, limestone, or marble creates a dramatic and luxurious look in any home or business. Natural stone floors are especially great options for bathrooms or spas, as they create a calming connection to the outside world.
Terracotta — Terracotta is a natural tile that's been used for thousands of years. Hamish Smith, creative director at Ca'Pietra, says that these tiles are trending because their baked clay tones warm up any space and provide a look that is the right balance between rugged and refined. Terracotta tile builds up a patina over time, giving your flooring a certain kind of character as it gets older.
Moroccan — This style is defined by vibrant colors, intricate designs, and a mixture of textures. Going with Moroccan flooring creates a colorful focal point in any room. This style is a great way to update any kitchen.
Oversized tiles — Larger tiles create a striking appearance in your space. Thanks to the minimal grout lines, they make any room feel bigger. Large tiles are a great fit in hotels or residential laundry rooms or bathrooms.
Tiles that blend the indoors and outdoors — Creating a seamless feel from the indoors to the outdoors is a popular interior design decision, as it helps to create the illusion of one big living space. You can achieve this look by using the same tile material in a residential kitchen and patio, or in the indoor and outdoor dining space of a restaurant.
Whether you are looking to install a new floor in your home or business, use it as an opportunity to show off your design style. The right floor ties a room together. Interior design Michelle Ogundehin says, "the most important design decision [is] the flooring. Literally and visually, it is the foundation for everything, underpinning every view and item laid upon it."
Going with a trend or look that fits your interior design style will help you to bring a heightened sense of style and function to your space.

TL;DR — Commercial Flooring is a Viable Option for Business and Busy Homes
Whether you run a thriving business or busy household, your flooring withstands a lot of wear and tear over time. But if you choose a commercial flooring option, your floor will be able to hold up to heavy foot traffic for years to come. This kind of flooring also holds up well to stronger cleaning products, along with providing some soundproofing.
Tiles and carpet tiles are a great option for any home or business. Both are durable and come in a variety of different styles. If you learn how to properly care for them, commercial carpet or tile will look great for years to come.
Ready to find the right commercial flooring for your busy space? Contact Martins Flooring today and we'll help you find the perfect match for your needs.