How to Use Your Floor To Show Off Your Design Style
Interior design is more than hand-selected furniture and one-of-a-kind artwork. It starts with the practical and foundational elements of your home, such as your floor. Flooring is one of the most important, yet underrated, elements of design. The right floor can tie a room together, whereas the wrong option can be an eyesore. Your floor is quite literally the foundation of your home. It's also the element of the room that you'll probably keep longer than anything else.
You should look at your floor as the palette for the rest of your space — it's why interior designers recommend selecting it early in the design process. Interior designer Michelle Ogundehin told ELLE Decoration that "the most important design decision [is] the flooring. Literally and visually, it is the foundation for everything, underpinning every view and item lain upon it".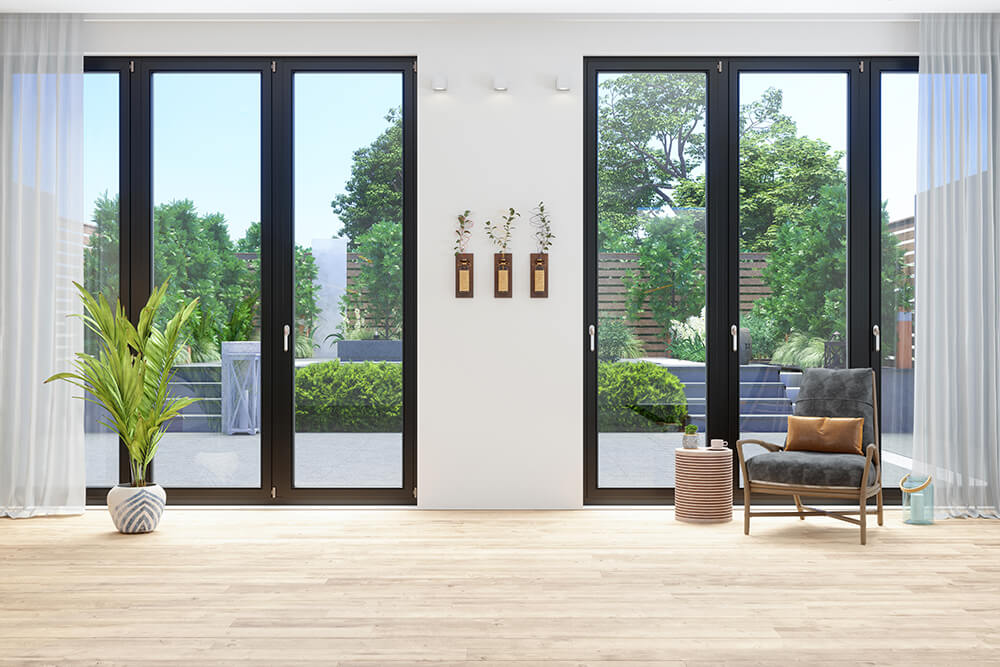 You need to consider how the size of your floor impacts the overall look of the room you're installing it in because certain types of floors have the ability to make a room look larger or smaller. The texture and design of the floor you select can have a similar effect as well, as these elements can help to dictate the overall feel of the room you're designing.
It's important to pick an option that's durable and comfortable to walk on, but your floor should be more than that. It's the literal stage to show off your own personal style. But in order to make sure both work, you need to have a solid understanding of what your style is and which flooring would best complement that.
In this article, we'll help you to gain a better understanding of both so you can bring a heightened sense of style and function to your space. We'll share popular interior design styles, how you can find your own style, and buzzy flooring trends that will work with those styles.
14 Popular Interior Design Styles
Even if it's not intentional, your home decor likely aligns with a popular interior design style. Nailing down your preferred sense of design can give you clearer inspiration and help your home feel more meaningful. It's an important step in the process of figuring out which floor is right for your home.
How to Find Your Design Style
While you don't need to subscribe to a specific design style, finding one or two you align closely with will make decorating a little easier. However, it might be hard to put a specific name to the design styles you find yourself gravitating towards. If you're unsure what type your preferences fall under, take a look at the following considerations and ideas:
Think about the feeling you want to evoke — Consider how you want to feel when you're in the room you're redecorating. Look for styles that emulate the feeling you'd like to go for.
Turn to Google — When you have that feeling in mind, think of words associated with that feeling. Google those words to find some related visuals you can turn to for inspiration.
Take a look in your closet — Do you see a repetition of certain colors, fabrics, or patterns in your clothing? Collect a few of them and take note — you can echo that style throughout your house.
Consider your favorite celebrities — Do you find yourself pulled to a particular celebrity's Instagram? Dive in further to see if you can find pictures they've posted of their home — you can easily borrow these ideas for your own.
Create an inspiration board — Start doing online research on various design styles and save the photos you like best. Collect them onto an inspiration board. You should see some trends pop up in your photos.
Reflect on your lifestyle — Do you like entertaining large groups or prefer a small, intimate space? Do you have a lot of possessions to display, or do you lean minimalist? Questions like these can help dictate design elements that are important to you.
Experiment — If all else fails, try experimenting with a few different styles. You'll eventually gravitate toward one or a mix of a few.
Interior Design Styles to Consider
Ready to start exploring which interior trends are right for you? When it comes to style, there are no wrong answers. You might feel drawn to more than one of these trends. But keep in mind that nailing down your interior design style as much as possible will help you to pick out the floor that will go best in your house. Here are some popular options to consider:
Scandinavian — This style is functional and clean, often incorporating hints of nature into the design. That leads followers of this style to turn to natural materials, such as local woods and rattan as well as linen, cotton, and leather. The Scandinavian color palette is often a simpler color scheme including colors such as white, gray, and beige. Furniture is sleek and functional. Ultimately, the Scandinavian style leans toward minimalism. The less clutter, the better. That way, admirers of this style can enjoy the clean and crisp lines of their rooms.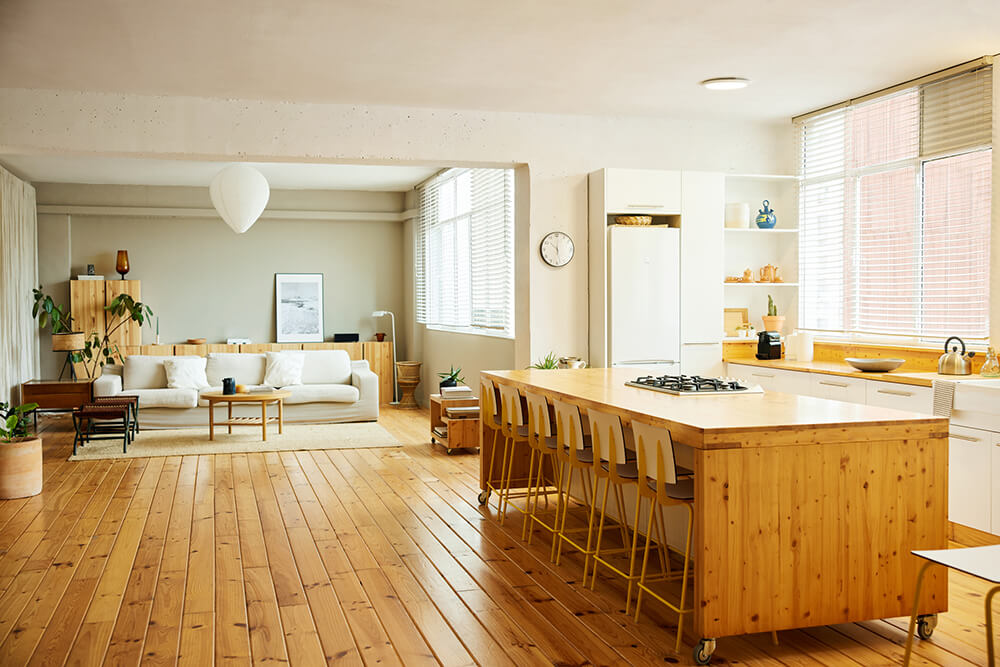 Japandi — This style blends Japanese and Scandinavian design elements. While these cultures are very different, they share an important connection — a deep respect for nature. This is often reflected through the use of stone, paper, and wood materials throughout the home. The Japandi style differs from traditional Scandinavian decor in its use of darker and richer colors. This style favors colors commonly found in Japanese culture, such as black, dark green, terra-cotta, and eggplant. Japandi design also introduces feng shui principles into the home by opening up the traffic flow of the home, clearing away excessive color, and creating a warm and bright entryway.
Boho — When it comes to interior design, boho style is often synonymous with eclectic — anything goes. There are no rules as to which kinds of furniture go with this style. New pieces can be mixed with vintage flea market finds. The style is focused on untreated natural materials like wood and rattan, along with inviting fabrics like cotton, mohair, and linen. These are often in beige, brown, and olive tones. Accent pieces leave room for creativity and fun. You can add bright colors, bold patterns, fringe, and macrame to make the room pop.
Mediterranean — This style is warm, rustic, and welcoming. Achieve this look by mixing light colors, earth tones, with a sprinkle of warm accents. The most popular colors to use in the Mediterranean style are white, beige, forest green, and terra-cotta with complements of ocher, orange, and azure blue. Materials used often include clay, raffia, and linen, as well as local olive or pine wood. Use mosaic or clay tiles as options for your floor.
Country House — Wood beams and bricks offer the foundation for this look. Select vintage furniture to highlight the historical feel of this style. Try turning to flea markets to find large pieces made from solid wood. Complement those larger pieces with heirlooms such as picture frames, table clothes, and old vases. Go with natural colors such as beige, tan, brown, gray, and white for the main colors of your home.
Midcentury — The midcentury style of design originated in the 1950s and 1960s and remains popular today. A big, comfortable chair reflects some of the most integral characteristics of this style — high-quality materials meet luxury. Organic shapes that are supported by delicate metals. Textured fabrics such as velvet, corduroy, and bouclé and bold colors such as fir green, navy, and purple are some of the hallmarks of this style. Selecting brass or chrome accents are a great way to round out this style.
Industrial — The Industrial style was started in the 1960s and is defined by exposed brick walls, pipes, and steel structures. Patinated wood, weathered leather, and rough concrete contribute to this dramatic yet relaxed look. Complement this look with low-maintenance plants, colorful glassware, tin signs, or flea market rugs. Select items in dark shades of rust, green, or blue. If you want to mix the old with new, consider adding some DIY pieces to your room. For example, you can use scrap metal or copper pipes to build wardrobes or shelves.
Bauhaus — The Bauhaus style is abstract, angular, geometric, and minimalist. Neutral colors typically define this style, but you can also incorporate primary colors. You can also use simple patterns throughout the design. While you can play a bit with colors and patterns, the cardinal rule to follow is that form always follows function — that means no unnecessary flourishes.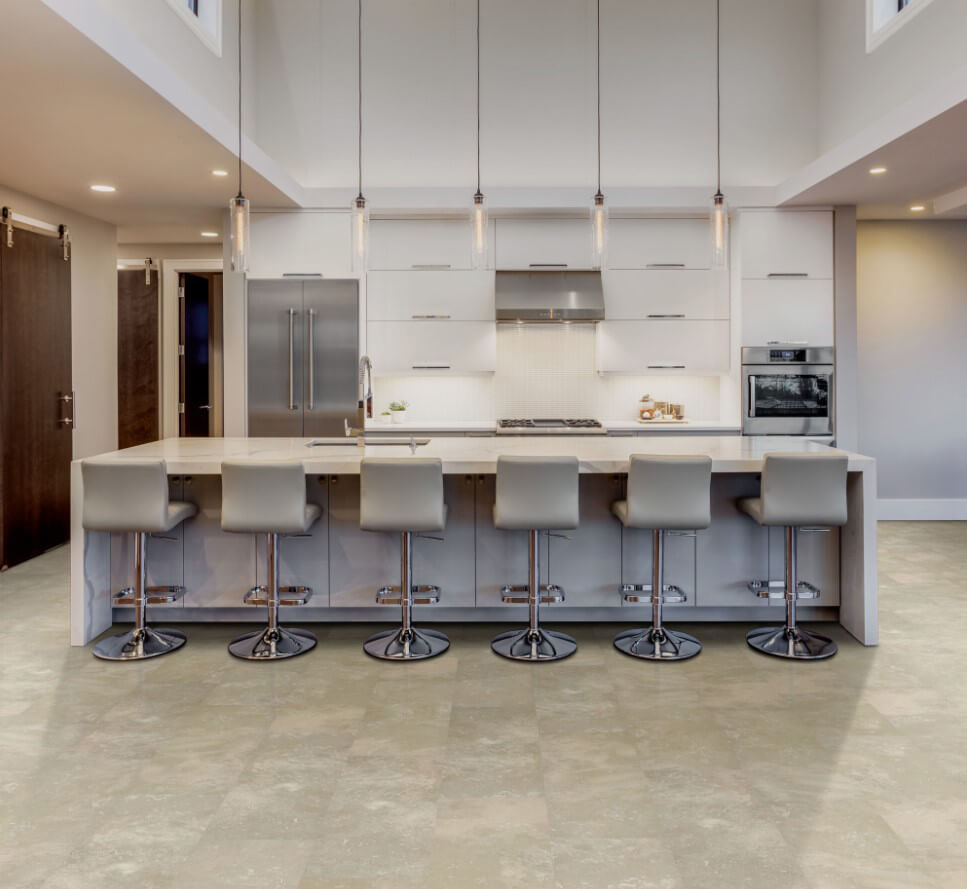 Minimalism — The key to this style is cutting all clutter. Not only does this provide you with a clean look, but it's also meant to help reduce the number of things we buy and consume. It's all about leaving out expendable items. For example, you can opt for a sofa nook instead of a cluster of chairs to provide a simpler look. Focus on neutral tones and white for this style. As Architectural Digest says, use a combination of different textures or the use of large-scale geometric shapes to bring harmony to a pure, uncluttered environment.
Maximalism — Maximalism is on the opposite end of the spectrum of minimalism. This interior design style takes elements from multiple styles and combines them in different ways. The unofficial motto of maximalism is "more is more." Followers of this style favor bright colors, bold patterns, strong graphics, eye-catching art, and avant-garde shapes.
Traditional — This is a classic look that doesn't follow any specific trends. Rooms in this style are typically painted in cream, white, or sand tones. Followers of this style opt for solid wood furniture made from cherry, walnut, or chestnut. Consider decorating the room with glass vases with flowers and a large mirror with a Baroque-inspired frame. For your furniture, go with velvet or brocade fabrics in muted burgundy, brown, or green. Make your details pop with checkered or striped patterns throughout the room.
Contemporary Bungalow — This style is defined by simplicity and functionality and creates a warm and inviting space. It's often found in smaller homes but aims to make the most of limited space. This look is focused on comfort and relaxation. Followers of this style turn to natural materials like wood and stone. A bungalow-styled home often has a lot of natural light, which can be nicely complemented with muted, earth tones. Handmade or vintage furniture goes well in bungalow-styled spaces. Look for pieces with natural fibers, such as linen or wool. Many original bungalow homes are older and in need of an update. Read our design guide to a contemporary bungalow renovation from top to bottom for some great design ideas.
French Provincial — This style is influenced by the look of the provinces outside of major French cities. The look is defined by earthy tones, timber, stonework, brick, flowers, and comfortable textures. The French provincial style leans into the farmhouse aesthetic, so you can expect to see vintage or rustic furniture. You'll also find floral and patterned fabrics, along with traditional housewares.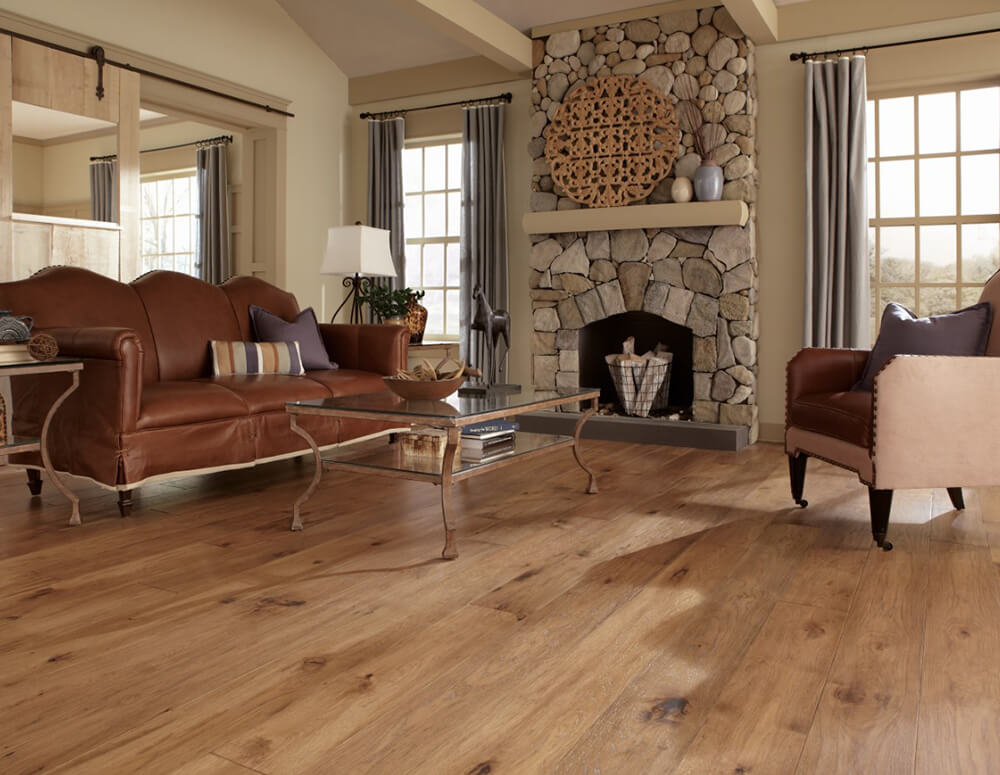 Coastal — When you think coastal, you should feel a relaxing and soothing ambiance throughout your entire space. Followers of this design style typically work with light and airy colors in shades of blue, green beige, and white, along with natural materials throughout the room. Comfortable sofas, rattan dining chairs, and various whitewashed pieces of furniture with clean lines are perfect additions to the coastal interior design style.
How to Select Flooring That Reflects Your Style
Each element of your home's design is carefully hand-selected for its look and function. Your floor is the largest, and most prominent part of each room. It deserves the same thought and consideration of every element of the room — especially if interior design is a priority for you.
Flooring has its own personality. Due to its durability, concrete floors can represent stability. But on the other hand, hardwood floors reflect a sense of tradition. Think about what feelings your interior design style evokes. You should select a floor that brings about the same options.
On a more practical level, you should also make sure the color of your walls goes well with the look of your floors. For example, if your walls are painted a bold and bright color, your floor should be a more muted tone. If both were a bright color, it could be pretty hard on the eyes. But if your walls are more of a neutral tone, they could pair nicely with a brightly colored wood floor.
You should also consider your furniture when picking out your floor — believe it or not, your floors and furniture can clash. It's possible to pick a floor and furniture in the same interior design style. But if you're mixing styles of furniture from room to room, consider neutral flooring that will tie the entire space together.
16 Flooring Trends to Use for Inspiration
Your home's flooring doesn't have to be boring. Once you learn what your preferred interior design style is, you can put a unique finishing flourish or carefully-crafted detail to your floor to ensure it fits in and flows well with your preferred taste.
Here are 16 flooring trends to consider:
Concrete flooring — This style of flooring is a minimalist's dream. Concrete offers a cool, clean, and polished look that won't feel busy or cluttered. Plus, the natural gray color goes well with the neutral tones of the minimalist interior design look. In addition to helping homeowners achieve a specific look, concrete floors are very durable and easy to clean.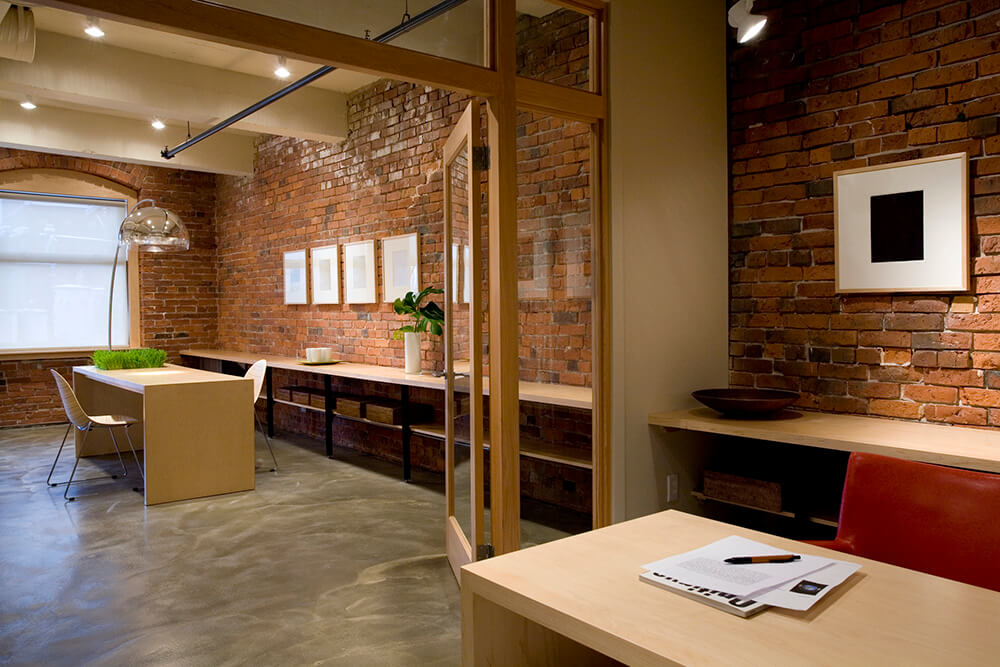 Carpet — Carpet's popularity may have ebbed and flowed over the years, but Architectural Digest currently considers it a trend to keep an eye on. This flooring has become more chic and durable while providing a lush texture under the feet. Carpet has become much easier to clean over the years as well — many selections have easy-to-clean pet protection properties infused into their fibers. If you like the look of carpeting and want to take it a bolder step forward, consider going with a fun patterned option.
Vinyl — Luxury vinyl plank (LVP) flooring has been making a major comeback in recent years. Replicated wood patterns have come a long way toward emulating the real thing, and manufacturers are working to make LVP a more durable and sustainable flooring option. Rotem Eylor, director of Republic Floor, has said that his company has developed a flooring product that is 90% stone powder and 10% polymers, making it one of the stronger and more stable in the industry. He went on to say that the current trend in LVP is a French oak grain and clean look with light oak coloring.
Brown tones — Medium to dark brown-colored wood floors are becoming popular. Brown floors help homeowners achieve a cozier feel as they add a comforting and visual warmth. While they may be considered a trend right now, this is a classic look that isn't going away anytime soon.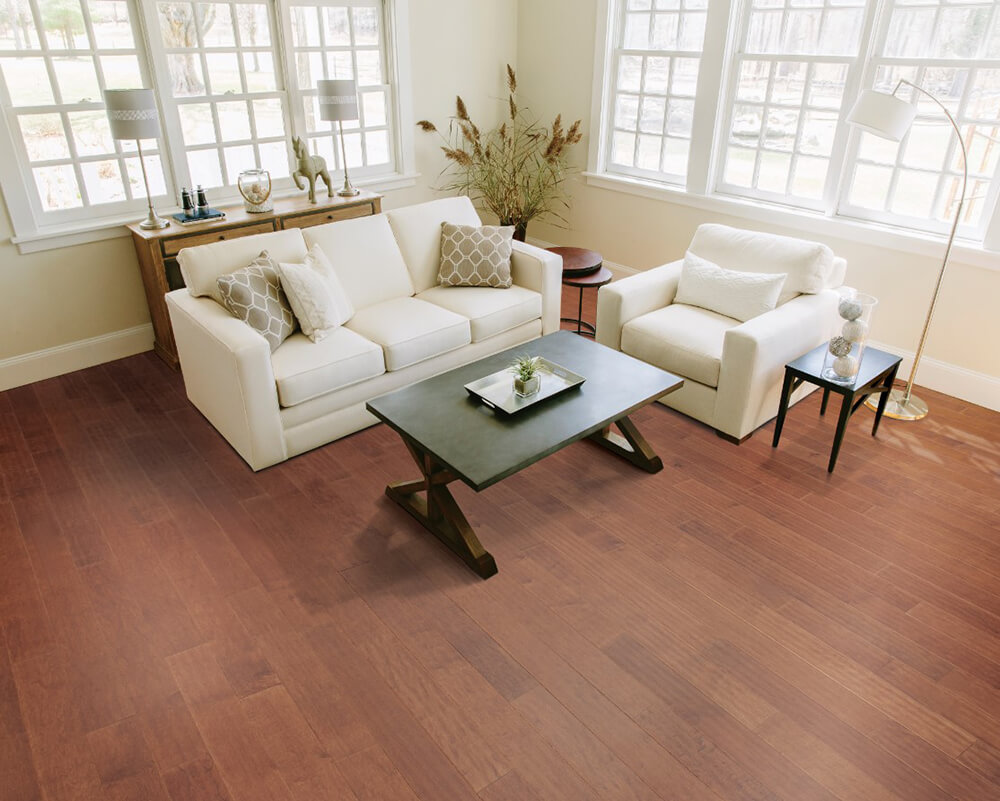 Oversized planks — This trend creates fewer seams on the floor, resulting in a cleaner and more cohesive look. With a larger plank, you'll need fewer pieces of wood going into the job. This look also allows you to see more of the grain across each piece of wood, making for a more visually-appealing floor. Oversized plank floors can be used for a contemporary or rustic look. Similarly, oversized tiles have also become trendy as they can help create the illusion of space in a room of any size.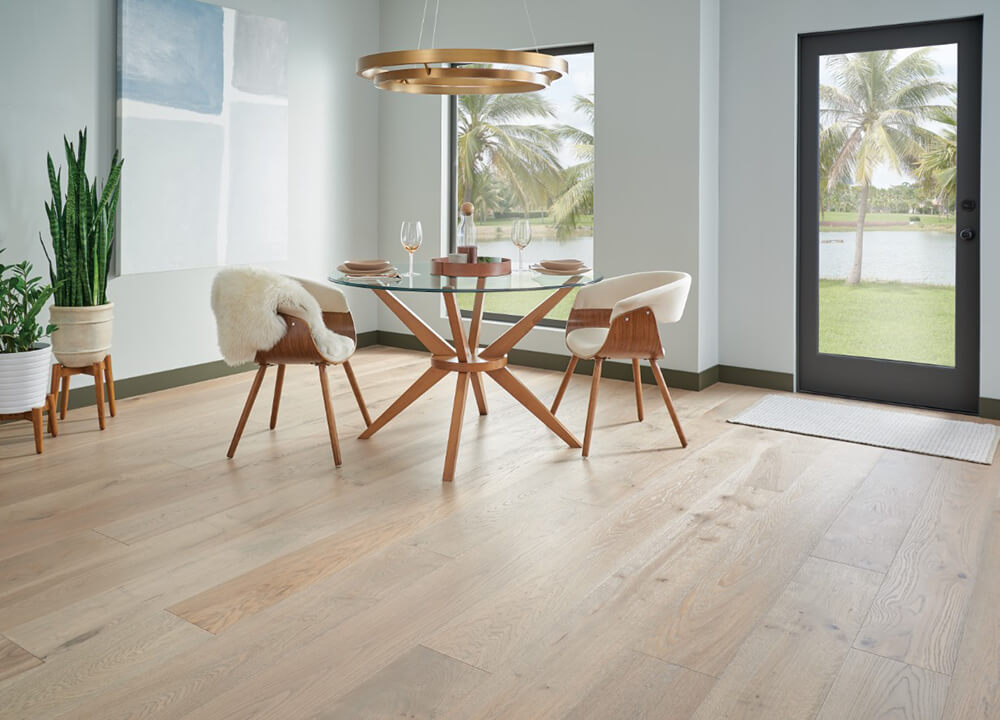 Nature-inspired tile motifs — Luke Crownover of the Tile Shop says that nature-inspired floor tiles are a common trend right now. Floors with florals and organic shapes can help soften the overall design of your room. Tiles in shades of blues and greens will evoke the feeling of water and botanicals, creating a relaxed atmosphere. This look would be a great addition for a Mediterranean-inspired home.
Oiled finishes — Homeowners are starting to favor imperfect, natural materials in their homes instead of synthetic ones. Oiled flowers can be considered an extension of that trend. This look is the complete opposite of the flooring industry's previous focus on durable options coated in multiple layers of protective finishing. Instead, oiled floors look and feel natural, along with aging really well.
White oak — Hardwood floors will always be popular with homeowners. But one type of wood has started to stand out from the pack — white oak. This tree species is incredibly versatile, making it a great canvas for applying a variety of colors and glosses.
Ultra matte finishes — This type of flooring has a low-sheen protective coating that is commonly found on hardwood floors. The end result looks more natural and rustic. With a matte gloss, you can expect less light bouncing off of the planks, which gives floors a more raw look.
Satin finishes — This is a great look for people who don't want gloss but would like a little more shine than matte offers. Satin floors look great and can easily hide dust, grime, or scratches that mark up your floor. With its mild shine and ability to hide imperfections on your floor, many consider satin to be the perfect middle ground between a matte and gloss finish.
Patterned flooring — Patterned flooring has traditionally been used to make high-traffic spots in the home more visually appealing. However, it's being increasingly used in more formal spaces such as living rooms and dining rooms. Some popular examples include arranging planks of hardwood in a "V" shape to form chevron patterns or using planks to create an overlapping look for a herringbone pattern. You can make these looks even more visually striking with colored planks or mixed hardwood flooring. These unique patterns bring a heightened level of energy to any room, along with creating an easy look of luxury in the space. Patterned carpet is also a great option because of the range of choices, from big and bold to soft and subtle.
Oversized tiles — A bigger floor tile gives any space a more modern look. This style comes with a significant functional benefit as well. Bigger tiles mean fewer grout lines, which will result in an easier cleaning process. Oversized tiles can be used in kitchens, bathrooms, living areas, and even on walls.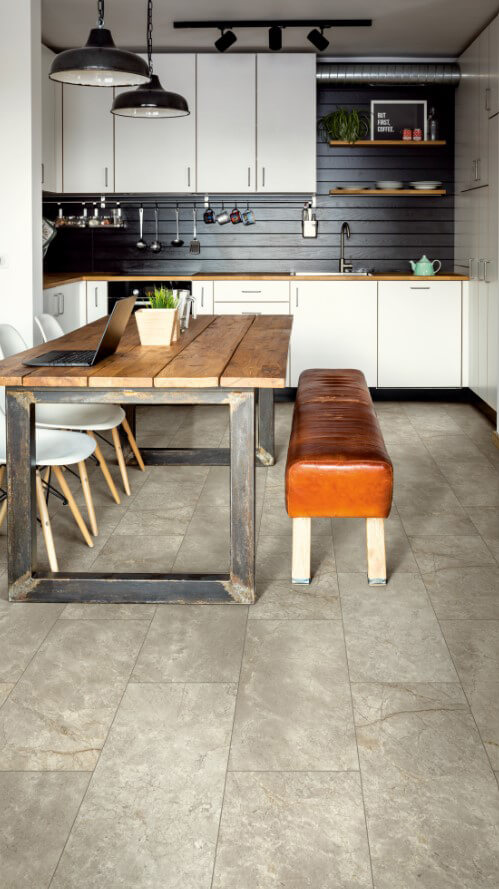 Restaining or repainting existing floors — Unless your floor is damaged beyond repair, there's no need to completely replace it. You can easily change the look of your floor without needing to shell out too much money. Repainting or restaining floors is less tedious than a full installation while still allowing you the flexibility to select paints or finishes that align with your preferred style.
Bold, oversized rugs — If you're happy with your current floor but looking to freshen up your space, consider adding a bold area rug to your room. Large rugs with striking patterns and unique shapes can be a great focal point in any room with a more open concept. You can turn to Martins Flooring for all your area rug needs. We carry Masland, Karastan, Kaleen, Nourison, Kas, Couristan, Milliken, and Stanton rugs. Our selections come in a variety of colors that can fit any interior design style.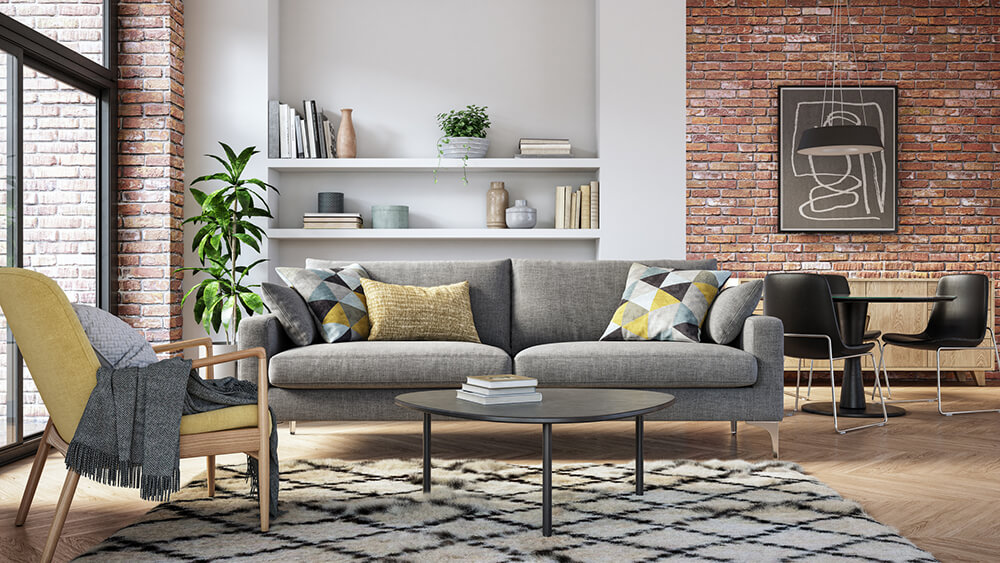 Gold tones — Neutrals and earth tones never go out of style for walls, furniture, and other decor. A carpet or rug in a gold hue is a great match for these tones. Not to mention that gold is a great way to add luxury, warmth, and a little shimmer to your space.
How to Make Your Floor a Focal Point of Your Interior Design
After you've spent so much time, money, and consideration on picking the right flooring for your home, it deserves a spotlight. Designer Matthew Williamson says, "one of the best places to start when bringing color and pattern into the home is with a floor covering, setting the tone and anchoring the rest of the space."
You can have just as much fun playing with elements of your floor as you can with other aspects of your space. Here are some ways you can make your floor a focal point of your room in a subtle and tasteful way.
Match your trim and baseboard — This predominantly applies to hardwood floors. While it's pretty hard to find a perfect match for different woods, you should aim to complement the color of your baseboard and trim with your wood. When a baseboard is a similar color to the floor, it will create the illusion of more space in your room. Coordinating trim will continue the feel of coherence throughout the room.
Keep your furniture simple — It's really easy to overwhelm your space with overly large pieces of furniture. But if you opt for clean lines, modest sizes, traditional shapes, and neutral tones, you can give your room a refined look while keeping the floor as a focal point.
Work with a number of different materials throughout the space — If you're working with hardwood, too much wood will overwhelm the space. Balance your overall design by bringing additional materials into the room. Wood works well with leather, woven fabrics, metals, concrete, and painted material. You can incorporate these elements into the space through furniture and wall decor in order to make your floor pop.
Create a color palette — Pick out colors from the design or undertone of your floor and use them as design inspiration. Accent your room in the colors you select in order to enhance your flooring. Just stick to a few different colors so those accents do not become too busy and take away from your floor.
Stick to one type of flooring in your house — If you're building a new home, try sticking to one type of flooring. For example, if you have hardwood in the living room, consider continuing it into the neighboring kitchen. This type of flow will expand how big the space feels. But if you do need to switch materials, stick to one in a similar color palette as the main flooring so as not to create obvious boundaries between spaces.
A statement rug — Pick a fun and unique rug to draw the eye to your floor. Select a brightly colored piece for a pop of color. Just make sure to pick one that's an appropriate size in a complementary color so it doesn't overpower the space.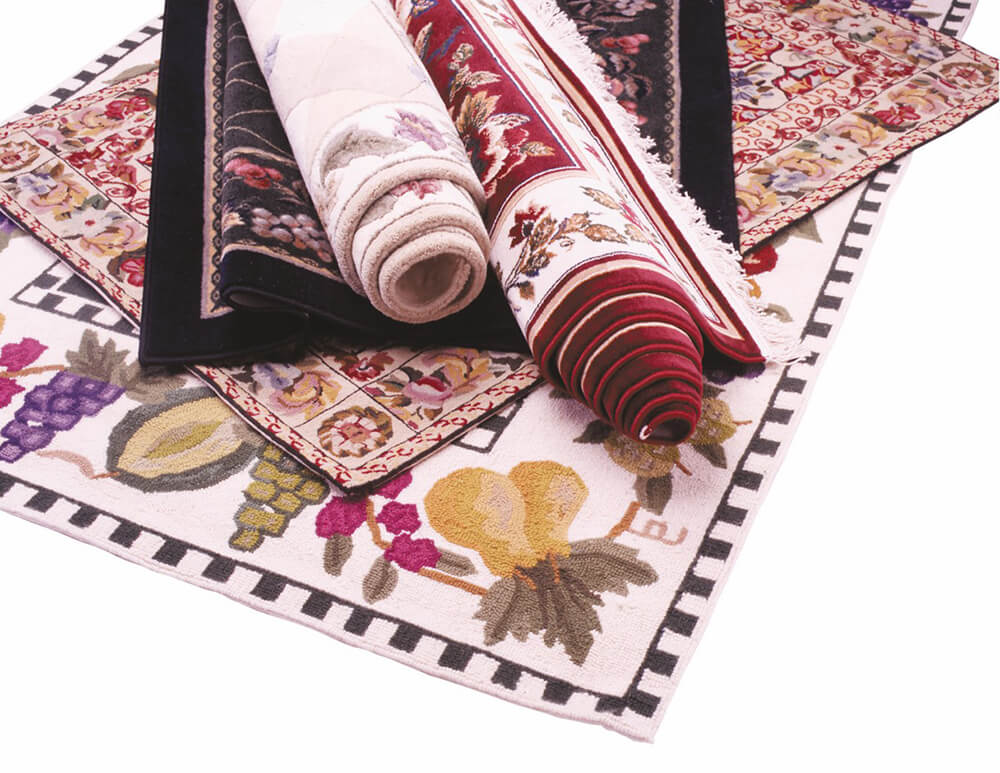 Add a decorative border — There are a lot of ways you can have fun with your floor's border. If you have a stone floor, you can add a little flair with a decorative border featuring stones in different cuts and colors. For a more subtle look on vinyl or hardwood, consider a simple keyline border. Borders are a great way to add a subtle transition or harmony in an open-plan home.
Mix materials — If you're looking for a unique way to make your floor stand out, consider mixing different materials within your floor. For example, you can pair wood and stone that are in the same color palette. That will ensure they both blend together nicely while creating a variety of textures with the two different materials side-by-side.
Lay different patterns across your floor — Divide your room up into a large square in its center with a wide border outlining it. Pick a different pattern for each of these. For example, you can lay planks down horizontally in the middle of your room and turn them at a 45-degree angle for the border. If you want to increase the level of contrast, you can select flooring in different colors as well.
TL;DR — When it Comes to Interior Design, Don't Overlook Flooring
Your floor shouldn't just be something you walk on — it sets the tone for your entire home. Before you select a beautiful and functional floor, you should first find your design style through some thorough research. Once you've figured out your personal preference, you can look through various flooring trends and finishing touches to tie your entire space together. Your floor is a serious investment, so you should treat it with that level of importance.
Ready to take the next step? Contact one of our flooring experts at Martins Flooring for our Shop at Home Service. We'll bring the flooring treatments to you to help you pick out a style that perfectly fits your design preferences.