Keep Your Home's Flooring Clean Year Round With These Tips
Floors take up a lot of space in your home, making cleaning them a potentially daunting task. But keeping them clean is worth it. For one, a pristine floor helps to make a great first impression on visitors entering your home. Your floor is the first thing they'll see when they come inside — don't diminish the grand moment with a grimy floor.
A dirty floor may also be a hazard to your loved ones who walk on it every day. Our shoes are constantly picking up dirt, debris, and bacteria from every place you walk. All that nastiness on the bottom of your shoes provides food for the growth of bacteria. If floors are left uncleaned for long enough, that bacteria could eventually make your family sick.
A clean house can boost your mental health and lower your anxiety. People with cleaner homes also tend to be physically healthier than those with cluttered and messy houses. This all starts with the floor.
In this article, we'll walk you through how to clean every type of flooring you may have in your house and provide tips for how to regularly maintain your floors. You'll walk away with a better understanding of how to care for the very foundation of your home, in order to better care for yourself, your family, your pets, and your guests.
What Happens if You Don't Clean Your Floors Regularly?
Dirty floors may attract more than diseases and allergens. Unfortunately, you may start seeing pests and insects infiltrate your home as they sneak a ride on the bottoms of your shoes. The combination of built-up grime and walking through your home with your shoes on gives pests a place to hide. The only way to ensure pests don't remain in your home is to do an occasional deep clean.
Not only do clean floors keep your family healthier and boost your own mental health, but they help you to avoid some serious consequences. Overly-dirty floors can actually threaten the structural integrity of your home. The more that dust, grime, and mold build up on a given surface, the weaker it may become. People walking on that compromised floor may continue to weaken it further.
If the lack of cleaning damages your floor enough, it can cost you quite a bit. As a homeowner, you'll have to pay to have all or a portion of your floor repaired. If you live in a rented space, you may lose your security deposit or be required to pay a portion of the repair costs.
It pays to keep your floors clean. But the way you clean floors will vary depending on the type of floor you have. Here are some tips for cleaning popular flooring types.
How to Clean Carpet
Ideally, carpet maintenance should begin immediately after installation. As much as 80% of carpet soiling is caused by foot traffic. If your carpet is brand new, lay walk-off mats on it where people are most likely to step onto the carpet. You should also get in the habit of regularly vacuuming your carpet.
The most heavily trafficked areas should be vacuumed daily, while areas with moderate foot traffic can be vacuumed weekly. If you have pets that shed or small children, then daily vacuuming may be unavoidable for areas of your home where your pets and kids like to hang out. Consider using a vacuum with a beater bar to raise the pile while the vacuum removes soil from your floor. Make sure your vacuum is adjusted properly to align with your carpet so it doesn't damage the loop pile. Try vacuuming in the opposite direction of how the pile naturally falls.
The Professional Carpet Cleaning Process
Remember it is important to have your flooring professionally cleaned to maintain warranties. If you're looking for a flooring expert, like Martins Flooring, to clean your carpet, here's what you can expect from the cleaning process:
Pre-Inspection — A technician will walk through your house with you and carefully inspect the carpet. They will identify potential permanent stains and give you an evaluation of what to expect from the cleaning. This is the best opportunity to share concerns and ask your technician questions.
Move furniture — Martins Flooring includes moving furniture such as sofas, chairs, tables, and smaller pieces in our pricing.
Pre-spray — Your technician will start the cleaning process by spraying a preconditioning agent to break down areas soiled by high traffic and on stain spots to achieve a more thorough clean.
Stain removal — At this point, your technician will begin to clean the entire floor. Difficult spots will have been pre-treated with special solutions to increase the chances of removal.
Soil extraction and rinse — Martins Flooring uses truck-mounted equipment to extract soil from the carpet. The carpet is then thoroughly rinsed without being over-washed.
Post-cleaning inspection — The cleaning process ends the same way it begins — with an inspection. The flooring technician will walk through the space and talk you through the cleaning results to ensure you're happy with the job.
Add ons  deodorizer or scotchgard can be added.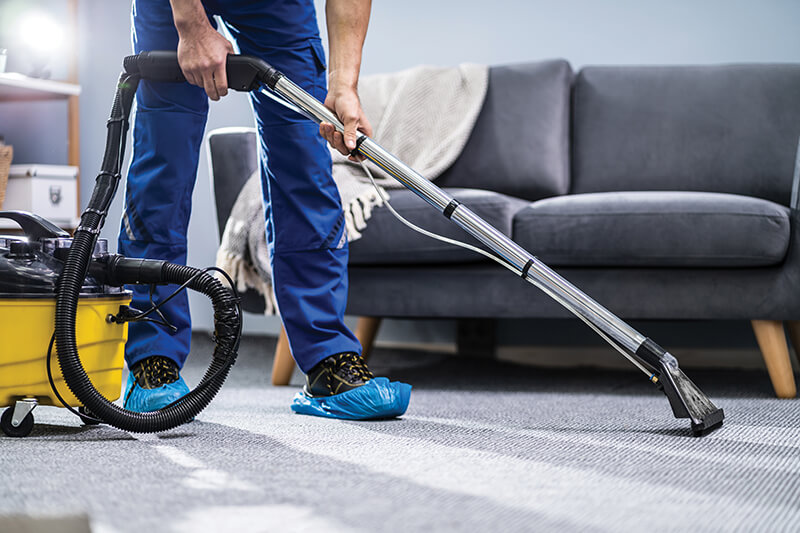 How to Clean Carpet Yourself
While vacuuming your carpet at least once a week is a necessity, other situations will call for specialized cleaning that needs to be done in the moment. Here are some quick tips for cleaning up specific spills yourself. Remember the longer a stain resides on the carpet, the higher chances of the stain remaining.
Pet hair — Sprinkle the area with baking soda and then vacuum it up. The baking soda will help to lift the hair from your carpet.
Blood — Mix two parts hydrogen peroxide and one part dish soap. Wet a cloth with that mixture and then blot the stain. If that doesn't work, try soaking the stain in a mixture of cold water and white vinegar. Use a paper towel or microfiber cloth to blot it.
Red wine — Immediately blot up as much of the stain as you can. Then generously sprinkle salt or baking power on the stain. Give it a few minutes to settle and then vacuum it up.
Dirt or mud — Allow the stains to dry completely from the carpet. Then scrape off as much residue as possible and vacuum over the spot. Apply a solution of mild dishwashing liquid, warm water, and white vinegar. Let it sit for about 10 minutes and then blot it clean.
Chocolate — Use a dull knife to scrape off as much chocolate as possible. Vacuum over the spot to try and loosen up the remaining flakes or pieces. Then, mix 1/4 teaspoon of liquid dish soap and 1 cup of warm water. Use a clean cloth to apply the solution on the stain, working from the outside toward the center. Leave the solution on the stain for about five minutes and then blot until it is gone.
Candle wax — Rub an ice pack on the wax until it hardens. Break up the wax and then vacuum up the remaining pieces. Treat the spot with a carpet cleaner or a white cloth slightly dampened with rubbing alcohol. Blot the area dry.
Coffee — Blot up the moisture with a paper towel or cloth until no more liquid is transferred from the carpet to the material. Work the stain with two teaspoons of dishwashing detergent in two cups of warm water using a cloth, sponge, or soft bristle brush. Finish off by blotting the stain with water.
Nail polish — Before applying acetone, ventilate room by opening windows. Apply a dab of acetone on a hidden area of the carpet to ensure it won't alter the carpet's color. Then, scrape up as much of the nail polish from the floor as you can. After that, carefully apply a few drops of acetone to the carpet — just don't saturate it. Immediately blot the area. Continue applying acetone and blotting until you've removed as much of the stain as possible. Finish the process by rinsing the area with clean water and blotting it dry.
Pet stains — Clean up as much of the urine as possible while the carpet is still wet. Once you've done that, place a towel or a few layers of paper towels on the spot and press down. Next, mix a solution of 2 cups of warm water. 2 cups of vinegar, and 4 tablespoons of baking soda and put it into a spray bottle. Spray onto the soiled area and let it sit for five to ten minutes. Then, blot the area once again with a soft cloth.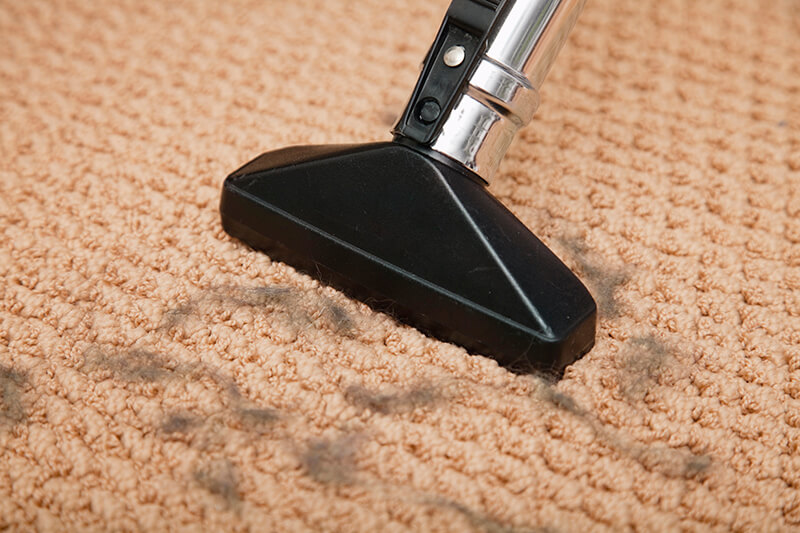 How to Clean Tile
Tile floor is a popular option for homes because it's so easy to clean. Generally, every tile floor should be swept or vacuumed at least twice a week to keep the finish of the tiles in great shape.
In general, a good approach is to mop tile floor in the kitchen every two weeks and do bathroom tiled floor once a week. If you find your floor is sticky after mopping, go back over it with water and carefully dry it off. Spot-clean your grout lines every two to three months.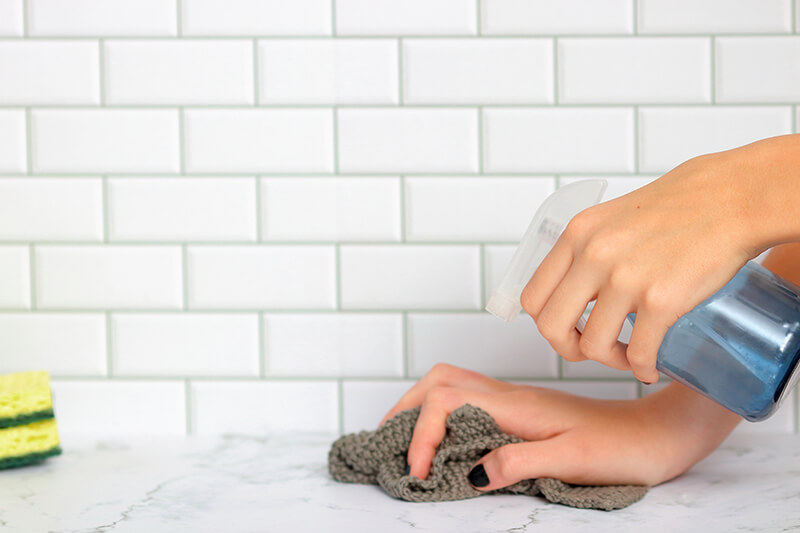 However, as there are a number of different styles of tile to choose from, it's important to understand specific approaches to clean each of them. Here are some tips to get you started:
How to Clean Unglazed Porcelain Floor Tiles
Use plain water with a few drops of a mild dish soap to mop the tile.
Dry your floor with a clean towel or sponge.
Once a year, finish this step off with a sealing treatment.
Use equal parts water and baking soda and a small brush to clean grout lines.
How to Clean Glazed Porcelain Floor Tiles
Sweep the floor to clean up grit that may damage the glaze.
Mop with a tile-safe solution.
Go over any stains with a 1-1 mixture of vinegar and water.
How to Clean Travertine Stone Floor Tiles
Sweep the floor to remove dirt and grit.
Mop the floor with a sponge or mop that is just a little wet — you want your floor to become barely damp, not sopping.
Disinfect your floor using a mixture of one tablespoon of non-acidic dish soap and a gallon of water. Damp mop the floor twice with this solution.
Clean the grout lines with a gritty paste made out of a mixture of equal parts baking soda and water. Carefully scrub it onto the grout with a tiny brush. Avoid the edges of the tile.
How to Clean Linoleum Floor Tiles
Use a spray mop to get the floor lightly wet.
Gently rub stubborn marks away with a delicate, non-scratch scrub pad.
How to Clean Ceramic Floor Tiles
Sweep up any loose dirt.
Mop the floor with a mixture of 1/4 cup mild detergent and 1 gallon of water.
Wipe floors off with a dry microfiber cloth to prevent water spots.
No matter the type of tile floor you have, maintain it between washes by cleaning up any spills as they happen. You can also put door mats at entryways to help reduce the amount of cleaning you'll need to do.
Make sure you avoid any cleaning behavior that may harm your tile as well. Don't use any bleach, acidic solutions, or harsh cleaning pads. Those will damage your tile flooring or backsplash in the long run. Tile is tough, but you should also make sure you don't assume it is indestructible. Each tile is manufactured for a specific purpose. They may crack and chip if they are subject to unnecessary force, weight, or neglect.
How to Clean a Tile Backsplash and Showers
Odds are that tile isn't just on the floors in your house. You likely have tile backsplashes and showers that require specialized cleaning. When it comes to a natural stone backsplash, dip a non-abrasive cloth or soft sponge in a mixture of warm water and a bit of dishwashing soap.
For all other tile backsplashes, you can combine an equal mixture of vinegar and warm water in a spray bottle. Spray the backsplash lightly and wipe it off with a damp cloth.
Follow these steps to keep your shower clean and sparkling:
Pre-scrub to remove soap scum from doors and tiles.
Spray with tile cleaner and let it soak for about five minutes.
Scrub the surface and reapply cleaner to stubborn stains.
Run warm water over the surface to loosen leftover buildup.
Dry tiles and floor to slow down the growth of mold, mildew, and soap scum.
Avoid air drying. Use microfiber cloth to dry tiles after use.
In order to keep your shower and backsplashes looking great, clean them as often as you clean your floors. Make sure you're using the right cleaners as well. Here are some tips to follow:
Use vinegar and hot water for cleaning a tile backsplash
Use liquid dish soap and water for a marble backsplash
Wipe down hardwood or stone backsplashes with soap and water
Clean glass and ceramic tiles with soap and water
If you're cleaning a hardwood backsplash, make sure to seal it with a food-grade mineral oil to seal and protect the backsplash. Use a granite sealer to protect stone backsplashes. Don't forget to clean grout lines as well. Just use a cleaner that's safe for your specific material and work it in the lines with a soft-bristled scrub brush.
How to Clean Hardwood Floors
Hardwood floors are a great and durable option for your home. They withstand plenty of foot traffic, regular spills, moving furniture, and pets running around. But if you are not careful, all of that action can scratch or dull your hardwood floors.
It's important to keep your hardwood floors on a regular cleaning schedule so they don't become too worn down. Make sure to sweep or dust your hardwood floors every few days. Vacuum them weekly and deep-clean them every one to two months. Here are some tips to keep your floors looking great:
Vacuum hardwood floors weekly. Canister vacuums are the best option for hardwood floors because their long, oval floor brushes are able to reach tiny spaces. Carolyn Forté, the executive director of the Good Housekeeping Institute Cleaning Lab recommends turning off the rotating brush on upright models so bristles do not scratch your floors.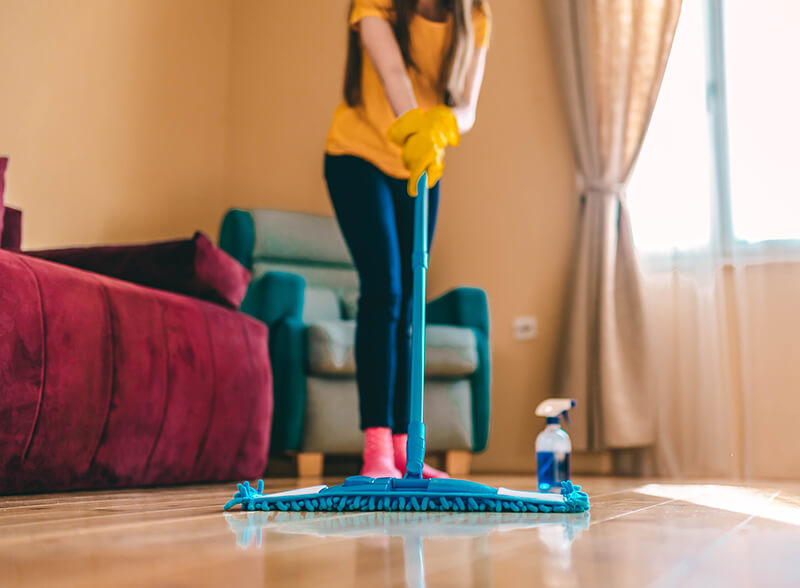 Spot-clean and wet-mop as needed. You should also do a deep clean about once a month. Here are some tips to get started with that process. While the methods for cleaning different types of hardwood floors tend to be similar, make sure to check manufacturer instructions for your floor to make sure the following steps are aligned with your specific floor's wood.

Vacuum your floor. This will remove any debris that could scratch them during the rest of the cleaning process.
Mop everywhere. Make sure you wring out most of the water so it's damp, but not sopping wet. This will help to avoid damaging the wood. Make sure to mop with hardwood-safe products and not any DIY solutions.
Revitalize your floor. Whenever you do a deep clean, use the opportunity to take care of scratches and dullness. For scratches, you can use a liquid scratch concealer that matches the color of your floor. You can restore your floor's shine with wood floor polish or floor wax.
How to Maintain and Protect Your Hardwood Floors
Sticking to your regular cleaning schedule is the best way to maintain pristine hardwood floors. In addition to regular sweeping, vacuuming, and mopping, apply a fresh coat of finish every three to five years. You should also sand and refinish your hardwood floors once every ten years. Keep the following tips in mind for protecting your hardwood floors for years to come:

Keep your pets' nails trimmed and paws clean of dirt, gravel, grease, oil, and stains.
Use interior climate controls to keep your floor looking great. Wood flooring will be at its best when your house is controlled to stay within a relative humidity range of 30-50 percent and a temperature range of 60 degrees to 80 degrees Fahrenheit.
Put a door mat down at your front door and lay area rugs down on other high foot-traffic areas.
Put protective pads underneath your furniture legs to reduce scratches and dents to your hardwood floor. If you need to move heavy furniture at any point, make sure to use a dolly and protective pieces of plywood.
Mop up spills immediately as they happen.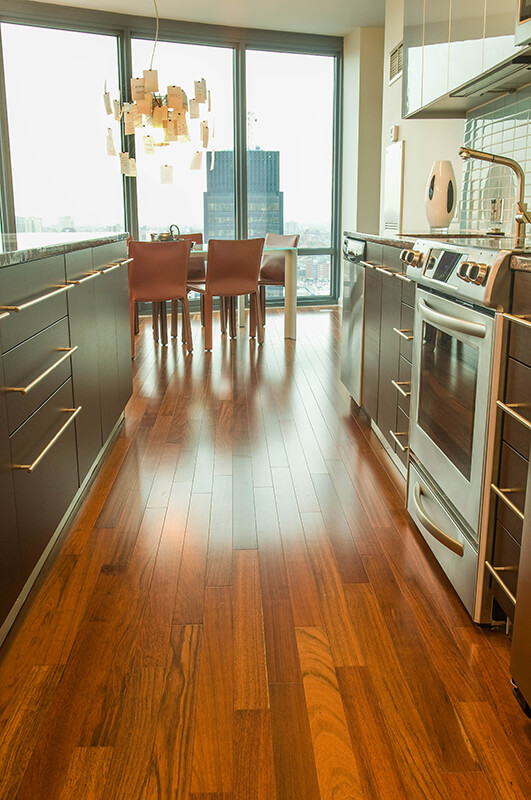 How to Clean Luxury Vinyl Plank/Tile Floors
Luxury vinyl flooring is a comfortable, durable, and easy-to-maintain floor, making it a popular option for many homeowners. To keep luxury vinyl flooring in high-foot-traffic areas looking its best, it should be dry-mopped or vacuumed daily to reduce the risk of scratches. You should also immediately clean up spills to prevent stains that will be hard to get out.
Cleaning luxury vinyl flooring is similar to cleaning hardwood and laminate flooring in the sense that too much water can damage it. So while you need to clean it consistently, you need to be careful when you do it. Here are some tips to follow:

Remove loose dirt — Visible particles of dirt and grime may scratch your luxury vinyl flooring. Start off the process by dust mopping, sweeping, or vacuuming the floor. If you do choose to vacuum your floor, just make sure to disengage your beater bar to protect the floor.
Choose a cleaning solution — You can either purchase one that is safe for luxury vinyl floors or create your own with 1/2 cup of apple cider vinegar, 1/2 cup pH-neutral floor cleaner, and a gallon of warm water.
Mop away the soil — Start at one corner of the room and leave yourself an exit point. Make sure your mop is wet but not sopping, so you don't unintentionally cause the floor to buckle or grow mold. Go over the floor twice so you're sure that you covered everything. Avoid air drying. Use microfiber cloth to dry floors.
Remove tough stains — Mopping generally won't be able to remove stubborn stains. To remove dried-on food, use a microfiber cloth to rub on a paste made of two tablespoons of baking soda and one teaspoon of water. For lipstick, grease, or ink, dampen a microfiber cloth with rubbing alcohol. If you have any scuffs, spray the mark with a tiny amount of WD-40 and buff it dry with a cloth.

One of the best ways to maintain your luxury vinyl flooring is to maintain a regular cleaning schedule. In addition to that, here are some tips to keep your luxury vinyl floors looking great:

Place a doormat or rug in high-traffic areas to catch grit that may damage your floors.
Put felt-back floor protectors on your heavy furniture to prevent dents to your luxury vinyl floors.
Avoid putting furniture with rolling casters on your floor.
Avoid harsh floor cleaners, steel wool, and stiff-bristled brushes for scrubbing.
Don't apply any liquid or paste wax to your luxury vinyl floors.
How to Clean Laminate Flooring
Laminate flooring is durable and affordable, making it an attractive option for homeowners. But if you want to keep your floors looking great for years to come, you need to put in the work to maintain them. Proper cleaning will keep them scratch-free and safe from potential water damage.
Laminate flooring needs to be dust-mopped or vacuumed daily to remove the grit that may scratch and wear down the floor's finish. Vacuum weekly with the hard-floor setting to prevent the beater brush from rotating. But keep in mind that where you live may determine how often you should clean your laminate floors. For example, if you live near a beach, your family will track sand into the house frequently. You'll have to sweep or vacuum up that grit more frequently so it doesn't damage your floor.
But no matter where you live, you should thoroughly clean your laminate floors at least once a week. Here are some tips to get you started:

Dust or vacuum the floor — This will pick up all surface dirt and grit so the wet mop doesn't spread it further around the floor. Avoid using a traditional broom for this step of the process.
Choose your cleaning solution — Use a commercial laminate floor cleaner. Do the research and find out what works with your budget and specific floor type. Just make sure you don't overdo the flooring solution. This can leave behind unwanted residue.
Mop floors with a damp mop — When you're mopping, make sure your mop is just barely damp. If water or other solutions leak into your laminate flooring, it can swell and become damaged. If you're leaving behind any water when you're mopping, that's too much water for laminate. Avoid air drying; use microfiber cloth to dry floors.
Buff to a shine — Once you're done mopping your floor, buff it until it shines. Use an absorbent cleaning cloth, a dry microfiber mop head, or a microfiber cleaning cloth. Work the cloth in circles and gently buff each section of the floor until it shines.
Make sure to avoid the following mistakes so you don't accidentally damage your laminate floor:

Don't use any steam cleaners as the heat and moisture will seep into the glued layers and eventually cause water damage.
Avoid products that promote leaving a shine. The wax buildup from those can be difficult to remove from your laminate floors.
Avoid wood cleaners because they will leave a streaky residue on your floors.
Don't use any abrasive scrubbers. They will likely scratch up your laminate floor.
Avoid any cleaning solution with vinegar. It is highly acidic and will break down the surface of your laminate floor if it's used frequently.
How to Keep Your Floors Clean All Year Long
While the occasional deep clean is a great way to keep your floors looking great, it's important to try and avoid having your floors get too dirty and stained in the first place. Here are some preventative tips to follow to make sure your floors are beautiful and pristine 365 days a year, no matter the kind of floor you have in your home:
Encourage friends and family to remove their shoes when they enter your home — Keeping dirt outside is a great way to ensure your floors stay clean. Put a doormat outside every entrance of your home so people will wipe off their shoes before walking inside. Keep a shoe rack near your doors so there is a convenient place for people to leave their shoes as soon as they come in.



Keep your house clutter-free — If you have piles of things on the floor or furniture cramped together in one corner, dust and dirt will build up in those areas, which are generally hard to reach and clean. You can avoid this by keeping your floors open and uncluttered.
Remove stains quickly — Accidents happen, and sometimes they take place when you're not home. You should aim to clean up any spill or stain as soon as you find it in order keep the stain from getting any worse. Follow your flooring manufacturer's instructions to ensure you're executing the proper techniques to clean up the stain.
Quickly clean up food particles — Whenever you cook, make sure you thoroughly clean up after yourself. Any stray food particles can attract pests and insects into your home, which can bring bacteria and disease.
Don't let water sit on the floor — Did you accidentally splash some water on the floor or drop an ice cube? Clean it up right away. The longer water sits on your floor, the more likely you'll end up with water damage, mold, or mildew.
TL;DR Keep Your Floors Clean With Martins Flooring
While it's important for you to clean your floors on a regular basis, having the occasional deep clean from our flooring cleaning professionals will keep them in the best shape possible. Martins Flooring can help you with that ­– we can make clean floors easy for you. When it comes to carpets, Martins Flooring can offer you the following:

High-quality carpet care with a satisfaction guarantee
A wide range of appointment times available for your convenience
Highly-trained and skilled carpet technicians
Exclusive use of mild, eco-friendly solutions
Pre-treatment of stained and heavily soiled carpets
Industry recommended cleaning equipment

The use of our professional carpet cleaning services guarantees your flooring will be protected and odor-free. Martins Total Floor Care also offers professional tile and grout cleaning, resealing, and coloring. Our cutting-edge equipment and seasoned cleaning experts make us the best choice for your tile and grout needs.
Martins Flooring offers a 10-year stain protection plan to give you the ultimate protection and peace of mind for your new carpet installation.
Martins Flooring can also clean and repair other types of flooring, including hardwood. Reach out today to schedule an in-home consultation and learn how Martins Flooring can help you keep your home's flooring sparkling clean.