When creative decorating comes to mind, homeowners typically think of hanging art on the walls or unique pieces of furniture. Flooring should be added to this list. It's the largest space in your home, giving you the most room to let your creative juices flow. Your floor is also the first thing your guests see when they enter your home — so why not make it a show-stopper?
In this article, we'll share everything you need to know about installing unique flooring in your home. We'll discuss items to consider before installing flooring, along with sharing our favorite patterns and styles. We hope you'll find a style that sparks inspiration for your home.

What to Consider Before Installing New Flooring
Choosing a unique floor that aligns with your family's lifestyle may feel challenging. You need to consider if you're happy with the current look of your home, how much foot traffic your floors will get, and what your budget is like. Take the following considerations in mind before you settle on one style:

Your interior design style. Your floor should flow nicely with the current interior design style of your house. Even if you're going for unique flooring, it shouldn't clash with the rest of your decor. That will negatively draw the eye. Make sure any flooring option you consider creates a cohesive look from room to room.
Your geographical location. The climate in which you live impacts which floor is right for you. Certain flooring options work better in humid areas, while others thrive in dry regions. Plus, certain materials will be easier to find in specific regions.
How long you plan on staying in your home. Do you consider your current house to be a starter home? If so, don't invest too much money in flooring. But if you're planning on staying there for the long run, it'll be worth investing in a stylish and unique material that will bring your family joy.
Any pets in your home. If you have cats, dogs, or any other pets in your home, you need to take into account what is under their paws. Select a flooring option that's comfortable and provides them with plenty of traction as they walk and play. Remember that accidents happen. Make sure to pick something that's durable and easy to clean as well.
DIY vs. self-installation. If you're planning on installing flooring yourself, research what options are affordable and easy to install. But if you don't feel comfortable with a project like that, there's no shame in calling in professionals like Martins Flooring.
Allergies in your home. Consider if any of your family members have allergies. If so, go with a hard surface floor or a low-pile carpet.
Who is walking on your floor? Do you anticipate any elderly people or small children walking on your floor? Make sure to select an option that caters to those loved ones.
Herringbone Plank Flooring
Herringbone plank flooring refers to the act of laying wood planks cascading in a 90 degree angle. This creates a v-shaped pattern, which is referred to as herringbone. Wood flooring is a classic addition to any home, but traditional wood planks aren't that unique. Martins Flooring sells planks that come in a Herringbone pattern.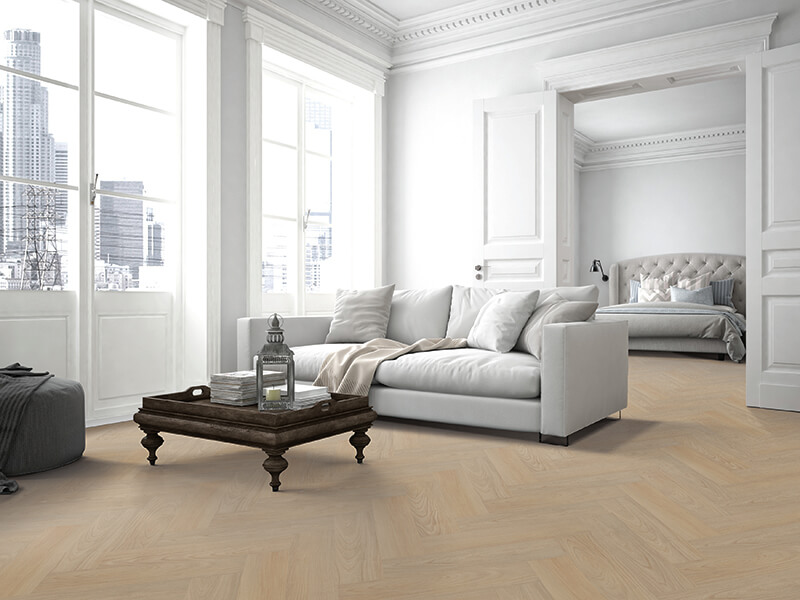 But laying your planks down in this unique way adds an unexpected flair to your flooring. It's a great option for a large and open space so the striking pattern of the floor can take center stage. This flooring comes with pros and cons that should be considered before you purchase.

Pros of Herringbone Plank Flooring
Durability and resilience — This flooring pattern's interlocking functionality provides additional support to the planks. In return, that reduces the likelihood of warping or bowing. It's also less prone to scratches and dents, meaning it should hold up well for years to come.
Easy to maintain — You should typically be able to easily clean up herringbone flooring with a quick sweep or vacuum, followed by a damp mop. Just make sure to avoid harsh chemicals or abrasive cleaning products that may damage the wood.
Endless design patterns — If you like the look of wood and want your flooring to stand out, herringbone is the way to go. The design options are unlimited. Get creative with different wood types, stains, and finishes to create the exact look you want.
Cons of Herringbone Plank Flooring
Higher cost — Herringbone flooring is typically more expensive than traditional wood flooring, due to the higher level of effort and skill required to install it. Keep in mind that the final cost will vary according to the type of wood that you use.
Need to hire a professional to install it — While it can be an undertaking, many homeowners are often able to install various kinds of flooring on their own. Due to its intricate pattern, that likely will not be the case with a herringbone plank floor. A professional contractor will ensure your flooring looks great, but that will cause your final price to go up.
Limited color choices — While there are many wood options to choose from, the stains you can select are more limited. If you have a very specific vision of the way you'd like your flooring to look but want herringbone, you might need to be flexible.
Tile Patterns Embedded in Wood
Tile and wood are two of the most common flooring types you'll find in homes — so why not bring them together? If you're looking for a unique flooring option, this is one of the most striking and out-of-the-box routes to take.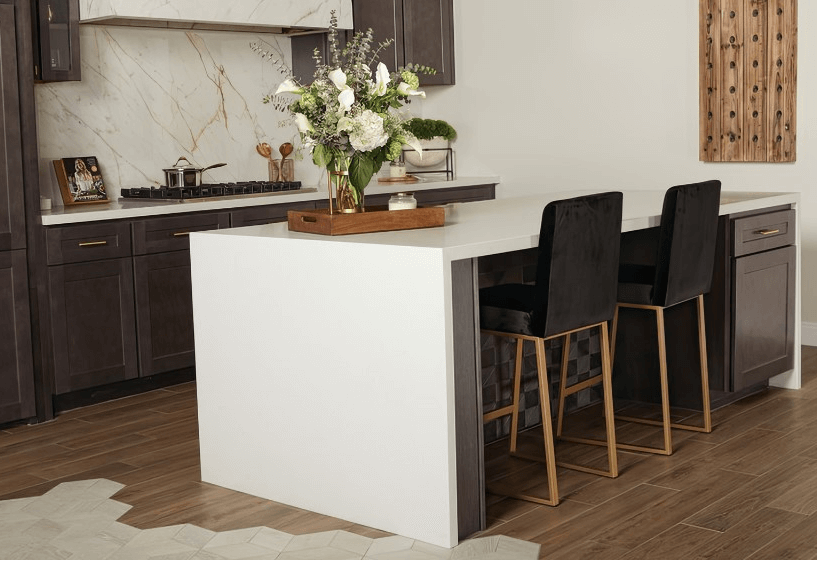 Wood floors and tiles each have their own unique look. Because of that, bringing them together cohesively is a challenge — but it is possible. Here are some tips to follow if you're interested in blending tile and wood together in your home:
Create contrasting patterns — If you have wood flooring in one room flowing into a space with ceramic tiles, go with two contrasting patterns. Adding this differentiator in your floor will help to provide a sense of two separate rooms while creating a less jarring material shift.
Lay the tile in a different direction from the wood — Do you have hardwood flooring that runs parallel to your home's entryway? If so, lay conjoining tiles in the opposite way. It's a fun way to mix up your home decor.
Make sure the depths are the same — Your tiles and wood planks will have different lengths and widths, but make sure the depth of flooring is as close to one another as possible. That will minimize tripping hazards and keep your friends and family safe in your home. If you can't make the tile flush with adjoining wood, just make sure to add a reducer strip that will act as a ramp between the materials.
Add a transition strip — Looking for dramatic flooring that will catch your guests' eyes as soon as they walk into your house? Consider adding a transition strip between your wood and tile. It's a subtle addition that creates two distinct and separate spaces and keeps the eye trained on your flooring as a whole.
Create a tile inlay — You don't need to blend the two materials from room to room — you can create a tile pattern embedded in wood in a single room. For example, if you're putting wood floors in your kitchen, you can lay a large square of tile around your food preparation space. When you're installing your wood flooring, just start from the edges and work your way to the center. Stop once you hit the square in which you'd like to put tile and go from there.
Use a different tile as an accent border — Incorporating tile into your wood floor can be subtle. You can go as simple as just adding an elegant border of tile around the wood floor to make it pop.
Use contrasting colors — If you're using hardwood and a wood-look tile, you should aim to have clearly contrasting colors. That way, your floor won't look like it is just slightly mismatched. For example, consider a bleached, faux wood tile to go with a red oak hardwood floor.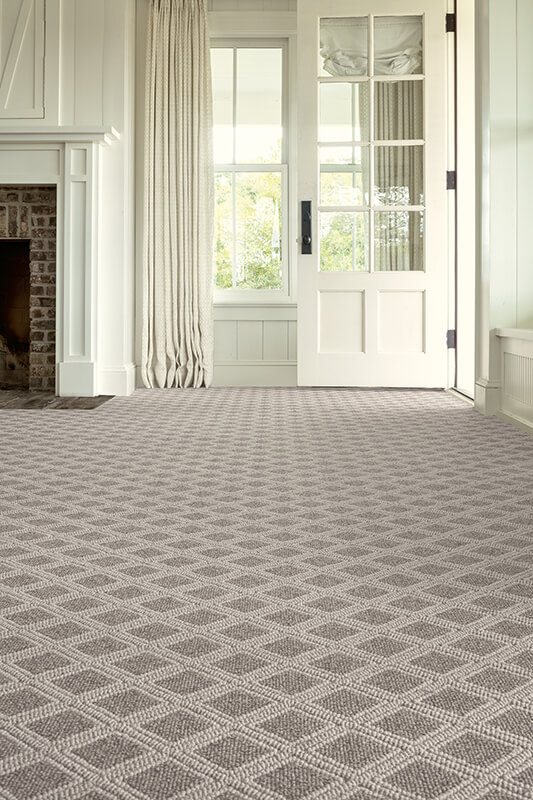 Patterned Carpet
If you find yourself leaning toward carpet for your space, consider going with a patterned option. This creates a bold and interesting focal point in your room. Patterned carpet is also a great foundation for revamping your entire room design.
Martins Flooring carries a whole line of carpet labeled Expressive – let your floors do the talking – expressive carpet selections complement your unique personality.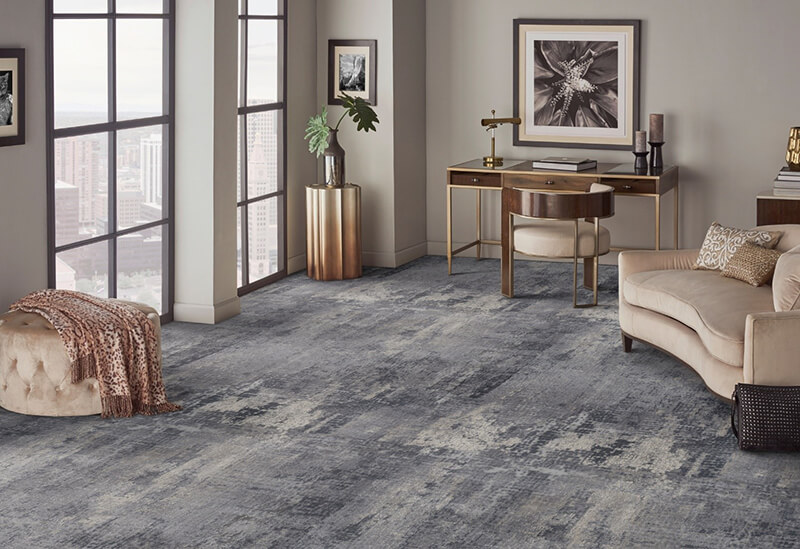 But if you're unsure if it's the right option for you, consider the following pros and cons of installing patterned carpet in your home.

The Pros of Patterned Carpet
If you choose the right pattern, it can make your room look longer or wider.
Heavily patterned carpets will mask stains, making them a great option for high-traffic areas.
Patterned carpets can nicely complement traditional furniture.
This flooring option makes for a great statement piece in your house.
High-quality patterned carpets boast a luxury feel and texture.
The Cons of Patterned Carpet
A cheaper patterned carpet may produce a poorer-quality design.
If stripes or other patterns are already present in the room, patterned carpet may overpower the space.
You need to think carefully about the color palette in your space, as it can be easily to unintentionally clash colors.
If the patterned carpet is overpowering, it may limit your furniture decoration options.
Patterned carpet can be an elegant and interesting addition to any room in your home, if it is done correctly. You can go with a yarn-style carpet that combines cut and looped yarn to create a geometric pattern in the design, or one that is dyed to create contrasting patterns.
Those options lead to a variety of different colors, shapes, and prints to choose from. Once you find the carpeting style that is right for you, you'll be able to boost the interior design of your home to a whole new level.

Carpet Tiles
A similar option to patterned carpet is carpet tiles. This refers to squares cut from rolls of carpet to create a new cohesive carpet. That gives you the freedom to choose between hundreds of colors and shapes to build a floor that cohesively works in your space.
You can work with a designer to create flooring that aligns with your vision. But if you'd like to go the DIY route, here are some ways you can arrange carpet tiles in your home:
Mix and match a patterned tile with complementary solid carpet tiles
Go with a traditional checkerboard pattern
Alternate the stripe orientation of a tile in a checkerboard pattern for a more interesting look
Create a three-tile checkerboard with one patterned tile consistent and two-colored tiles used interchangeably
Line up different colored tiles to create a diagonal line
Use a collection of six complementary colors to create a cohesive look
Create a rug out of carpet tiles to define a certain area of your home
Create a pattern within a pattern
Cut up carpet tiles to create additional shapes like triangles
Experiment with textured carpet, such as shag, within your tile pattern
Opt for tiles of the same color
Not only are the unique design options unlimited, but they offer a number of benefits to homeowners who opt for this style. They're really easy to install, as you'll typically just need double-sided tape or adhesive. Carpet tiles are also low-maintenance and durable. If there's ever a spot that looks less-than-pristine, you can simply replace that tile.
These tiles are also an eco-friendly flooring option. Most modular carpet tiles are made from recycled materials, such as plastic bottles and fishing nets. You also produce less waste when you install carpet tiles instead of full rolls. The design options and benefits make carpet tiles a great choice for any home.

Carpet Inlay
Carpet inlays are a unique, easy addition into a hardwood or luxury vinyl floor. Martins Flooring installs carpet inlays in dining rooms instead of an area rug underneath the table. They are a great way to add an accent piece and get a little bit of extra comfort in a room. Carpet inlay is similar to using a rug, but it's attached to the floor. They are great for breaking up rooms.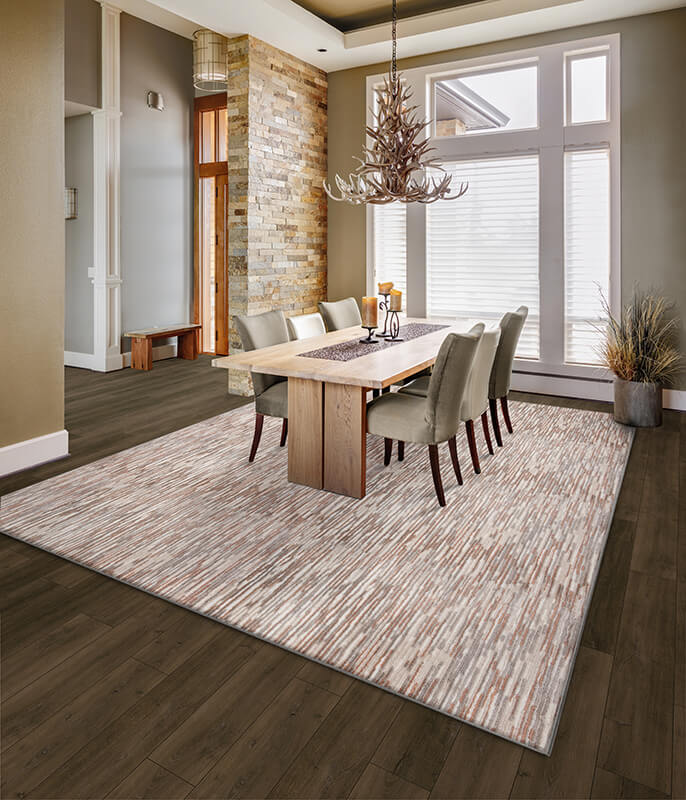 Area Rugs
If you consider your flooring taste to be more traditional, but with a unique element, consider adding an area rug. They're great statement pieces that can draw the eye in as soon as someone walks into a room. Martins Flooring sells area rugs and also can have any of our remnants or carpet products bound into an area rug. But with an area rug comes a major question — should you go with a patterned rug or a plain one? Here are some considerations for both options.

Patterned Rugs
The options here are endless, but there are some points to think about before selecting a patterned rug. If your furniture and walls are plain, a rug with a pattern will provide a great juxtaposition.
It will give you a sophisticated contrast and a pop of personality and character. Additionally, an area rug with a striking design will provide some depth to your room — especially one with a lot of light and space. They're also great for high-foot-traffic areas since their patterns can often mask stains and marks.
But if you're not thoughtful about your choice, a patterned rug can make your room look too messy and busy. If you place a busy rug in a dark room, you'll also pull the whole room in. That will give it a crowded and claustrophobic feeling, which is the last thing you want in your home.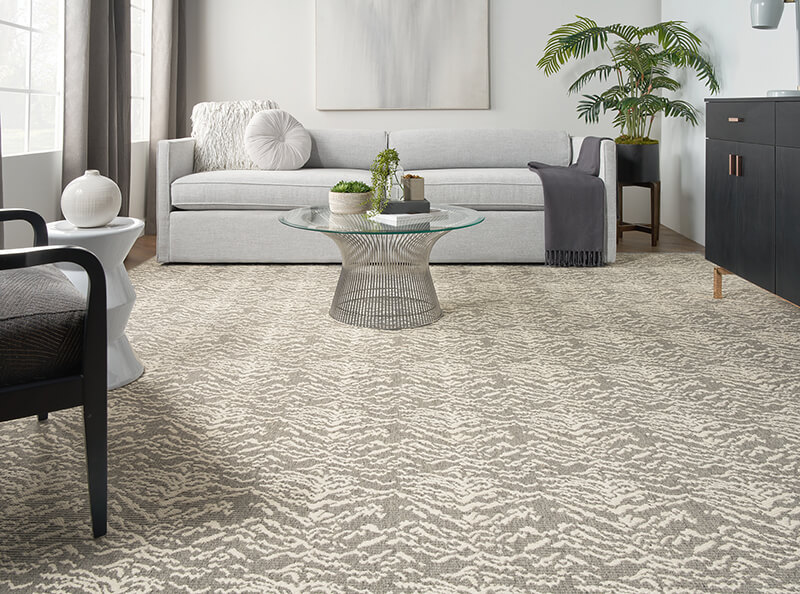 Plain Rugs
Just because a rug is plain doesn't mean it's boring. These rugs come in a variety of colors and textures that can complement any space. If your home follows a minimalist look, a plain area rug is definitely the way to go.
This kind of rug can keep the color palette in your space uniform while subtly incorporating different textures in a fun and surprising way. Solid-colored rugs will also balance your furniture and help avoid any clashes.
But if your rug and decor are too plain, your room will lack depth. Common interior design tactics recommend that rooms have a focal point to create some definition. But when everything is the same color, you risk losing that. A plain area rug may also amplify stains and grime since there are no patterns to mask them.
But in the end, either a plain or patterned rug is a great option. If you have hardwood in your home, you can never go wrong adding a rug. Just make sure to consider the current decor and style of your space so that everything effortlessly coordinates and flows nicely together

Patterned Tiles
Tiles are a great floor option for any home, due to the fact that they are stylish, durable, and easy to clean. But as there are so many options to choose from, here are some aspects to consider before settling on a tile:

Tile Material
You might be surprised at how many material options are available to you. Carefully consider the features of each of the following materials before making a final decision
Ceramic — This material is durable, affordable, and can be made in a variety of shapes and sizes.
Porcelain — Porcelain is also highly durable, but it has a lower water absorption rate than ceramic.
Glass — As this material is more likely to crack under pressure, glass should not be used as flooring.
Marble — This material is a porous stone that stains and scratches easily. But if you want a luxurious look and understand the care that goes into marble, it can work for flooring.
Room Type
Different rooms have different requirements. Consider the day-to-day conditions of the following rooms before you settle on the right kind of tile to install.
Kitchens — With a lot of activity happening in the kitchen, you'll want to make sure you go with tile that is easy to clean and durable.
Bathrooms — Go with water-resistant tile for every area of this flooring.
Entryways — People track mud, dirt, and water into your home, so make sure to go with tile that is easy-to-clean and durable.
Design
The design of your tiles is what will help your flooring stand out. Going with a patterned tile instead of a basic one offers its own benefits. When you go with patterned tiles, you'll automatically enhance the level of style in your space. In turn, that will draw attention to that particular room.
The pattern options are endless. You can go with a rectified tile that boasts a minimal grout line, a hand-made option that features rustic and organic qualities, an encaustic tile known for heavily-stylized patterns and bold colors, and more.
Traditional porcelain and kitchen tiles come in a variety of colors and designs as well. As long as they flow with the existing decor in your home, going with patterned tiles will create an inviting, dramatic, and bold look.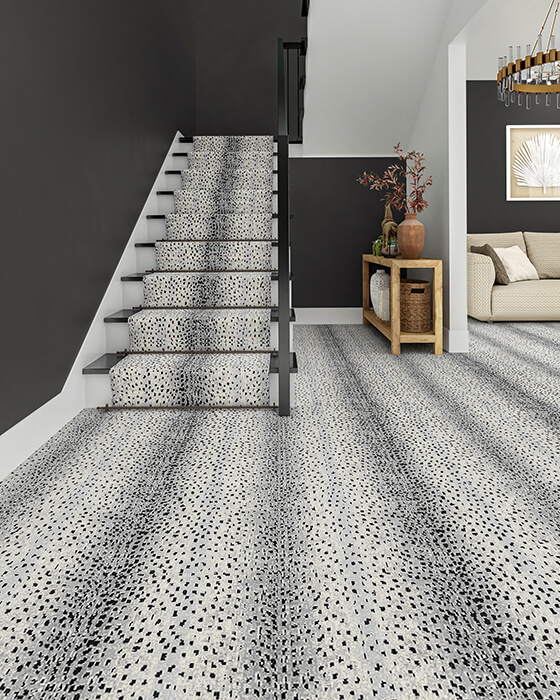 Patterned Vinyl
Vinyl flooring is a classic flooring option for many homeowners. But before you go with this option, make sure you do research and understand the pros and cons of vinyl flooring.

Pros of Vinyl Flooring
Water resistant — One of the biggest advantages of vinyl is that it's water resistant, making it a great option for any room in your home.
Stain resistant — Vinyl has a clear wear layer that acts as a surface barrier. That protects it from stains as any spill that happens will be easy to clean up.
Comfortable — Vinyl flooring has a soft underfoot, making it much more comfortable to walk on than many other flooring options.
Durable — If your vinyl is properly installed and maintained, it can last anywhere between 10-20 years.
Affordable — Vinyl flooring is an affordable flooring option, especially if you opt for sheet vinyl.
Low maintenance — Regular sweeping will keep your floors looking great.
Easy to install — As long as you feel comfortable taking accurate measurements and making precise cuts, this flooring is easy to install on your own.
If you're looking for unique flooring, vinyl's unlimited design options are one of its biggest benefits. Here are just a few you can go with:
Colorful honeycomb to produce depth that looks both futuristic and organic
Herringbone parquet-style geometric patterns to create a sense of serenity and calmness
Polka dot vinyl to add a pop of fun into any room
Art deco flooring to evoke the 1920s or 1930s
Houndstooth to add modern sophistication to your space
If full patterned vinyl feels a little too busy, add a personal touch to plain vinyl with a decorative border. This will add a pop of color to an otherwise more basic flooring option.

Cons of Vinyl Flooring
Potential discoloration — While vinyl's protective layer is great at protecting it from stains, it may eventually lead to discoloration — especially if it's in direct contact with the sun. Make sure to go with high-quality vinyl to avoid this.
Damage from the subfloor —When you install vinyl flooring, you need a perfectly smooth and flat surface to work with. Even small grains trapped underneath the vinyl will cause lumps in the flooring. That will eventually lead to rips and tears. Just make sure to work with a clean surface before installation to avoid this.
Difficult to repair — If part of your vinyl floor becomes severely damaged, you may need to replace the entire floor. You can try to replace the damaged section, but it will be hard to align the new patch with the existing pattern.
Entryway Design
An entryway holds great importance in your day-to-day life. It's where guests are greeted and where you are welcomed home after some time away. The look of your entryway sets the tone for your home. Warm lighting and a nice welcome mat are a great place to start.
Not only does a welcome mat offer an inviting feel, but it also collects dirt, debris, and water that would otherwise create a mess on your floors. You should also invest in storage and organization tools that work best for you and your lifestyle. That will keep your floors clean and looking pristine.
Don't be afraid to have fun with your entry way as well — especially your floors. Your design choices should be a combination of both style and function. As it's the first thing people see when they walk in your house, you'll want to make sure your entryway is aesthetically pleasing.
But you should also make sure your floors are durable enough to withstand what is tracked in your house. Here are some design options that fit both of those needs:
Keep the original floors to add a bit of authenticity and character.
Add a geographic element to a dark and dramatic entry. As people don't spend too much time in your entryway, don't be afraid to be bold. It won't feel overpowering, as people will just be passing through.
Install stone for a naturally beautiful entryway that can withstand the elements.
Go with a sturdy luxury vinyl tile flooring in a pattern that evokes a sense of luxury.
Install a softly tumbled marble flooring that will be forgiving in busy areas but also offer a classic feel.
Add an area rug or runner for a pop of color.
Go with a beautiful and unexpected patterned flooring for a one-of-a-kind entryway.
How to Make Your Floor a Focal Point
After taking all that time and consideration to install fun flooring, you should make the other elements of your space work with the floor — not the other way around. Here are some great ways to make your floor stand out:
Match your trim and baseboard — It may be challenging to find a perfect match for different woods. But, you should aim to complement the color of your baseboard and trim with your wood. When a baseboard is a similar color to the floor, it will create the illusion of more space in your room. Coordinating trim will continue the feel of coherence throughout the room. Ask about matching trims when you purchase your flooring.
Keep your furniture simple — Your new unique flooring likely has a pop of color or pattern in it. If that's the case, you'll want to keep your furniture simple. Large or ornate pieces of furniture would overwhelm your space in this case. But if you opt for clean lines, modest sizes, traditional shapes, and neutral tones, your floor will remain the focal point.
Work with different materials throughout the room — Balance your design with a variety of materials. Are you going with a herringbone hardwood floor? Bring leather, woven fabrics, metals, concrete, or painted materials into the space to make it a more visually interesting look.
Create a color palette — Use your floor as inspiration for your room's color palette. Work with colors from the design or go with the undertones. Accent your room in those colors to enhance the flooring. Just make sure to stick to a few accent colors so your room doesn't become too busy.
Make sure it aligns with your interior design style — Your floor can still stand out, but just make sure it is in line with your existing interior style. You want it to pop, but not clash. If you're unsure what your style is, do a little thinking and research. Turn to your closet, your favorite celebrities, or even Google if you need a little inspiration. Or at the very least, just consider the feeling you want your floor to evoke and go from there.

TL;DR – Unique Flooring is a Great Way to Make Your Home Unforgettable
The flooring you put in your home is an important decision to make. Consider factors like your lifestyle, budget, and location before deciding which material you will go with. Once you make that call — it's time to have fun. Look through the pros and cons of the unique flooring ideas that appeal to you. Make sure to look at the pros and cons of each as well.
Once you've made your decision, don't hesitate to reach out to Martins Flooring with all your installation needs. Book your free in-home design consultation today and we'll work with you to find the floor of your dreams.