Tips on How To Balance Flooring Costs Versus the Style & Function You Prefer in Your Home
If you're building or remodeling your home, your flooring is one of the first features you need to think about. It sets the stage for the entire feel of your home, as well as providing your family and guests with a comfortable place to walk. You want your home's flooring to be functional and aesthetically pleasing, without going over your budget.
But how can you decide between a stylish and functional floor and one that is budget-friendly?
We'll help you do just that in this article. We'll share considerations to look into, along with flooring types that may fit your needs. You'll walk away with a better understanding of what kind of flooring is best for your home and that fits within your financial plan.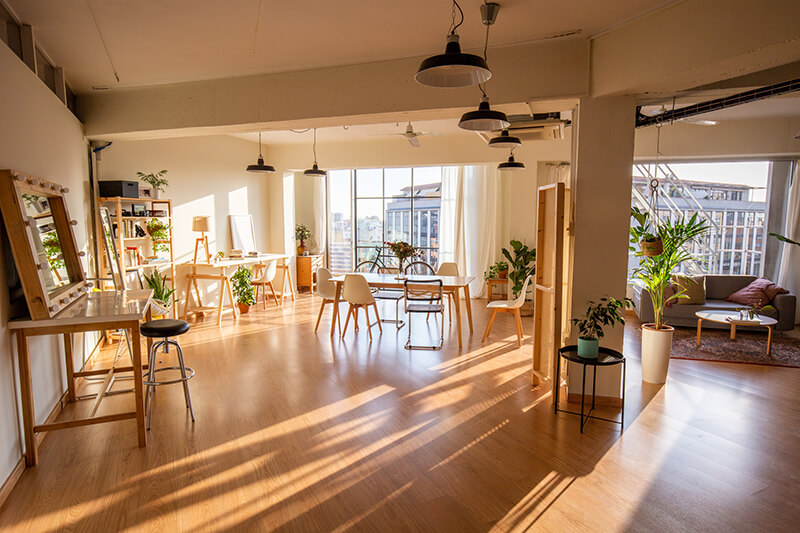 How to Pick the Right Flooring For Your Home
Don't take this decision lightly. You need to take stock of various preferences and needs to narrow down your options and decide if a stylish and functional floor or a cost-effective one is best for you. Here are some questions and considerations to help you make that decision.
What's your interior design style? Every element of your home reflects your interior design preferences. Your floor should do the same. Picking a floor that clashes with the rest of the decor will negatively draw the eye. Aim for your floor's personality, color, and design to go with your home's overall feel to create a cohesive look from room to room. If you don't feel like you have a personal interior design style or want to change your current look, now's the best time.
What's your geographic location? Your climate can impact which floor is right for you. Certain flooring will work better in dry regions, and others will thrive in humid ones. Plus, certain materials may be easier to come by in certain regions. And, certain flooring will simply feel better underfoot in different climates (tile and stone floors are cooling underfoot in hot climates, while carpet is warming underfoot in cold climates). Do thorough research to ensure any material you're considering is readily available locally.
How long do you plan on staying in your home? If you're in a starter home, you probably won't want to invest too much in your flooring. It would be more appropriate to go for budget-friendly flooring in this situation. But if you're in your forever home, it is worth investing in a stylish and luxurious material that will make you happy for years to come.
Do you have pets? If you have cats, dogs, or any other critters running around your home, you value them as a member of your family. You want them to be as comfortable on your flooring as your human family members are. Take into account what's under their paws. Pick something that's comfortable and provides them with plenty of traction. Accidents happen, so make sure to pick something that's durable and easy to clean as well.


What's your lifestyle like? Consider the amount of foot traffic your floors will get and who those visitors are. You should also think about anyone in your home who has allergies or environmental concerns. Eliminate any options that do not meet those standards. You should have floors that meet your lifestyle — you don't need to change your lifestyle to match your floors.
What's your budget? Not all flooring is made equal. Where you live, potential issues with your subfloor, and the state of your current floor will all be factors in your final cost. In addition to the material itself, you'll be paying for underlayment, and installation, as well as removal and disposal of your previous flooring. Add up all of those numbers to create a general budget for yourself. 
Do you want to install it yourself or hire a professional? If you're looking for a DIY project, research what materials are affordable and easy to install yourself. But if you don't feel comfortable taking on that level of a home improvement project, there's no shame in hiring a professional — but make sure to do your research here too. Ask friends and family for referrals, look at online reviews, request quotes from different contractors or flooring stores, and ask each candidate about their qualifications.
Does anyone in your home have allergies? If so, you may want to go with a hard surface floor that won't retain much dirt or allergens. But if you have your heart set on carpet, go with a low-pile option.
Who will be walking on your floor? Will there be any elderly people or people who use wheelchairs or walkers in your home? What about small children? Consider these factors when picking out flooring for high-traffic areas.


Environmental concerns — Does your family want to stick with environmentally-friendly materials? If so, consider flooring that is sustainably sourced and free of volatile organic compounds, which are linked to health issues or pollution. If this is a concern for you, talk to a local flooring expert about the FloorScore of materials you are considering to learn about their air quality certification.
What's the value of your property? Your flooring choice can improve the value of your home. If you invest in a classic and durable flooring material, you'll see a return on investment whenever you sell your home.
Nine Stylish Floors to Consider For Your Home
The flooring you pick shouldn't be an afterthought. It's one of the biggest features in your home and the first thing a guest sees when they enter. Give your floor the chance to shine with a material that's both beautiful and functional. Here are some options to consider.
Natural stone — This flooring boasts a polished surface and organic look that can call to mind ancient castles and palaces. Stone options require extra effort to quarry, process, and ship to a job site. But natural stone is a classically beautiful look and is one of the most durable flooring options. Stone flooring is a great option for homeowners in upscale spaces that plan to remain in their homes for years to come. This flooring works well both inside and outside, meaning that you can create a seamless transition that provides the illusion of more space. Common stone floor options include marble, granite, travertine, quartzite, and sandstone.


Exotic hardwood — Hardwood flooring is already considered a luxurious option. You can increase the visual impact by choosing an exotic wood instead of a domestic one. Exotic woods are derived from species around the world. This type of floor is often in high demand due to its wide wood grains and a mix of brilliant light and dark colors.
Designer ceramic floor tiles — Tile is durable, cool to the touch, and comes in a wide variety of design options. This makes it a great choice for nearly any home. You can add a unique touch to your flooring by going with larger, oversized tiles. With fewer tiles used, your space will look more polished and open. If you live in a cold climate, you can warm ceramic (and stone) tiles by installing a radiant heating system underneath.
Hand-scraped wood — Hardwood floors are a timelessly beautiful flooring option for any home. If your home has a farmhouse or old manor aesthetic, consider going the hand-scraped route. This method provides a vintage look as if a woodworker cut the plank with hand tools. The outcome of this process is a visually interesting floor with a lot of depth. In addition to being a beautiful floor, hand-scraped wood is a durable option great for high-traffic areas.


Reclaimed hardwood — Reclaimed floor is another great vintage option for hardwood floors. This option is also environmentally friendly, as you'll be selecting wood planks that have already been cut down. As with most wood options, reclaimed hardwood is a heavy-duty flooring made to last for years, but may receive the occasional scuff or scratch. Your selection will likely include ash, elm, oak, or walnut flooring. If you're interested in this option, you'll be able to get great materials from specialty companies that salvage wood from old buildings, barns, and factories to repurpose for homes. Opt for larger planks to make your floor pop. A wider cut will display the grain more clearly, offering a more natural and less uniform look.
Luxury vinyl tiles or planks — These high-end manufactured flooring options come in a variety of colors and patterns. Many of those can mimic the look of stone or wood flooring. Luxury vinyl tiles or planks are great options because they are slip-resistant, durable, and very easy to clean. There are many options that work with radiant heat flooring and are pet proof or waterproof.
Marble — Marble flooring is as luxurious as it gets. The distinctive look of this material brings a sense of grandeur to any room in which it is installed. While white marble may be one of the most popular color options, marble comes in a wide array of colors and patterns from which to choose. This flooring is very durable and can withstand high temperatures, which will keep your family cool on hot summer days. It's also an easy flooring to keep clean – any mess can be cleaned up with a rag or mop.
Granite — Granite is a simple, yet luxurious flooring material that can last for decades with the right granite sealer. It's also very easy to clean and maintain. If your granite floor is properly sealed, you can just wipe away any spill. Granite is not too porous, so it doesn't retain liquid or moisture, which makes it a hypoallergenic flooring option. These floors are also beautiful and stylish. Granite is made during a natural volcanic process that involves a variety of different minerals. That produces a wide range of patterns with shades of white, black, beige, brown, blue, and red.
Mosaic — If you're looking for a sophisticated option, consider mosaic flooring. Mosaics are laid in intricate patterns from many types of small tiles such as: handmade, designer Italian, glass, or pebble. The cost of mosaic flooring is highly variable, running anywhere between $5 – $30/square foot, so make sure to do your research before you begin.


Marmoleum — If you're looking for an environmentally friendly yet luxurious option, marmoleum is a unique choice. Marmoleum is a type of linoleum floor made of all-natural products like wood flour, jute, and linseed oil. As this floor is free of toxins, it's considered allergy and asthma-friendly. Marmoleum is easy to clean, comfortable to walk on, and incredibly durable. This flooring has an estimated lifespan of 50 years, meaning that you won't have to worry about a replacement for years to come.
Functional Flooring Options to Consider for Every Room in Your Home
Every room in your house serves a different purpose, and sometimes a floor that just looks good isn't enough to meet the needs of that space. Here are some options to consider for the specific function of every room in your house.

Kitchen Flooring Options
This room is one of the most high-traffic areas in your home. You want a floor that can withstand all of that wear and tear. Porcelain tile is a great solution to that challenge. It's resistant to scratching and dents from light objects and easy to clean. Porcelain tile also comes in a wide variety of colors and design options and looks fabulous. Just be aware that these tiles may crack if something heavy falls on them.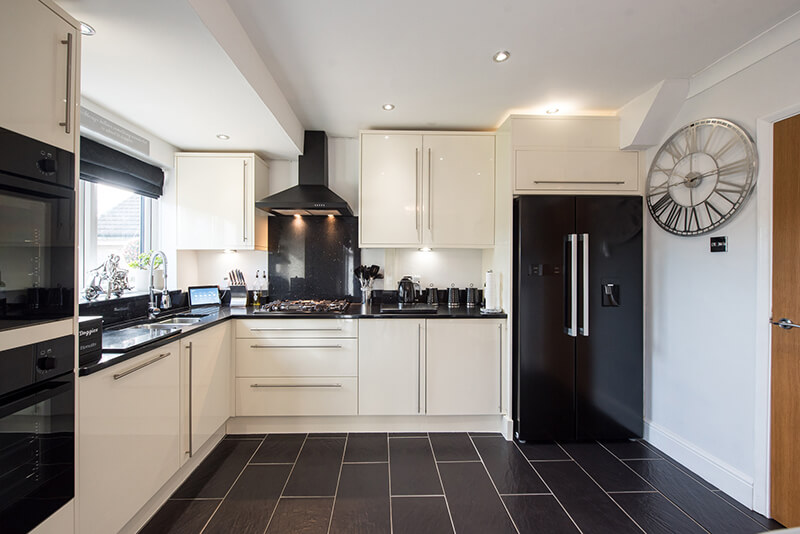 Vinyl is another great option to consider for kitchens. This flooring is popular because it's affordable and easy to install yourself. This flooring is considered to be durable but can scratch in certain situations. The silver lining is that should your floor see any damage, it'll be easy to replace the planks yourself.
Linoleum is an option similar to vinyl that works well in a kitchen. Linoleum is comfortable underfoot for avid cooks and is inherently antibacterial, making it easy to clean. Just wipe up any spills with a mop and a ph-neutral cleanser. Linoleum is a hardy and durable floor that comes in a variety of different colors, meaning that it will go nicely with any decor.

Bathroom Flooring Options
You'll find ceramic tiles in most bathrooms. That's with good reason — ceramic floors are durable, waterproof, and stain-resistant. You can even look for a tile that's certified slip-resistant. While white tiles are a classic look, consider a color that won't show signs of dirt or grime. Some tiles come in glossy and matte finishes, so you can use matte on the floor and glossy on the walls.
Vinyl is budget-friendly, easy to clean, waterproof, and stain-proof, making it a great option for your bathroom. If you go with vinyl instead of tiles, you'll even reduce the seams in which water can slip in. You can add a felt or foam packing to this flooring in order to give it a soft feel underfoot. If you like the look of wood but don't have the budget for it, consider laminate flooring for your bathroom. It'll give the same look at a fraction of the cost, along with being stain and scratch resistant.

Living Room Flooring Options
Carpeting creates a warm, attractive, and inviting space for any living room. This is a comfortable option for friends, family, and guests alike to gather together. Invest in an easy-to-clean carpet that's meant to be stain-resistant like our Innovia Xtreme Clean option. You'll be able to clean up most spills with plain water.
Hardwood is a classic option for living rooms. This flooring is beautiful, warm, and is comfortable underfoot. Wood can be sustainably sourced and produced and lasts for years to come. Adding an area rug to the mix can bring an extra level of comfort and allow you to bring a touch of your own personal style to the space.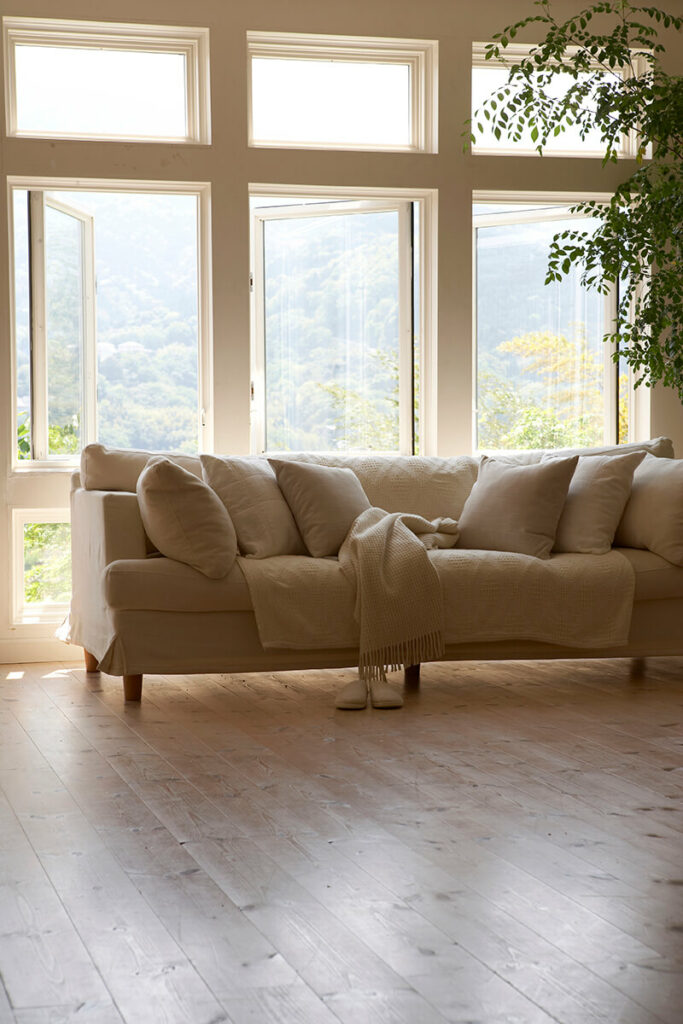 If you like the look of wood but are not ready for that level of investment, laminate is an excellent budget-friendly option for your living room. Laminate is inexpensive, looks like wood, and is very durable. Laminate's top layer protects the surface from scratching which makes it a great choice for homes with pets or a lot of foot traffic.

Sunroom Flooring Options
If you have a sunroom in your home, you'll want a floor that can withstand the elements. Porcelain, stone or ceramic tiles are all good choices. These materials are waterproof, fade-resistant, and hold up to changes in temperature and humidity. Tiles come in a wide variety of colors, sizes, and shapes. Tiles vary in cost, meaning that it can range from a luxury to affordable flooring.
If you live in a rainy climate and your sunroom is screened in, luxury vinyl tile is also a good option. It's affordable, durable, and waterproof. Vinyl is also well-loved for its ability to mimic hardwood floors. Engineered wood can do this as well. This hardwood alternative can be refinished at least once, handles changes in temperature and humidity well, and can be engineered to be waterproof.

Basement Flooring Options
If you live in a climate that experiences occasional flooding, sheet vinyl is a good choice for basements. Overall, any type of vinyl is water resistant, but sheet vinyl is especially good with water as there are fewer seams for liquid to get into. Another benefit in a cold basement is that sheet vinyl is warmer to walk on than tile or concrete.
Engineered wood is also able to withstand mild amounts of moisture. It absorbs sound nicely and is an attractive basement flooring option. But if your basement will be used as storage space instead of living space, concrete may be your best option. It will remain completely undamaged in the event of flooding and will never develop rot.

Laundry Room Flooring Options
Your laundry room may be the place where pets sleep and dirty shoes and clothes are collected, but it still deserves a beautiful and functional floor. Modern flooring technology has become advanced enough that you can capture the look of your favorite flooring with an easy-to-install and water-resistant material that can stand up to your washer and dryer.
Vinyl flooring is inherently resistant to moisture, making it a great fit for the laundry room. It's also a budget-friendly option that can withstand foot traffic from kids or pets. Consider using Invincible™ H2O™ Luxury Vinyl flooring for a high-end option that boasts designer looks and easy cleanup of laundry detergent spills.
Ceramic tile is also a great fit, as it can match the aesthetic of your entire home while adding slip resistance and durability to your laundry room. Consider BelTerra Tile for sturdy flooring that can mimic the look of wood, stone, and travertine.

How to Remodel on a Budget
The sky's the limit for flooring options. So many choices may leave you stuck debating between an affordable floor and one that has a higher level of style and design. You may also be trying to land somewhere in the middle. Follow our tips for remodeling on a budget and you may have extra money left to spend on the floor of your dreams.

Consider Each Factor of the Overall Cost
As Bob Villa states, "flooring installation ranges from $1,518 to $4,706, with the national average of around $3,067 to cover 500 square feet." But there are a number of different factors that play into that price. First and foremost is the size of your room. Your price could be drastically higher or lower than the national average depending on how much square footage you need to cover.
The flooring material you select will be a major factor as well. For example, carpet averages $3 to $11 per square foot, hardwood averages $6 to $22 per square foot, and tiles cost anywhere from $6 to $20 per square foot. If you're hiring a professional to install your flooring, you'll need to factor that cost in as well.
Installing flooring per square foot can run between $1 to $15. If you have a more intensive job that requires the previous flooring to be removed, that will cost you as well. Make sure to add up all these numbers to give yourself a budget before you start the job.

Find Out Your Home Equity and Credit Rating
If you're adding or redoing the floors in your entire home, that will be a significant financial undertaking. But if this is your forever home or you're looking to upgrade your property value before selling, the investment will be worth it. You'll just need to take a few steps to understand what your financial state currently is.
First, consider your home equity. It could play a role in financing your renovation project. As Modernize says, "If you need to take a home equity loan to finance your project, you could potentially qualify for a larger loan amount at a lower interest rate if you have built up significant equity in your home." Your credit score will play a big part in your eligibility for a loan, too. If you have a solid score, you'll be considered a responsible borrower and may be able to receive a sizeable loan.
Financing your project is a solid choice; our flooring financing options make it easy for you to get the floors you've always wanted, without breaking the bank.

Consider a Lower-Cost Alternative to a Luxury Floor
Many homeowners dream of covering their houses in beautiful flooring. But that's not always within the budget. In fact, flooring is often one of the most expensive elements of a renovation project. But instead of forgoing your vision altogether, consider a lower-cost alternative.
If you like the look of hardwood, consider laminate or bamboo in its place. Laminate is easy to install yourself and mimics the look of wood. Bamboo is far less expensive than hardwood floor and holds up to a lot of wear and tear.
If a soft and luxurious carpet sounds appealing, consider carpet when Martins Flooring is running a sale. The wide range of colors and designs allows you to keep up with the latest trends.

Select the Right Flooring Installer
Hire a professional to install your floor, bringing on the right one will ensure that your floor last for years to come. Consider the following points before hiring someone to install your floor:
Look for referrals — Talk to friends and family members you trust who have recently redone their floors. Ask them about the contractor or flooring company they used and do a little research to see if that installer could be right for you.
Check out online reviews — Once you start to narrow down your list, look at online reviews. There will be a mix of positive and negative reviews. But if you see consistent negative themes across many different reviews, this is a red flag.
Request a quote from every professional you're considering — Ask for a quote from every installer before making a decision. That will give you a better understanding of the current market price and who works within your budget.
Understand the details of each quote — Get into the details of each installer's budget. Does the installer charge by square or linear footage? Does the cost include the price of materials? Make sure there are no surprises as you get started.
Ask installers about their qualifications —Your floor is one of the most prominent features in your house, so you want to make sure your installer is up to the job. While you don't need someone with decades of experience, you should go with a reliable professional who has been in business for a while. If your chosen material is a little more complex, make sure your contractor or flooring store has experience with it as well.
Ask how each professional handles issues during or after installation — Whether it be with team members or flooring material, unforeseen issues may arise during the job or weeks after it is complete. Ask each installer how they would handle those situations. Go with the one whose answer you are most comfortable with.
Be Realistic About Your Needs
You may find yourself drawn to a certain kind of flooring, but that material may not align with your budget or your lifestyle. It's important to be realistic with your flooring needs. Have a clear understanding of every element of the job before you begin installation. Establish clear lines of communication with your sales person so that everyone involved is on the same page.
Then, make sure you feel good about the durability and design of the material you'd like to select. The floor you choose will be in your home for years to come. You don't want any surprises when it comes to its look and the maintenance that goes into taking care of it.
TL;DR — You Don't Need to Pick Between Beautiful and Budget-Friendly Flooring for Your Home
Your floor sets the tone for the entire look of your house, ranging from high-end luxury floors to practical and budget-friendly floors, or something in the middle. Carefully think about considerations such as your design style, your lifestyle, who will be walking on your floor, to find the right flooring for you.
Pay attention to budgeting to make sure your preferred flooring works for your financial situation. Installing flooring yourself is the most budget friendly option, but some floors can be challenging to install. Get a free, detailed cost estimate from Martins Flooring.
No matter which route you'd like to take, Martins Flooring is ready to help. Schedule your in-home consultation to start the conversation today.